Sometimes, you just want something to munch on, regardless of whether or not you're actually hungry. And before you know it, you've eaten an entire packet of empty calories. Don't worry, we are not here to tell you how you can control your cravings. We just want to say that if you've gotta do it, then do it right. Make these easy and healthy trail mixes at home, and you will never go back to those salty chips again.
Things you'll need
1. Your favourite nuts: They supply the much needed healthy fats to keep you full.
2. Dry fruits: These will add a natural sweetness to your mix. But make sure you buy the sun-dried variety that is not coated with sugar. It's a little expensive but totally worth it.
3. Seeds: Try pumpkin or sunflower seeds. They pack in a lot of minerals and vitamins in every bite.
4. Cereal: Buy puffed rice, oats, or bran flakes for an instant energy boost.
5. Fun stuff: Keep things like dark chocolate, popcorn, candy, wasabi peas or coconut flakes handy, because too healthy is too boring.
6. Seasonings: Cinnamon, nutmeg, pepper and salt can really spice things up.
1. Savoury and sweet
Put a pan on the stove and add a tablespoon of butter when the pan is hot. Throw in some oats, almonds and walnuts. Saute and add salt. Turn off the flame and drizzle honey on top. Toss the ingredients to mix the honey thoroughly. When the mixture cools down, serve with raisins.
2. Energy shot
Get your 5 pm energy boost with walnuts, pumpkin seeds, dried apricots and cranberries. Add cinnamon, nutmeg, and sea salt to balance the flavours.
3. Beach, please
If this doesn't tingle your taste buds, then we don't know what will. Chillis with pineapples is a delectable combination. Take 3 tablespoons of dried pineapples and finely chopped peanuts. Break a green chilli pod and tap out its seeds. Sprinkle as many chilli seeds as you can handle. Add rock salt to bring out the flavours even more.
4. Movie time
Swap your salted butter popcorn with this delicious mix. Chop a chocolate bar and transfer into a bowl. Now add peanuts and dried cranberries. Microwave your favourite pack of popcorn. Place them in the bowl as soon as they are ready. The heat will melt the chocolate, and the result will be mouthwatering.
5. Coffee break
Craving coffee but feeling too lazy to make it at home? Just keep a coffee-flavoured trail mix handy for an instant pick-me-up. You'll need chocolate covered roasted coffee beans. Mix them with hazelnuts, almonds, raisins, and your mix is ready. Add gems if you still feel the bitter taste of the coffee beans.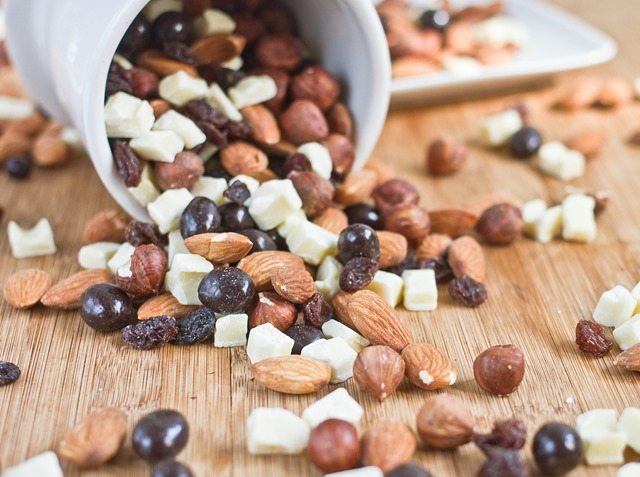 6. Tropical delight
Hot and humid weather calls for some cool and punchy flavours. Take any tropical dried fruits such as mango or pineapple. Mix them with coconut flakes, banana chips and cashew nuts. Toss with rock salt and sprinkle lemon juice for an extra punch. A dash of chilli is sure to transport you to tropical heaven.
7. For the love of cereal
This is for the strict diet watchers. Take all your favourite cereals (non-sugar) such as bran flakes, roasted wheat, puffed rice and granola. Add lots of dried blueberries and your healthy snacks are sorted.
8. Mix and match
Toss some peanuts, sunflower seeds, raisins, granola and gems into a bowl. Add savoury flavours with wasabi peas. Season well with sea salt and curry powder.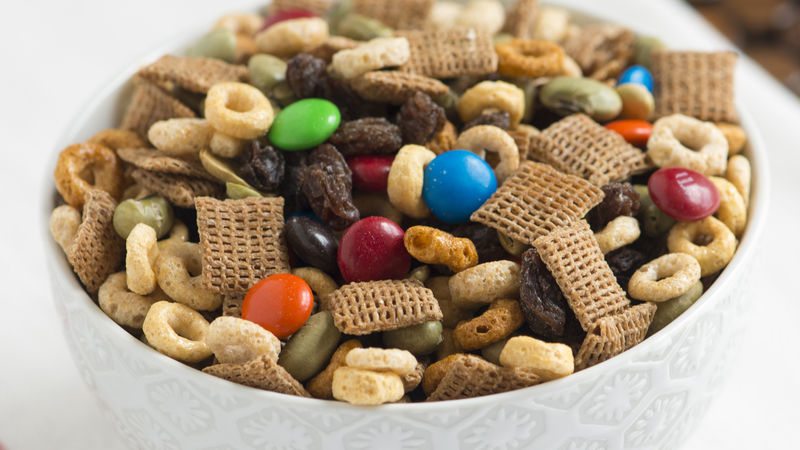 Do you have your own version of healthy trail mixes? Share it with us.