You might have come across the term 'love languages' on social media. But, what exactly does it mean? People express their love and affection to others in different ways. This expression of love is known as a love language. Love languages aren't just relevant in romantic relationships, they can be found in platonic relationships as well. Everyone has a different love language and knowing your partner's love language and responding accordingly will make them feel seen and appreciated.
American author and radio show host Gary Chapman came out with the concept of love languages in the early 1990s. In his book, The 5 Love Languages: The Secret to Love That Lasts, he talks about the five major love languages. According to Chapman, every person has one primary and one secondary love language. Here are the five love languages, according to Gary Chapman.
1. Words of affirmation
People whose language is words of affirmation express their affection through verbal communication. They enjoy words of praise, encouragement, little written notes, and basically, kind words.
If your partner's love language is words of affirmation, they will appreciate being told "I love you" often. You can compliment them on something that they do or wear, write them handwritten notes to express your affection, give them words of encouragement, and show your feelings verbally.
2. Quality time
Those who have quality time as their love language actively want to spend time with their partner. They love it when their partner showers them with undivided attention. Leave your phones and other gadgets aside and focus on your partner. Spend time enjoying each other's company. Whether it is cooking together, going on a date, going out for a walk, or doing another hobby activity together.
People whose love language is quality time enjoy one-on-one interaction with their partners. To show your love, you can plan a date night every week or every two weeks. Cuddle with them, ask them about their day, and be interested when they tell you. Suggest an activity that the two of you could do together, no matter how small. Such acts will ensure your partner feels valued.
3. Receiving gifts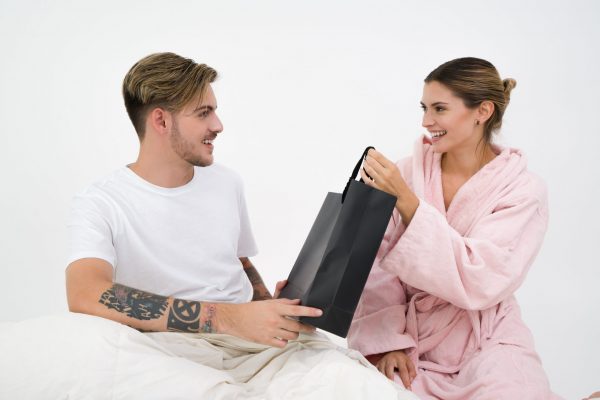 Everyone loves getting gifts, some more so than others. Receiving gifts is also one of the love languages, according to Gary Chapman. Those who speak this language feel appreciated when they receive gifts. Similarly, they also show their affection by giving gifts. They appreciate the effort and thought you put into getting them a gift, as it shows them that you pay attention to their likes and dislikes.
For people whose love language is receiving gifts, it is not about luxurious gifts. They are happy with small tokens of affection as well. Surprise them with a bouquet on your way back from work, or get them a card to commemorate their achievement. But them their favourite candy or food and watch them light up.
4. Acts of service
This is for people who think actions speak louder than words. They feel loved when their partner does something to lighten their burden or share their duties. Unlike words of affirmation, acts of service are all about thoughtful actions. These actions need not be grand gestures, but just small acts that make their lives easier.
For people whose love language is acts of service, offer to do a chore around the house that's usually their responsibility, so that they can get some much-needed rest. Make them porridge when they are sick, pick up after yourself without being told to repeatedly, run an errand for them, or just take them out to dinner because you don't want them slogging in the kitchen.
5. Physical touch
Some people feel reassured through touch, be it holding hands, a hug, or a pat on the head. Such people's love language would be physical touch. Physical touch is not only about sex. Sure, they might enjoy sex, but they also feel loved when you give them a kiss, rub their arms, hug them tight, or just cuddle them.
For someone whose love language is physical touch, the lack of physical intimacy can make them feel touch-starved. So, make it a point to show your love through physical acts. It could be kissing them hello and goodbye, cuddling them before bed, holding their hands in public, giving them a relaxing massage, or even scheduling sex if needed.
Everyone will tend to relate to more than one or even all of the love languages. But, chances are you will have one that will scream love and affection to you the most, without which you will feel unloved and unseen. That's your primary love language. It's a good idea to talk to your partner about how they like to be shown love and tell them how you can feel loved. This will help build your communication skills and also make your relationship transparent and stronger.
Images Source
Featured Image Source
Related: Want To Make The First Move On Your Crush? Here Are 12 Tips To Keep In Mind