A good meal made from scratch is deeply satisfying — the fragrance of freshly ground spices and hot steam rising from the pot, even more so. Whether you prefer comforting curries or a nutritious one-pot meal, cooking your own food is a great stress buster. These Instagram food bloggers in India will show you how you can get started and have fun with it.
1. Prarthana
Prarthana is a home cook who makes delicious homemade meals inspired by recipes which are usually from her mom. Simple, healthy and clean food is what Prarthana loves to cook.
To try: Chicken masala recipe
A delicious home-cooked meal like chicken masala is something you can never go wrong with. It is full of flavours, easy to cook, and is finger-licking good. Here is the full recipe.
2. Spice Eats
Spice Eats has everything you could ever need. From comfort food to lip-smacking street food, there is something delicious for every mood.
To try: Chicken cutlets recipe
Easy and delicious appetisers, chicken cutlets are a quick fix and make for perfect party food. This is one of those quick chicken recipes which will always be a hit. Here is the full recipe.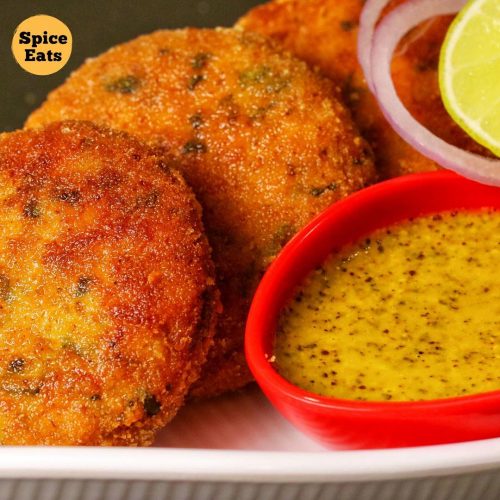 3. Nandita Iyer
A trained nutritionist, Nandita turned to blogging to promote healthy eating. Many awards and a cookbook later, Nandita continues to pursue her passion for cooking fresh and healthy veg recipes on her popular blog, Saffron Trail.
To try: Veggie oats for dinner
Oats are quite versatile and can move from breakfast to dinner with much ease. Nandita toasts the oats to ensure they don't turn slimy and combines them with any veggies she can find in her fridge. As a bonus, you can add pan-fried cubes of paneer or a fried egg that will keep you full for the night. Here is the full recipe.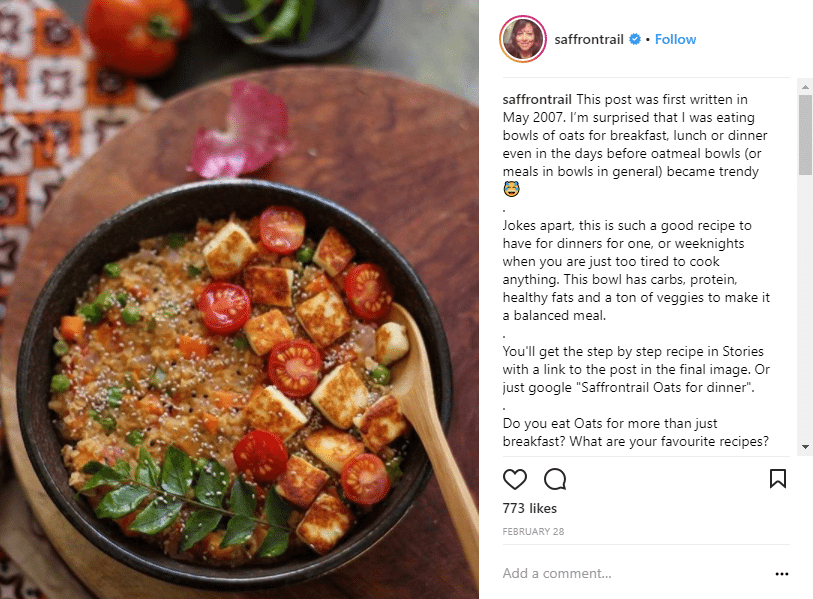 4. Tasneem Rajkotwala
An accountant turned blogger, Tasneem's cooking is strongly influenced by Bohra recipes and their unique flavours. She also draws inspiration from the cities she has lived in — Mumbai, Hyderabad, Nagpur, and Dubai — to turn regular meals into irresistible treats.
To try: Cheese and zaatar bread recipe
Middle Eastern cooking isn't easy to master, but with a little help, you could get started with the basics. Tasneem's cheese and zaatar bread are easy to prepare. Not only is it a great snack but this dish makes for a great lunchbox recipe that can be prepared a day in advance. Here is the full recipe.

5. Kankana Saxena
Kankana believes in making fuss-free, easy and quick meals. She uses only fresh seasonal produce and avoids processed and packaged ingredients. You will find a lot of wholesome Indian vegetarian recipes on her blog.
To try: Chicken tikka masala recipe
It's easy to overcook boneless chicken. Kankana grills her chicken separately to perfection before tossing it in tomato sauce. The list of ingredients that go into this recipe may look really long but the overall process is quite easy. Here is the full recipe.
6. Meena Agarwal
As a freelance food writer, recipe developer, and cooking instructor based in Canada, Meena's recipes focus on simple cooking basics. You won't find any complex dishes here with ingredients you may have never heard of.
To try: Spiced lamb with green peppers
Delicious and comforting food on gloomy days can lift your mood like nothing else! This spiced lamb recipe with green peppers is the best thing for a lazy weekend. Here is the full recipe.
7. Bhavna
This self-trained cook and food photographer currently living in Sydney doles out healthy and quick recipes regularly. So if you're looking for easy versions of your favourite complicated dishes, this is the page you need to follow.
To try: Eggless banana bread recipe
Fresh, warm, and easy to bake, this banana bread recipe is Bhavna's go-to recipe. It is a synonym of comfort food for her, and it might be yours too. Here is the full recipe.
8. Himanshu Taneja
Himanshu is a professional food photographer based in Delhi. He is a self-proclaimed weekend cook who picks up recipes from cookbooks, blogs, and newspaper articles.
To try: Kadhi Chawal recipe
His mother's kadhi chawal recipe is the ultimate comfort food to try over the weekend. Here is the full recipe.
9. Asha Shiv
This versatile home cook makes everything from gorgeous desserts to boozy cocktail snacks and street style quick meals.
To try: Spicy yogurt chicken with cucumber mint chutney
This grilled spicy yogurt chicken is one of Asha's favourite meals and is packed with flavours. Try this when you're cooking for the family or for friends. Here is the full recipe.
10. Neha Mathur
This account is worth a follow just for its breathtaking photography. Bengaluru-based blogger Neha Mathur combines her love for cooking, travel and photography on her blog, The Whisk Affair.
To try: Chicken with creamy mushroom sauce
Whenever you are tempted to order takeaway, make this one-pot meal instead that will be ready in 30 minutes. This chicken with creamy mushroom sauce is a no-pain, no-fuss dish which is delicious and easy to cook. Here is the full recipe.
11. Shweta Arora
This home chef doesn't recognise geographical boundaries when it comes to cuisine. While one day you will find a great hummus recipe on her blog, Shweta In The Kitchen, on other days, you will come across recipes for pasta, noodles, stir fry and lots of sweets.
To try: Instant pot taco pasta recipe
This is a quick, easy, healthy vegetarian recipe that comes together in no time. It is nutritious, delicious crowd-pleasing and is perfect for weeknights. Here is the full recipe.
12. Hina Bisht
This financial analyst gave up her career to become a full-time food blogger based in Gurugram. Fun, Food and Frolic is her blog where she pens down easy-to-cook, mouth-watering recipes from her childhood.
To try: Easy Matar paneer recipe
Who says a Dhaba style dish cannot be made without any artificial colours or flavours? Try Hina's delicious Matar paneer recipe and find out. Here is the full recipe.
Who are your favourite food bloggers in India? For more easy one-pot recipes, click here.