Gone are the days when power suits were a thing for just one gender. In recent times, we have seen many women rocking the power suit and looking like complete bosses. So, if you want some lessons in looking your best in women's power suits, we have got you covered. Here's a pool of gorgeous, empowering, and stunning looks from Bollywood's fashion icons.
Related: Soft Pastels, Silk Scarves, And More: Make A Statement With These Fashion Trends For 2021
1. Kareena Kapoor Khan
Image Source
How can we start the list without mentioning Kareena Kapoor Khan, the trendsetter? While Kareena has served killer looks in women's power suits, this one is our absolute favourite! The bandhgala looks royal, fashionable, and completely gorgeous. Whether it is for an office event or a friend's cocktail party, bookmark this look to try it in your own way.
2. Sonam Kapoor Ahuja
Image Source
Next up is Sonam Kapoor Ahuja, another B-town beauty who has rocked power suits on multiple occasions. From bold cuts to vivacious colours and wild patterns, she has always been a complete head-turner. And this embroidered suit makes her look like a million bucks. So, if you want to look as extra as her, you better run to your tailor bhaiyaa to get this look recreated.
3. Deepika Padukone
Image Source
DP knows how to slay a power suit look like nobody else. This olive green, checkered pantsuit is giving us major boss goals! It is chic, versatile, and can be styled in multiple ways and for multiple occasions. And the flared pants add the much-needed oomph and drama to the whole look.
4. Alia Bhatt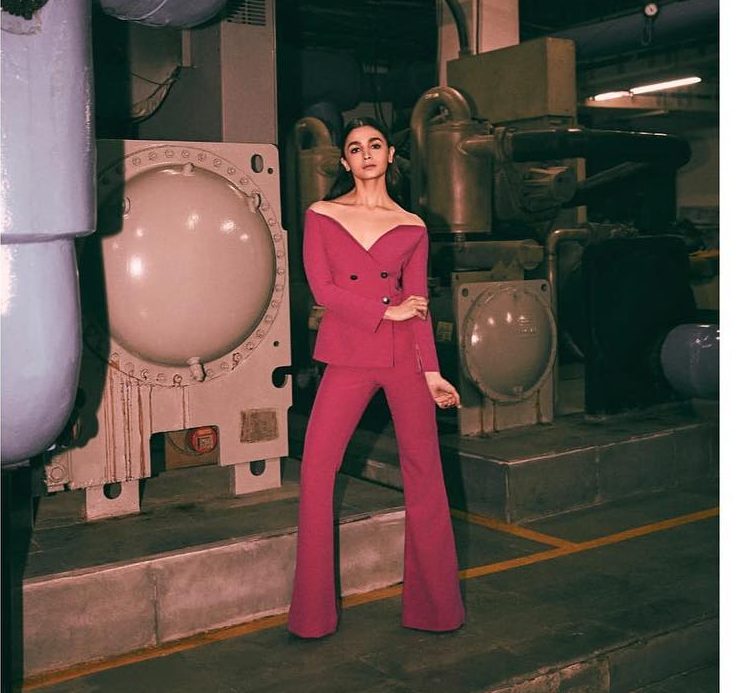 Image Source
The stunning Alia Bhatt always has something up her sleeve when it comes to her fashion choices. And she left everyone stunned when she strayed away from a traditional power suit and chose a rather chic one. This hot pink number was a fashion statement in itself. It is stylish and powerful, and we are totally stealing this look!
5. Janhvi Kapoor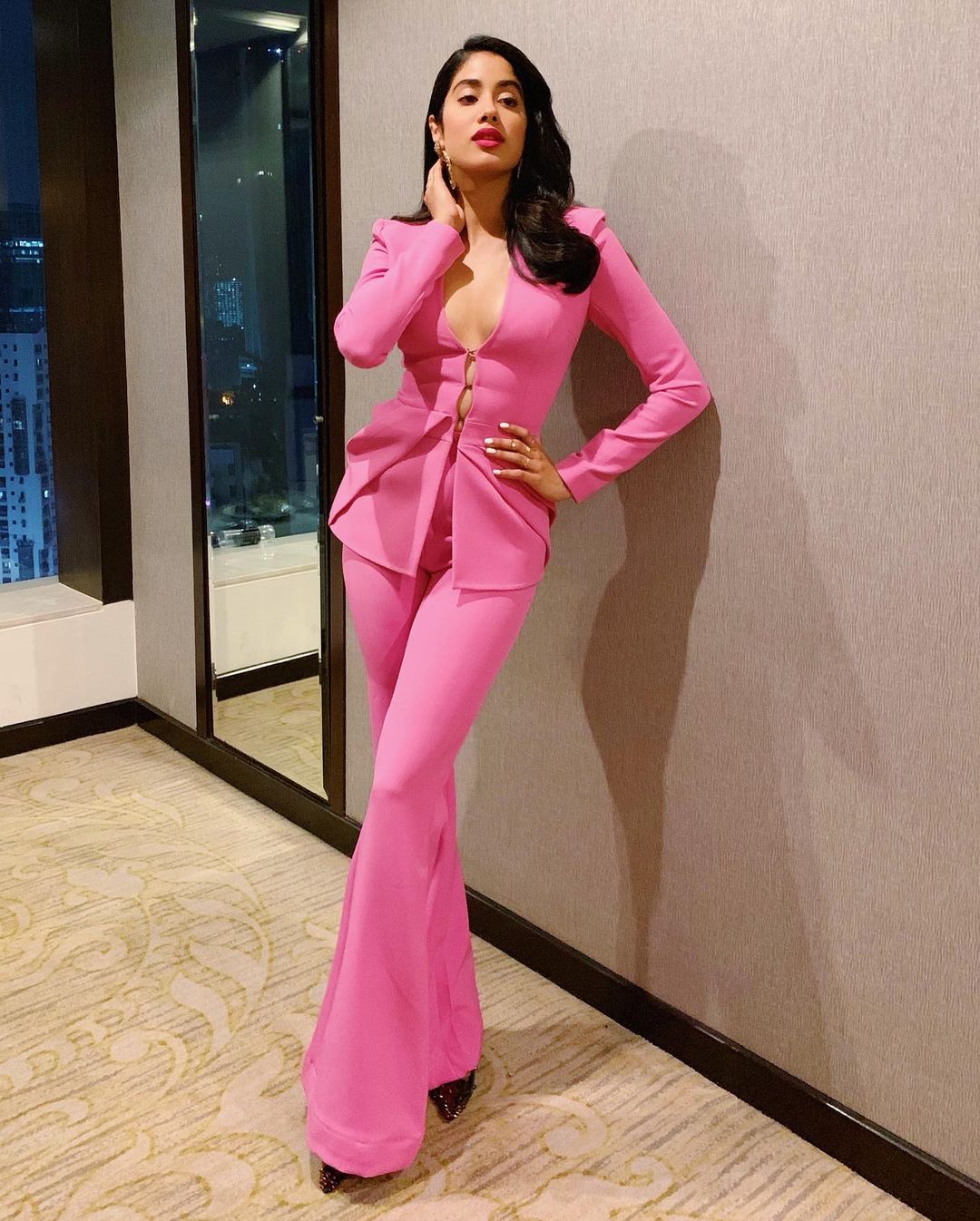 Image Source
Pink seems to be a favourite among Bollywood divas and we are totally crushing on this look by Janhvi Kapoor. The body-hugging blazer with an open neckline oozes sexiness and glamour. The bell-bottom pants are perfect to go along with that monotone power suit. If you love this look as much as we do, make a style statement and recreate it in your own way.
6. Bhumi Pednekar
Image Source
Bhumi Pednekar, in this classic black and white Dior pantsuit, looks like a complete dream. She looks so powerful, empowering, and ravishing in this power suit. That bold red lip and the smokey eye are complementing the whole look perfectly.
7. Kiara Advani
Image Source
Kiara Advani has always been on top of her fashion game with her gorgeous looks. And she was recently seen in this red pantsuit for an event. Paired with classic black heels and minimal jewellery, this women's power suit has got us swooning!
8. Sara Ali Khan
Image Source
Another B-town beauty who rocked a red power suit very recently is the fabulous Sara Ali Khan. Her straight-fit, body-hugging pantsuit with flare-cut sleeves looks completely ravishing! And her monotone look with bright red nails and matching red heels is perfect to pair for any occasion. So, get this look made to channel your inner boss lady and rock the world!
9. Ananya Panday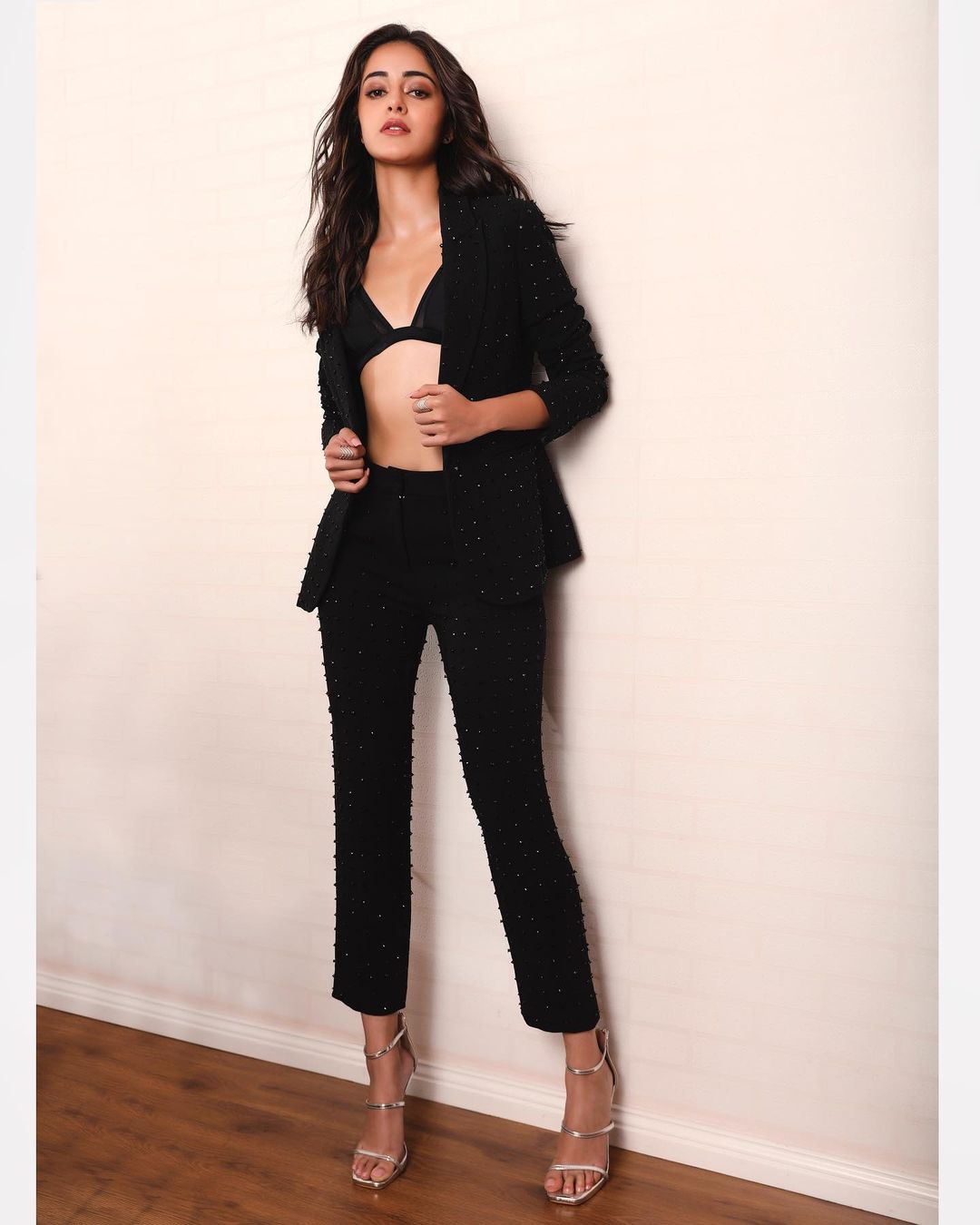 Image Source
The cute, bubbly, and extremely stylish Ananya Panday definitely knows how to work a pantsuit. And we are totally loving her take on the classic black pantsuit. Pairing a studded black blazer and high-waisted pants with a matching bralette is how you slay. If you want to look like you just walked out of a magazine shoot too, bookmark this women's power suits look for the next occasion.
Which of these is your favourite look?