Whether it's politics or business, women fought their way to the front in 2019. And we couldn't be happier. India saw strong, independent women shine and make a mark in their respective fields. From breaking world records to leading revolutions, these women have forced the world to sit up and take notice of them. Here is our list of the women achievers of India who made the country proud in 2019.
1. Aarohi Pandit
23-year-old Aarohi Pandit became the world's first female pilot to fly solo across the Atlantic Ocean in a Light-Sport Aircraft. She underwent a seven-month training program to prepare herself for the expedition. It included training for extreme weather, oceanic and high altitude flying. Another part of her training was physical and mental exercises to prepare herself for flying solo in adverse conditions.
Image Source
2. Madhuri Vijay
Madhuri Vijay released her debut novel, 'The Far Field' for which she won the JCB Prize for Literature 2019, the biggest prize for fiction. The story poignantly internalizes the turbulent politics of Kashmir, as Vijay's protagonist, sets off on a soul-searching journey to the mountains. Vijay is also the recipient of a Pushcart Prize. In addition, her writing has also appeared in Best American Non-Required Reading, Narrative Magazine and Salon, among other publications.
Image Source
3. The women of Shaheen Bagh
For the past few days, we have seen protests across India against the Citizenship Amendment Act and the proposed National Register of Citizens. Slowly but steadily, the women of a colony in Delhi came together and became an internationally known collective of resistance. The women of Shaheen Bagh, cradling their children, managing their daily chores and braving the coldest winter in a century, sit in shifts as they protest against the CAA and NRC.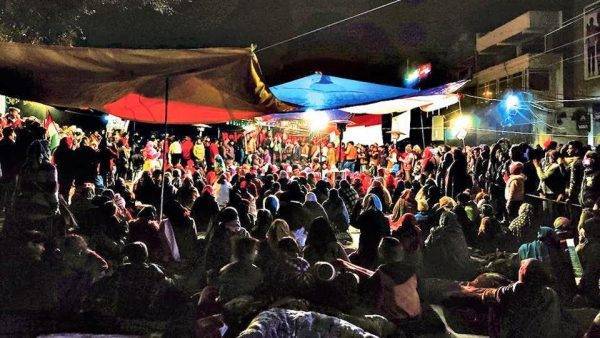 Image Source
4. Shaliza Dhami
Shaliza Dhami, who served as a Wing Commander in the Indian Air Force, became the country's first woman Flight Commander when she took charge of the Chetak helicopter unit at the Hindon airbase near Delhi.
She also became the first woman flying instructor of the IAF for Chetak and Cheetah helicopters, making her the first woman flying instructor in the IAF. Moreover, Dhami is also the first woman officer to be given a permanent commission with the Indian Air Force. 
Image Source
5. Harmanpreet Kaur
In October 2019, during a series against South Africa, Harmanpreet Kaur became the first cricketer for India, male or female, to play in 100 international Twenty20 matches.
A truly remarkable hundred this has been for the 30-year-old from Punjab, who made her T20 debut against England 10 years ago. She is not just one of the best cricketers the game has ever seen, but quite literally a game-changer for the women in blue.
Image Source
6. The women of Kerala's human chain
In 2019, women in Kerala formed a 620 km long human chain in support of gender equality and to gain access to the renowned Sabarimala shrine. The shrine at this temple was historically closed to women of "menstruating age" or between the ages of 10 and 50, as defined by the temple authorities.
Officials said that around five million women from various parts of Kerala gathered across all national highways to form this chain. It stretched from the northern tip of Kasaragod to the southern end in Thiruvanthapuram. The "women's wall" was organised by the state's left-wing coalition government and resulted in an overturn of the ban on women in Sabarimala in September 2019.
Image Source
7. Bhawana Kanth
Making history, Flight Lieutenant Bhawana Kanth became the first woman pilot of the Indian Air Force to qualify for combat missions on a fighter jet. IAF officials said Kanth completed an operational syllabus for combat missions on the MiG-21 Bison aircraft.
Image Source
8. Anshula Kant
Previously the Managing Director of State Bank of India, Anshula Kant became the first woman Chief Financial Officer (CFO) of the World Bank Group in July 2019. In this role, she handles the financial and risk management of the World Bank Group.
One of the major achievements in her career with SBI was that Ms Kant earned the chance to set up SBI's operations in Singapore. She got the opportunity to manage an established entity as a start-up and build it as her own business.
Image Source
9. Muthayya Vanitha and Ritu Karidhal
India's much-awaited space mission to the moon, Chandrayaan-2, finally launched on July 22, 2019. Monumental for a number of reasons, this mission was spearheaded by two women for the first time in Indian history.
The mission to the moon was led by Muthayya Vanitha and Ritu Karidhal, the project director and mission director, respectively. Vanitha has been working with ISRO for 32 years, while Karidhal has been with ISRO for 22 years. While they worked hard for their country, they also convinced millions of young girls that no matter how big their dreams, no one can stop them from achieving their goals. Read more about their journey here.
Image Source
10. Dutee Chand
Sprinter Dutee Chand became the first Indian to win a gold medal in women's 100-meter sprint at the 30th Summer University Games in Naples, Italy. She then broke her own record in the 100 m race and came out as India's first openly gay athlete. Her declaration of being in a same sex relationship was welcomed within India and internationally, including by talk show host Ellen DeGeneres.
Image Source
Who inspired you in 2019?