Turn your home into a classic paradise by adding a hint of vintage charm. With some out of the box ideas and experimenting, you can transform your space with heirlooms and collectibles. We are thinking weathered wood mirrors, hand painted trays, quirky coasters and more. Artisans Rose has a whole bunch of handcrafted vintage home decor items that are waiting for their forever home.
1. Colours Inspired by the Sea for the Living Room
Blue and white make a perfect harmony when it comes to home decor. It is an excellent choice of colour for the living room to create a calming effect. Accent the feeling of sitting by the sea with a lifebuoy shaped mirror.
Bright Idea: To complete the nautical theme, mount a map wallpaper of your dream destination.

2. Tap into the Worldly Goods
A distressed wooden clock and a mounted horse figurine provide a perfect setting for your photo frame. Set the stage further with some bright flowers and bespoke collectibles.
Bright Idea: Be very careful while cleaning antique wooden pieces – you don't want them to lose their rustic feel. Here's a quick DIY to clean and make them shine.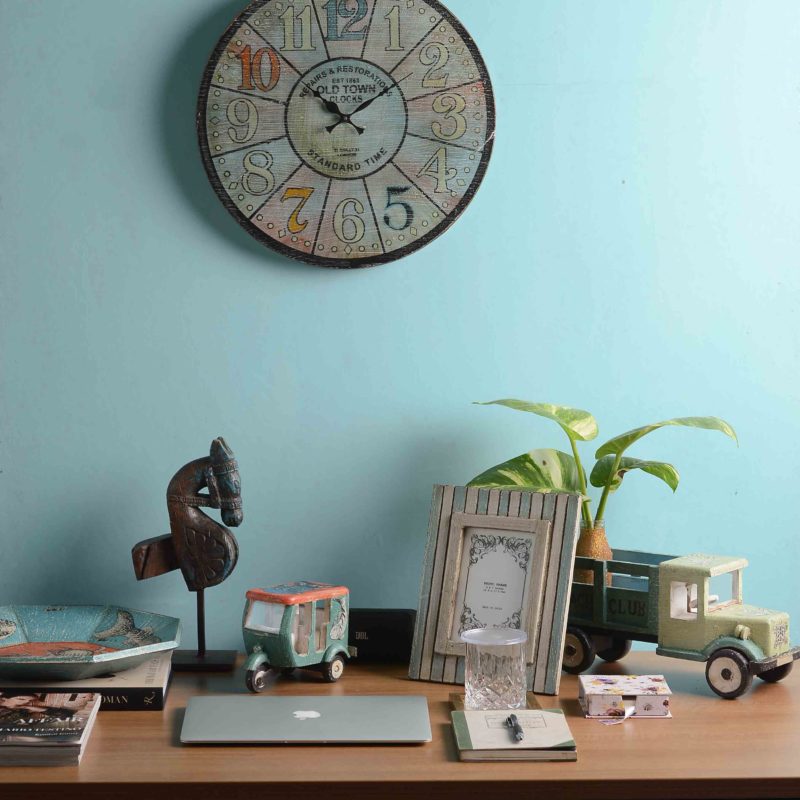 3. Light your Way Ahead
Create a whimsical wall art with iron chandeliers. Or you can get a lantern for your table side. Either way, these pieces will surely be a conversation starter for your guests.
4. Fun Accessories for the Kitchen
Step up the humble serving trays. The vibrant mix of colours injects fun into this familiar household object.
Bright Idea: Check out Artisans Rose collection for more fun accessories for the kitchen.

5. Earthy Shades for a Cozy Corner
Turn an unused corner into your favourite cozy spot in the home. Carve out your 'me' space with a rustic wooden screen near a window side. Beige furniture and green planters will give a subdued hint of warmth.
Bright idea:  Place a rocking chair and fuzzy rug here and you will never want to leave this corner again.
6. Art on the Walls
When you are looking for creative solutions for wall art, think vintage. Scoop up these distress mirror frames for your wall that is screaming for some love.
Bright Idea: Make your own collection of distressed wall art by painting old cabinet drawers.
Contact Artisans Rose
Store: Khasra No. 71, Near Welcomhotel Jodhpur, Jodhpur, Rajasthan – 342001