Directed by Sooraj Barjatya and starring several stalwarts of the Indian film industry, Uunchai, quite literally, touches new heights. From the beginning to the end, this film will make you smile with maybe a few tears finding their way too. And with Amitabh Bachchan, Boman Irani, Anupam Kher, Neena Gupta, Danny Denzongpa, and Sarika playing pivotal roles, we expected nothing else from Uunchai.
A story of friendship that lasts a lifetime
The film starts with a grand celebration. Bhupen (Danny Denzongpa) is keeping personal traditions alive by celebrating his birthday at Delhi's Gymkhana Club. There, he is joined by flamboyant bestselling author Amit Shrivastava (Amitabh Bachchan), owner of a womenswear store and the peacekeeper of the group Javed Siddiqui (Boman Irani), and pessimistic rigid bookshop owner and the party pooper of the group Om Sharma (Anupam Kher).
The four men, no matter how different from each other, have known each other for decades and have remained good friends. The day after his birthday, Bhupen is unexpectedly found dead in his bedroom, leaving his friends devastated. But, the day before he dies, on his birthday, Bhupen reiterates his lifelong wish to go to Mount Everest with his friends. While they were all dismissive of his plans at the time, the three men soon realise that the best way to pay tribute to Bhupen would be to take his ashes to the Everest Base Camp. And so begins their arduous, humorous, and life-changing journey from Delhi to Mount Everest.
The story of Uunchai is well-written and profound. The ambitious dream of going to Everest Base Camp with their friend's ashes isn't written as a typically inspirational, overly emotional tale. It's something you can easily imagine doing in similar circumstances. The friends, all in their late 60s, diss each other in ways that you would imagine talking to your friends when you're that age. Uunchai does not aim to lecture or inspire, it's just a story about the kind of friendship that lasts a lifetime.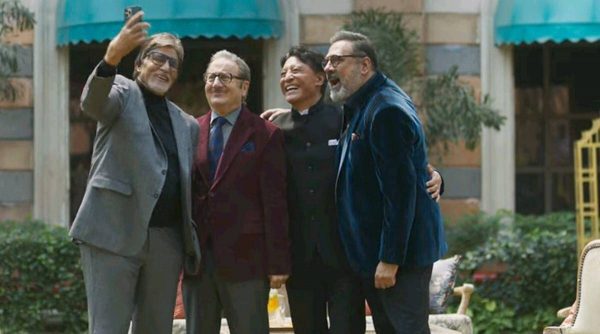 The greats of Indian cinema in one film
Amitabh Bachchan is absolutely mind-blowing in his portrayal of a man who loves an extravagant lifestyle but is trying to hide everything that makes him human. The way his character changes from the beginning to the end is not something just any actor could have pulled off. Uunchai is one of those films that reminds us why Amitabh Bachchan will remain a legend beyond our time.
Boman Irani is an absolute delight to watch. His portrayal of a man who is completely dependent on and kind of afraid of his wife is not cheesy or sexist. He switches from a carefree friend to a concerned husband within seconds and you don't even realise what the actor has done. Whether he's trying to keep the peace among his friends or losing control of his rage when Bhupen's long-lost love joins them on the trek, Boman Irani as Javed is the wholesome, sweet uncle we all want in our lives.
Anupam Kher's Om Sharma, on the other hand, is the uncle we already know. He's fussy, temperamental, doesn't like fun in general, and has been carrying around a certain level of anger against his brothers for years. But Kher's portrayal of the character was unexpected in its control and realism. Om's emotional side catches you off-guard and so does his fun side, when he chooses to show it.
And now, we come to Neena ji. Her role, even though it's short, is one of the highlights of Uunchai. The banter between Javed and Shabbo (Neena Gupta) is a major part of the fun of the film. Shabbo is overprotective and suspicious but she is also easily manipulated by her husband's friends to let them do what she would never approve of. But it's not just all fun and games with Shabbo either. When the time comes, Neena Gupta takes the focus away from everyone else in the frame and holds your attention firmly on Shabbo.
Predictable but in a good way
It is very easy for a film like Uunchai to drag, but it doesn't let you get bored at any point. The abundance of talent on screen at all times makes sure of it. Uunchai is a heartfelt attempt by everyone involved to produce a story that leaves you feeling warm and fuzzy. Watching this film will probably make you want to call your friends and finally go on the trip that you've been planning and postponing for years.
However, the one feature that brings Uunchai down is the robotic Parineeti Chopra and the unnecessary drama attached to her character. Her short role as Shraddha Gupta, the trek leader who has a bone to pick with Amit Shrivastava, feels like an annoying deviation from an otherwise wonderful story.
While Uunchai can seem predictable as it progresses, that's not really a bad thing for a film like this one. The end is melodramatic and a little too obvious in its attempt to make you cry. But that doesn't take away from the warmth and pure heart of this wonderful film.
Uunchai is out in theatres now.
Featured Image Source