Bollywood and Indian TV shows have made an art of portraying toxic relationships as "true love". Examples of this can be seen in recent shows like Sirf Tum. We have internalised toxic behaviours so much that any character who is toxic becomes the "bad boy" or "bad girl" who changes because of love. All we have to say to that is, thanks, but no thanks. Ladies and gentlemen, over-possessiveness, controlling behaviour, and unsolicited jealousy are not things to aim for in a relationship. Any form of violence and rough handling by your partner (unless you're into BDSM) is not okay. Here are five classic relationships on Indian television that are actually toxic but masquerade as eternal love stories.
1. Iss Pyaar Ko Kya Naam Doon
Arnav Singh Raizada became the heartthrob of the nation during the time Iss Pyaar Ko Kya Naam Doon aired on Indian television. He was the angry young man everyone loved. The audience was waiting with bated breath to see Khushi and Arnav together. But ladies, he is not the perfect guy! He constantly belittles Khushi, forces her to marry him, mistreats hers, doesn't trust her, and continuously bullies her. Now, is that the kind of "true love" you are looking for? Arnav and Khushi's relationship was toxicity personified.
2. Kumkum Bhagya
A show that has been going on for seven years and yet hasn't seen a resolution. That's Kumkum Bhagya. In these seven years, we doubt the lead couple Abhi and Pragya have been together for a whole year cumulatively. Misunderstandings and lack of trust are constant factors in Abhi and Pragya's life. It is very easy for a third person to come and create differences between the couple. In the seven years the show has been running, they have been married and separated quite a few times.  People still laud Abhi and Pragya as a beautiful couple, but are they really? The underlying toxicity in their relationship can't be ignored.
3. Pinjara Khubsurati Ka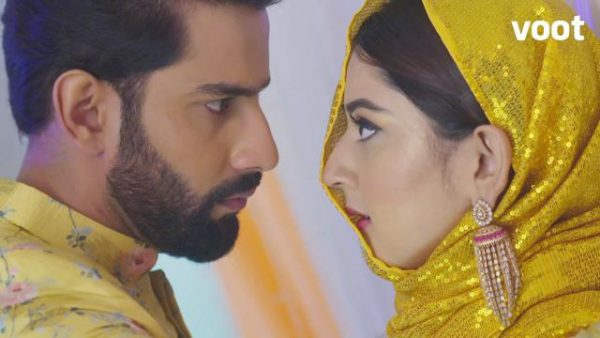 Pinjara Khubsurati Ka is a tale of obsessive love, and people consider the lead couple Mayura and Omkar to be a loveable pair. Omkar falls in love with Mayura purely for her physical appearance. So much so that he doesn't even like her interacting with any other man, including his brother. Despite everything, even after vowing revenge against Omkar for his misdeeds, Mayura repeatedly forgives him and falls in love with him. Mayura and Omkar's is one of the most toxic relationships on television. Guys like Omkar are walking red flags, ladies, and if you ever meet one, run for your life.
4. Qubool Hai
Karan Singh Grover made every girl's heart race ever since he played Dr Armaan Malik in Dill Mill Gayye. So, when he came back to the small screen with Qubool Hai, everybody was excited. Zoya Farooqui and Asad Ahmed Khan are a beloved couple even today. The actors had great chemistry and it translated well on screen. Zoya and Asad's love story is considered to be one of the best love stories on television. But is it? From the get-go, Asad holds prejudice against Zoya because she is an NRI and he thinks she doesn't follow Indian values. He is consistently rude to her, judges her on her clothes, ill-treats her for the smallest things, and even physically mishandles her. Is that a love story for the ages or a cautionary tale?
5. Imlie
Ahh! What to say about this one? A well-educated journalist is forcefully married off to a young girl. But he is in love with another woman, whom he marries despite his forced marriage. Then he realises, oops, "I'm in love with my first wife. The second wife is just a friend." This entire show is problematic AF, from a guy who doesn't even know what he wants to the girls who desperately want to own him. Aditya is in love with Imlie, but he doesn't trust her one bit. Malini is Aditya's "best friend", but he is willing to forgive all her misdeeds, even him being drugged and physically abused. The relationship dynamics in this show are a major clusterfuck, to say the least. If you are ever offered this love story, please run away to a different country and save yourself.
Internalised patriarchy has blinded us to the toxic traits of men and women around us. We tend to easily forgive men with the hope that things will get better. But girls, remember, you are not a therapist for your partners. Unless you are qualified and paid for it, don't bother trying to fix him. It is not your job to save men from themselves, and you definitely should not be ignoring red flags that tell you to run away.
What other toxic relationships on television have you come across? Let us know in the comments.
Featured Image Source
Related: Here's Your Reality Check On What A Healthy Relationship Actually Looks Like