Finding a loving, supportive, and loyal partner who doesn't try to manipulate or belittle you every step of the way is a task in itself. And whether you've found someone like that or just got out of something toxic, kudos to you for knowing what's good for you. That being said, you should know that even the best of relationships aren't problem-free. No matter what your favourite rom-coms have told you, there's no such thing as a perfect relationship, just healthy relationships vs unhealthy ones.
Related: Red, Yellow, Or Green: Which Flag Does Your Relationship Raise?
Here are some truths about being in a healthy relationship that no one speaks about.
1. A certain degree of conflict is inevitable
No matter how much 'in love' you may be, conflicts are bound to arise on occasion. And that's okay. As two individuals with distinct personalities, it shouldn't come as a surprise that you'll disagree on certain matters. And at times, these disagreements might even lead to arguments and fights. While there's no doubt that these moments can be frustrating to deal with, they don't have to get ugly enough for you to call it quits either.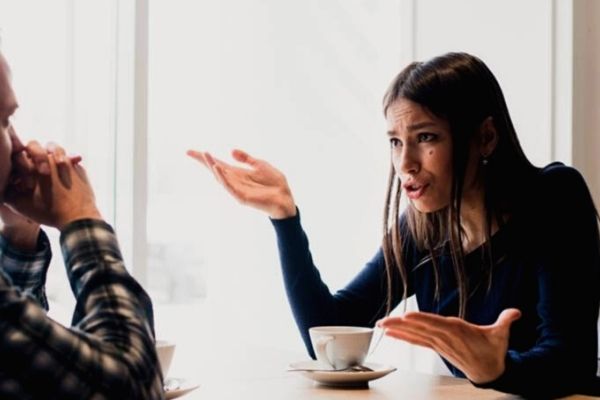 Image Source
When it comes to conflicts, what distinguishes a healthy relationship from a toxic one is the means of conflict resolution. You need to be able to respect each other enough to hear each other out and keep the gaslighting at bay. In an ideal scenario, you'll patiently discuss the matter at hand, hit common ground, and then come up with a satisfactory resolution. This can also mean taking some time to cool off after the initial fight and getting back to the issue later. And that's alright. Also, being able to put your ego aside and apologise when you're wrong is equally important.
Related: 10 Things To Do In Lockdown So That You And Your Partner Can Co-Exist Peacefully
2. It can get boring from time to time
I hate to break it to you, but the 'honeymoon phase' is a real thing. The initial months of every relationship are usually the best. The conversations are endless, each date gives you butterflies, and there's a whole bunch of exciting firsts to explore. But soon enough, the monotony of regular life replaces all the pillow talk, cheesy texts, and over-the-top romantic gestures. What used to be a spontaneous weekend getaway is now just another night of endless Insta scrolling and meme sharing in bed. Inside jokes start to feel old and overused, and the conversations run dry.
Image Source
At this point, a toxic partner would've ensured that you were overwhelmed with a rollercoaster of emotions and self-doubt. But that's not your loving and supportive boo, is it? Hence, the feeling of boredom and lack of excitement. The good news is that unlike the aftereffects of a toxic relationship, boredom is easily reversible with some effort. You can start by planning weekly date nights with some ground rules like keeping your phones away. Or perhaps spice things up in bed and try out that new position you'd been putting off. Have a games-and-wine night, or just simply go through your old pictures together and relive some fun memories. Remember, you don't always have to surprise each other with grand gestures, even the simplest of things turn out to be fun when you're with the right person.
3. Efforts and adjustments are non-negotiable
I cannot stress this enough. The healthiest of relationships can start to feel like a burden if either party becomes complacent about their involvement. No relationship, be it romantic or otherwise, is effortless. Even something as simple as creating time for each other requires conscious effort and adjustment. And when life throws its challenges your way, you need to be able to lean on each other and face them head-on. At each stage, you'll be expected to put in the work to nurture your relationship, whilst simultaneously attaining personal growth as well. Some might even call it the labour of love. And there's no rulebook that dictates the terms.
Image Source 
While at times your presence as a shoulder to cry on is enough, other instances may call for greater sacrifices. For instance, for a couple in a long-distance relationship across different time zones, both parties must be willing to sacrifice their sleep to keep the communication running. Similarly, when living together, you both need to put in the effort to ensure each other's comfort. Also, there might be parts of each other that you aren't necessarily a fan of, but as long as they don't hurt you, you'll just have to get used to it. All that being said, neither of you should start to feel emotionally drained with the work you put in either. Perseverance, trust, and communication are key to fulfilling these often-unsaid expectations of involvement and effort.
4. You both need breaks from each other and that's okay
Your partner could be your favourite person in the whole wide world and you may still enjoy some time apart. There's nothing to feel guilty about here. Being in a committed romantic relationship does not mean having to sacrifice your 'me time' or your relationships with friends and family. Taking breaks from each other to rejuvenate is an essential part of any healthy relationship and will only help you in the long run.
Image Source
Be it a night-out with your friends or a self-care date with yourself, make sure you're not feeling suffocated in the same routine and company. This is especially important if you start noticing your patience run out with each other for no apparent reason. And remember that this goes the other way around as well. Your partner asking for some alone time doesn't translate to them loving you any less or an impending breakup.
5. Not every healthy relationship lasts forever
If you thought that being in a healthy relationship guaranteed you a happily-ever-after, I'm sorry to burst your bubble. At times, no matter how hard you try, the stars are just not aligned in your favour. The more time you spend together, the more you learn about each other. And in doing so, you may realise that you both have completely different expectations from life. If that's the case, you might end up parting ways to accomplish your goals in life. It sucks, but it happens. And if you were indeed in a healthy relationship, chances are that your separation will be an amicable one. At the end of it all, you'd have created some beautiful memories to last you both a lifetime.
Related: Your Heartbreak Survival Guide: Don't Let That Breakup Break You
Featured Image Source