Directed by Rakeysh Omprakash Mehra, Toofaan was released on July 16 and is streaming now on Amazon Prime Video. Farhan Akhtar plays Aziz Ali, a small-time thug who finds his calling when he sees a video of Mohammad Ali boxing. Soon, he goes into training full-time with an openly bigoted coach who hates Muslims. This and the parallel love story triggers events that lead to some of the most important issues plaguing India right now.
Image Source
While the film is primarily about boxing and a boxer's meteoric rise and fall, the remarks we hear every day, and the hatred that they are based on, get an important place in Toofaan. And it's high time Indian cinema acknowledged the new forms of bigotry the nation has been witnessing in recent years. It's not just on the streets anymore, the hate is in our living rooms, and Bollywood's massive following is proof that nothing works better than good cinema to make people at least think about their own mindsets.
It's also been a while since we saw a typically Bollywood film, with song and dance and a cheesy romance that is bound to run into conflict. Very 90s, but it appeals to anyone who likes some good old Bollywood masala. Farhan Akhtar is a treat to watch, but Mrunal Thakur, though pleasant, can get a bit annoying with her constant goodness.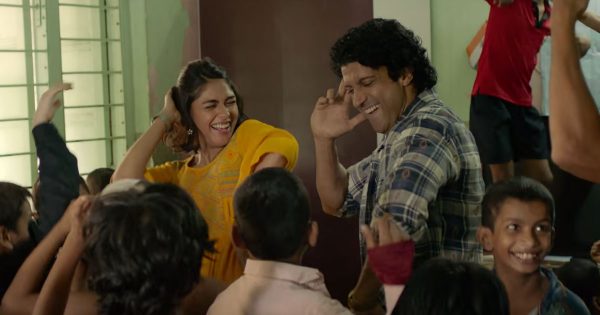 Image Source
Halfway through the film, boxing is sidelined to focus on the bigger issue — how Muslims and women are treated in India every day. And you see it in the simple, normal acts of trying to find a house to rent or two consenting adults getting married.
Here's another big problem with the film. The fact that one of the main characters in a film that is trying to tackle bigotry is played by Paresh Rawal is disheartening. Rawal is known for spewing hate against Islam and Muslims on a regular basis on social media. The casting director could have done a lot better on this count unless they were actively trying to make some sort of skewed point. You can believe the bigotry of Paresh Rawal's character but not the repentance.
Also, Supriya Pathak and Vijay Raaz are criminally wasted in their roles. There was so much potential there with the characters and the actors playing them, but sadly, we just don't see enough of them or their characters' stories. Without giving any spoilers here, the end of the most giving and loving character is super predictable. The build-up is all too familiar to go unnoticed.
Toofan is unusually long for films these days, but at no point do you feel that it could have been shorter. What the film lacks in character development, it makes up for in its emotional quotient.
PS: For once, we'd like to see a woman reaching out to hit a man in a film and have it dismissed as a natural reaction.
Related: 15 Hindi Movies To Watch Online When You Need A Good Dose Of Bollywood Masala
Featured Image Source