Bollywood films and Indian TV shows have often taught us some golden rules about relationships. The way each character goes through ups and downs and still finds their way back to the right person is just great. And while I do get a lot of the emotions and relationship dynamics shown in the Indian cinematic world, there's one thing that really bothers me. Remember this dialogue from the iconic Maine Pyar Kiya?
There is a massive problem with this rule, and here's why.
Saying "thank you" and "sorry" isn't a formality
When someone helps you with a task and you thank them for it, people often respond with "Arre formality ki kya baat hai!" But here's my point – thanking somebody or apologising isn't an act of formality. Gratitude is just your way of acknowledging someone's efforts for you. Whether that person is a friend, a family member, or a waiter at a restaurant, it doesn't matter.
Friends are not duty-bound to help you
Friends don't need to be at our beck and call 24×7. Our friends are there for us because they make that choice. And this is why it's important to remember that they can choose to walk out on you too.
Related: Friendship Day 2020: Call Your Buddies And Thank Them For Keeping You Sane
The words show your character, nothing else
Our behaviour and response to situations only show our values and strength. Whether you say the words out loud, or show your gratitude through your gestures, it is all a reflection of you and how you value your relationships.
It shows how much you value your bond
If you sit back and think about your closest relationships, and the things you've been through together, you would know exactly how and when your friends have been your pillars of strength. All those times that they've stuck with you to pull you out of your mess need to be appreciated, because where would you be without them?
"Thank you" and "sorry" aren't mere words, they are emotions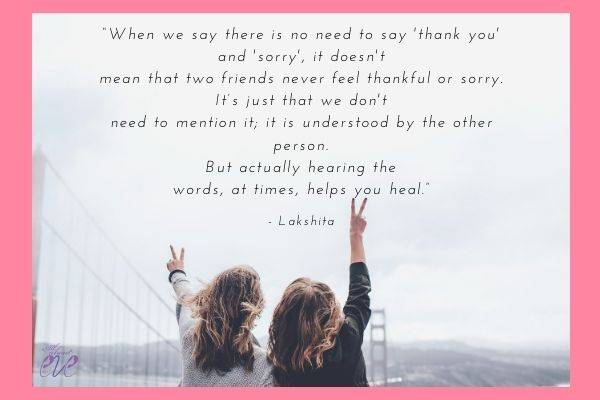 Every relationship has moments that test its strength. When things get tough, "thank you" and "sorry" can be stronger than even a million words put together. They have the strength to melt the hardest emotions and egos.
We don't necessarily pick our friends out from a crowd; some just enter our lives by chance. The fact that they choose to stick around in our lives, despite all our flaws, is something that should never slip our minds. This is why saying "sorry" and "thank you in friendship" shouldn't be seen as a burden or unnecessary formality.
Send your friends virtual hugs to thank them for being your source of sanity and peace!
Featured Image Source