Directed by Kunal Deshmukh, Shiddat starts like a high-end wedding video, complete with designer wear, plenty of diamonds, and an appropriately mischievous bride. Mohit Raina plays the shy groom, Gautam, and Diana Penty is the enigmatic bride, Ira. And then, they suddenly disappear. Fast-paced and intriguing, right? This builds up your expectations for the story, hoping it will be unpredictable and edgy.
The story unexpectedly transitions to Jaggi (Sunny Kaushal), a hockey player and Kartika (Radhika Madan), a professional swimmer, at a sports meet. Several problematic tropes are used in this love story — stalkers turn friends, sexual harassment is treated as a fun game, and the one we thought had died forever, the romanticisation of life-saving CPR!
Also, who in their right mind follows an already engaged person to another country to cancel the wedding? DDLJ was 1995, this is 2021. Things have changed, Bollywood. We need more than these exhausting love stories to make films worth watching. Imagine how unsafe a woman would feel if a man she keeps refusing follows her across borders because he claims that they are in love.
The film has a weird migrant angle that is used to make one guy look misguided and the other, Mr Relentless Stalker, look like the good guy. To Sunny Kaushal's credit, he gets the typical Bollywood loverboy persona right.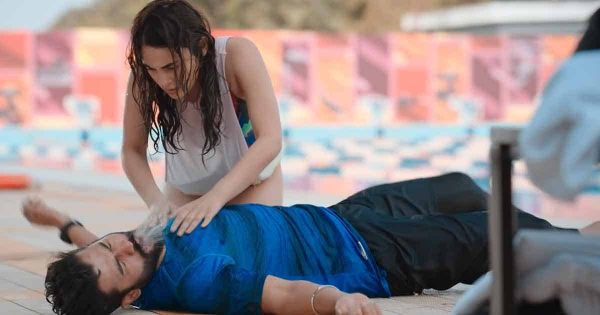 Shiddat is far too long for it to be entertaining. The attempts at humour fall flat so there's no relief from the love stories. But the ending, at least, is more realistic than the rest of the film. It might move you to tears but only if, deep down, you're a hopeless romantic.
Watch Shiddat on Disney+ Hotstar.
Related: Britney Vs Spears Review: The Story Of A Global Pop Star's Struggle For Freedom
Featured Image Source