Just the other day, I went out for dinner with my friends. One of my friends offered to drop me at a middle point from where I could easily walk home. At 10:30 pm, I was scared to walk that three-minute walk to my home without a self-defence tool in hand. And that's a road I take twice a day, every day. But you switch the time from 8 am to 8 pm and everything changes. This is not just a personal story, this is the case with a lot of women across the country.
Even today, walking alone on a dark road is something that makes women freeze up. Why wouldn't it? Women's safety is hardly a priority in this country. That is why, if you're a woman, it is important to carry with you some tools that can come in handy if you are ever in a dangerous situation. Here are five self-defence tools you can easily find on Amazon and need to keep in your bag at all times.
1. IMPOWER Self Defence Pepper Spray
Keeping pepper spray handy is one of the easiest ways to protect yourself. Spraying it directly into the attacker's eyes incapacitates them. As the pepper spray will cause the eyes to sting, you'll have enough time to run away. Just be sure you keep the spray as far away from your face as possible so that it doesn't hit you. You can also try to cover your face with your arm while using the spray.
2. Pullox Stainless Steel Self Defense Protection -Tactical Pen
Unlike a regular pen, a tactical pen is a multi-tool. Apart from using it as a pen, you can also use it as a weapon to strike or stab an attacker. As it is inconspicuous, your attacker will have no idea you are taking out a weapon to attack them. This gives you an element of surprise that will be handy if you are in danger.
3. Iqra Sports Multipurpose Swiss Knife
Like a tactical pen, tactical knives are also inconspicuous. They are usually folding knives which can effectively cause a great degree of damage. Apart from using it for self-defence, tactical knives can also be used in other difficult situations, like if you were stuck in a forest while camping.
4. K T I Polycarbonate Ultra Strong Durable Light Weight Self Defense Lathi
Again, an easy enough weapon to carry with you. A defence lathi can turn into an effective self-defence weapon to hit your attacker. Since these are usually made with polycarbonate, they are lightweight and easy to carry.
5. Hunk Shopper's Anti-Rape Self-Defence Safety Extreme Loud Alert Keychain Alarm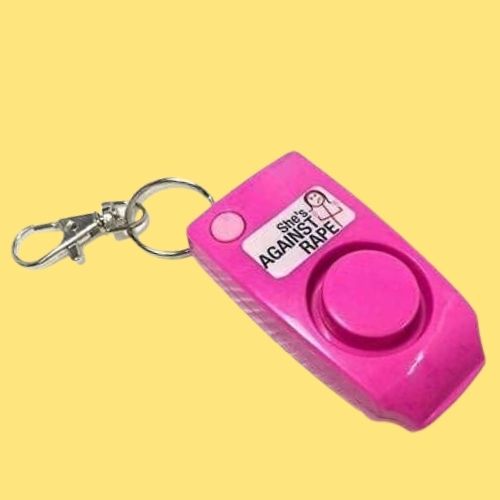 When you are caught in a dangerous situation, it is very important to make some noise and alert bystanders about the danger. In such a scenario, this high volume anti-rape keychain will be helpful. You may not be able to scream as loud, but this easy-to-carry keychain will be helpful. All you need to do is press a button.
These items are individually selected by the team and we may earn a commission from your purchase.
Featured Image Source
Related: 7 Easy Self-Defence Moves Every Woman Should Know To Protect Herself