Runway 34 just hit the theatres today. Directed and produced by Ajay Devgn, the movie stars Ajay Devgn, Rakul Preet Singh and Amitabh Bachchan in crucial roles. The trailer of the movie promised quite a thrilling aviation drama but does it live up to those expectations? Read this review of Runway 34 to find out.
The man of the hour – Captain Vikrant Khanna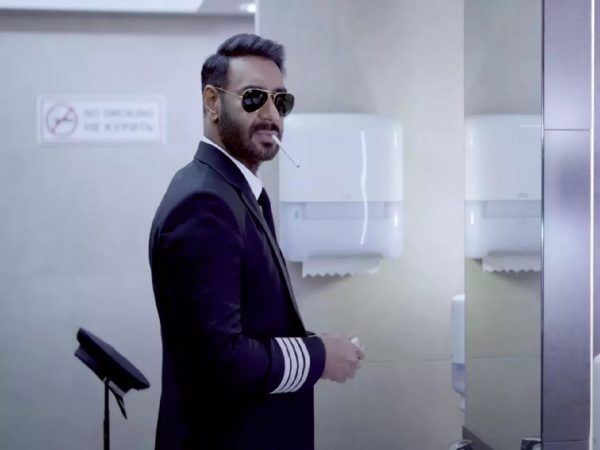 The movie starts with a group of men looking shocked and wary in a control room as rain rages outside. Cut to a very dashing Ajay Devgn in a pilot's uniform, dangling a cigarette from his mouth. As we are introduced to Captain Vikrant Khanna, the intro music goes "he is the alpha man". That in itself was such a put-off and laid the ground for the kind of character Capt. Khanna would be. And boy, does he live up to those lowly expectations.
Vikrant Khanna is a know-it-all, arrogant man and that comes across really well throughout the movie. At one point when he is introducing his co-pilot, Tanya Albuquerque, he calls her Tanya 'Albucocky'. His smart-alecky is not all that attractive TBH. The captain is constantly walking around with an unlit cigarette dangling from his mouth going "jalaya toh nahi na" to anyone who objects. This movie is very much like that unlit cigarette.
A promising start
Runway 34 is divided into two parts. The first half of the movie establishes Devgn's character Capt. Vikrant Khanna, his photographic memory and the entire events of the movie. The movie itself is based on a true story of a Jet Airways Doha to Cochin flight. Riddled with bad weather and zero visibility Capt. Khanna and his co-pilot Tanya Albuquerque, played by Rakul Preet Singh, need to safely land the flight with 150 people aboard. As a landing in Cochin is not possible due to bad weather conditions, the flight is redirected to the Trivandrum airport. Unfortunately the conditions there are even worse. Despite the odds, Capt. Khanna manages to land the flight, barely crashing it. The first part of the movie is undoubtedly where the best lies because soon it turns trajectory.
A fizzled out second half
The second half of the movie focuses on the consequences of Capt. Khanna's actions. Amitabh Bachchan enters the picture as the leading investigator, Narayan Vedant. Vedant is an overpowering guy, but that only comes through in his interaction with Tanya Albuquerque and no one else. Yes, Mr Bachchan is a good actor, great even, but in Runway 34, he is a little loud. Narayan Vedant almost reminds you of Narayan Shankar from Mohabbatein. He is a man of principles and doesn't budge at all. Despite the skills Mr Bachchan brings to the table, the second half falls flat. Vedant almost seems to be on a singular mission to declare Capt. Khanna as an unscrupulous and unregretful offender.
Unnecessary characters that could have been avoided
The movie soars high in the first half but crashes after intermission. The second half is so drab that I almost dozed off in the theatre for almost ten minutes. Characters are pretty one-dimensional with singular purposes. Khanna's wife Samaira is only put in the scene to stand behind her husband and motivate him. His lawyer played by Angira Dhar, is again a character that could have had potential but is barely touched upon. Even Tanya, Capt. Vikrant's co-pilot turns into a damsel in distress when put in a high-pressure situation. The movie also has a few stock characters like a heavily accented Hindi speaking Malayali, an unscrupulous entrepreneur played by Boman Irani who owns the airline Vikrant flies.
Frankly, the entire movie could have been avoided if Captain Vikrant had listened to his co-pilot and played things by the book. Runway 34 is an okay movie and at best a one-time watch. If aviation drama is your jam, despite its significant lows, give the movie a shot.
Feature Image Source
Related: OMG, Bachche! Aunty Eve Reviews 365 Days: This Day…And She Has Things To Say