You're all adults na, bachche. I hope so because the little ones should not be reading or watching anything about this…hmmm…movie. It is very much sexy-sexy, you know. Anyway, so I watched 365 Days with your uncle a few months ago, because we would always see it on the 'Trending' list on Netflix. So, we thought it must be really good. Then we started watching…and oh ho ho ho, bachche! Your uncle's mood only changed, and the next few days were…how to say it…eventful for us. But I had to stop his fantasy when he started wearing super tight black shirts like these Italian dons. Let's just say that Massimo doesn't try to get it on after eating a full plate of butter chicken and three naans.
Anyway, so I'm sure you know that the new 365 Days movie, called 365 Days: This Day, started streaming today on Netflix. I couldn't wait to watch it, so I thought I'd watch and tell you kids what Massimo and Laura are up to this time. Let's begin, okay?
Laura needs to make a trip to Marks & Spencer
In the first two minutes only, she said, "I don't have panties". The poor thing! Who doesn't have a single pair of kachchhis? That too on her wedding day. And then, her husband tries to become her underwear? At least as a bride, she could've been allowed to buy her own underwear.
The sex has begun
The beginning credits haven't even finished and your uncle is already trying to find his Massimo suit. He's also asked me to change into my white chikankari suit just because Laura and Massimo's wedding scene is on.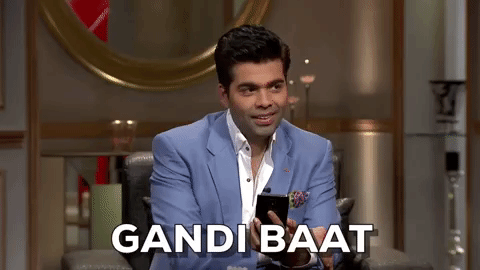 30 minutes into the movie…and I've lost count
If you can keep count of the number of sex scenes in the first 30 minutes, you're paying far too much attention to this movie, bachche. Kuchh aur kar lo in life.
Also, that's not how you play golf, Laura. Someone gave her all the wrong lessons.
Massimo is no fun
It's always boring mafia work or expressionless sex with this man. Laura eats, goes to Massimo for sex, then goes to her friend to talk, and then repeats the whole cycle again. Apart from trips to the mall, she also needs to get a job I think.
And if it's not Laura and Massimo, it's Laura's friend, Olga, and her fuccboi having sex.
365 Days: This Day has more songs than Hum Aapke Hain Koun
So many songs! But it's understandable because hearing people constantly moaning without music is…weird. Also, the songs make up for the lack of meaningful dialogue. The songs aren't bad, but I don't think you'll be really focusing on the music. Hehehehe.
Why is such a sexed-up marriage so unhappy?
Beta ji, I am very open-minded. Matlab you will not find any other aunty with a mind as open as mine. I can talk about sex things for a whole 30 seconds before my sharam takes over. Anyway, I have always been told that sex is very much important for two people to be happy in a marriage. And by my own personal experience, I can say that too because your uncle and I kind of hate each other at this point. So then, maybe one week into a marriage that has lots of different kinds of sex, why are Laura and Massimo so unhappy?
OMG Massimo has a twin!
If one Massimo wasn't enough for you, now there are two. One is evil and the other is eviler. And because of this twin, you get to see Laura and Massimo having sex with people other than each other. You know, in case it gets too monotonous to see them only trying to swallow each other.
Beta, I didn't expect great acting but this is the limit
Laura, Massimo, Massimo ka bhai, Olga, Nacho (yes, there is a muscled-up boy called Nacho), Domenico–all have one thing in common. All the actors who play these characters are really bad actors, bachche. If it wasn't for this 365 Days series, I don't think they had much hope of making it in this industry. Hamaare yahaan toh censor board would've cut their careers before the first scene.
I know you won't watch 365 Days: This Day for the story. So, just like you watched the first 365 Days for a very specific reason, you can watch this one too. Not like you needed me to tell you that. Naughty, naughty.
Okay, bye. Now, as plain-faced Massimo, says, "It's time to return to our normal lives, baby girl".
Related: 11 Thoughts Aunty Eve Had During Her 14-Day Anupamaa Binge