Very few Bollywood films of the 21st century can claim to be truly iconic, but Rang De Basanti easily falls in this category. Its portrayal of the youth awakening to the realities of corruption in India, and becoming socially conscious to the point that they're willing to sacrifice themselves for a better country, touched a chord with India's millennials. Today, the film stands as a relic of a time when films could be as harsh on the establishment as possible without fear of reprisals.
But there was a reason why Rang De Basanti stood above many other films in the "patriotic" genre, despite not being too subtle with its patriotism. Rang De Basanti's success lay in how authentic and relatable its characters and, more importantly, their friendships were. This group of friends wasn't your generic Bollywood gang of Rockies and Vickies with one "hero" being accompanied by sidekicks and hanger-ons with no identity of their own. Each of them had a distinct identity and a character arc.
Image Source
The film may not have been too subtle in the second half with its portrayal of patriotism and revolution, but it captured the friendships of its characters with a deft touch. Without going into flashback or needless exposition, Rang De Basanti clearly hinted at the genesis of its friendships. DJ (Aamir Khan), Karan (Siddharth), and Ajay (R. Madhavan) appear to be very old friends. Sonia (Soha Ali Khan), Sukhi (Sharman Joshi), and Aslam (Kunal Kapoor) have presumably met these three in college. In the song 'Tu Bin Bataayein', which follows Ajay proposing to Sonia, there is also a hint that Karan is in love with Sonia, which explains why he and DJ—his best friend—are so protective of her.
Image Source
DJ may be the ringleader of the gang, but his deepest insecurity lies in never amounting to anything in the real world. Karan may not shine as brightly as DJ, but he's not a follower. His problems lie in the disconnect between his home life—which is largely about his sour relationship with his wealthy father—and the life he has with his friends. Since he has the means to leave India for good, this is what he aspires to do.
Sukhi is the 'clown' of the group. He's the butt of their jokes, even though it's clear that they love him very much. He hero-worships DJ and would follow him into anything, even though he lacks the courage to do it himself. Aslam isn't a follower, but often gets swept away into anything DJ does. His home life gives us a sense of the conservative family he comes from and how that is at odds with his lifestyle and the people he's befriended.
Image Source
Ajay is the only one who comes across as a functional adult. He's the one who's willing to confront his friends about their aimlessness and apathy. Therefore, he becomes the catalyst for their transformations. One of the film's biggest flaws lies in not exploring Sonia's character much.
It is these friendships that lead to the characters radically changing after Ajay's death. DJ, always afraid of never amounting to anything, realises that getting justice for his friend is what he can do to make his mark. Karan finds a reason to stay, since he was the most strongly affected by Ajay's speech about "being the change". Not only that, his conflict with his father is given new meaning as he also turns out to be involved in the scam that caused Ajay's death. In a way, Karan and his father's relationship symbolises what the uber-privileged of Indian society need to do in order to actually make themselves useful to the country: to put justice above family ties.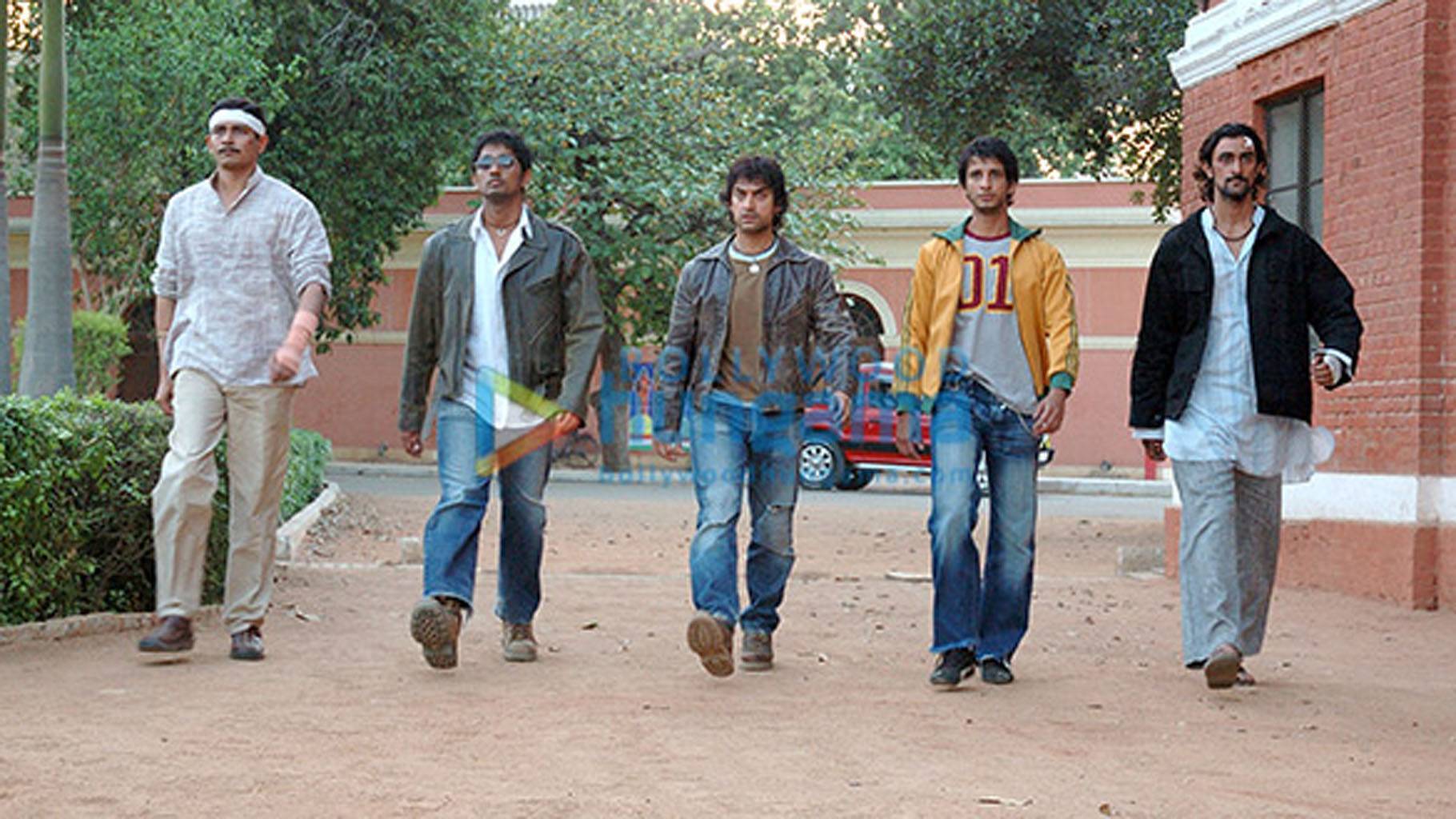 Image Source
Sukhi, who doesn't seem to have the stomach for the things his friends want to do, is driven to participate because of how much he loves his friends. He realises that without his friends, he has nothing, and that gives him a reason to dive headfirst into the fight for justice. Aslam is also hesitant to participate in the assassination of the defence minister, but it is friendship that drives him to do it.
It is these friendships that are the soul of Rang De Basanti. The film would never have achieved iconic status if it was a generic portrayal of India's young guns showing their anger towards the establishment. The fact that the writers chose to show us genuine, authentic friendships between these young characters and how their loyalty towards each other drove them to fight for justice makes the film what it is. Sukhi sums up these friendships in one line when he says "bina tumhare, mera na aar hai, na paar hai."