Rakhi is here and it is obvious Bollywood has to come out with something related to the festival. Well, this year's offering is the Akshay Kumar starrer Raksha Bandhan. Quite honestly, I had given up on Akshay Kumar movies a while ago because he makes me cringe. My only motivation to watch this movie was its 110-minute runtime…and because it's my job. This comedy-drama is written by Himanshu Sharma and Kanika Dhillon and directed by Aanand L. Rai. Alongside Kumar, this movie stars Bhumi Pednekar, Sadia Khateeb, Sahejmeen Kaur, Smrithi Srikanth, and Deepika Khanna. Well, read this review to know my honest thoughts about Raksha Bandhan.
The 60s called, they want their misogyny back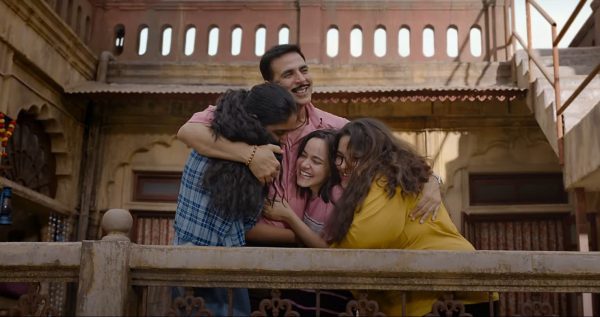 The writers of Raksha Bandhan woke up one fine morning and thought to themselves, 'Bahut ho gaya 2022, let's go back to the 60s and 70s'. Because there is no other reason the movie is written the way it is.
Lala Kedarnath is a chaat shop owner, whose chaat promises the birth of a son. Who the fuck cares about biology, DNA and chromosomes? It's the golgappa that decides whether you'll have a boy or a girl. Next, we see Lala waltzing through the narrow lanes of Chandni Chowk to get home. As he walks through the house, we are introduced to Lala's sisters, one of whom is dark-skinned, another is fat, and the youngest is a tomboy. That's the exact description that we get of his sisters. The elder of his sisters is the very definition of a Bharat Matrimonial ad. Fair, slim, and homely, Durga is the perfect wife material and she is marketed as such. Unfortunately, that rishta goes for a toss, because it is not actually a meeting of prospective partners, but rather a bidding match for who can pay the highest dowry.
Next, we see a frustrated and agitated Neeraj Sood aka Harshvardan, Sapna's father. Sapna and Kedarnath are childhood sweethearts. Back in the day, Kedarnath had promised their dying mother that he will only get married once all his four sisters are married. You can see where this is going, can't you? Thanks to that vow, Kedarnath can't get married yet, which just riles Harshvardan up. Because jawaan ladki ko kab tak ghar baithake rakhenge?
So many female characters with zero agency
Hidden under the garb of brotherly love and affection is the patriarchal notion of how an unmarried woman is a burden on her family. All Lala Kedarnath wants is to get his sisters married. All Harshavardhan wants is to get his daughter married. Sapna and Lala's sisters are just standing on the sidelines waiting to be married. Basically, the entire plot of the movie hinges on how to get a woman married.
Staying true to the traditional and patriarchal Indian culture, the women of Raksha Bandhan have no agency. They have no say in their lives and future. They don't even have any character per se. All the women in Raksha Bandhan are mere props placed around Lala Kedarnath to showcase his loud, self-sacrificing nature to reach a point of enlightenment. Never once do we see a conversation between Kedarnath and his sisters where the girls' consent is asked. Forget consent, they are not even asked what kind of groom they want.
Melodramatic and an utter failure
Raksha Bandhan is melodramatic AF and yet fails to invoke any emotion whatsoever. It fails on every single level. It fails as a social commentary on dowry. Even as a romance, or for that matter, a movie on sibling love, it fails spectacularly. The movie even fails as a comedy. Raksha Bandhan tries too hard to be funny, but it didn't even get a chuckle out of me. There is absolutely no redeeming factor in the movie. The dialogues are not memorable and neither are the songs. Akshay Kumar is thrown in our faces in every single frame, and his loud overacting is irritating. Even the emotionally charged scenes in the movie don't move you. Even with the movie being a little short of two hours, it still felt too long. Two hours too long.
Raksha Bandhan panders to the most patriarchal and misogynistic audience. And if that is something that interests you, go ahead and watch it in theatres near you. A better option, however, would be to order some pizza and stay home to enjoy that.
Featured Image Source
Related: Laal Singh Chaddha Review: A Sincere Remake That Will Make You Cry, Laugh, And Cringe