Mis(s)adventures Of A Salesgirl By Aashisha Chakraborty is a fun and relatable story. A quick read, the novel follows 25-year-old Enakshi Chatterji. A Bengali woman raised in Delhi, she is uprooted to Chennai for an internship. At 25, Enakshi has her whole life in front of her and eyes full of dreams of making it big in the corporate world.
Engaging and relatable
Living with her parents in Delhi, Enakshi's life is just like that of any other Indian woman. Now, that she has hit 25, her mother is worried about getting her married. Her father, on the other hand, is quite supportive of Ena's dreams of doing an MBA and establishing her career. After much back and forth with her mother, Enakshi is finally allowed to follow her dreams.
As part of her MBA though, instead of the Gurgaon HQ, Enakshi is transferred to the Chennai office of Telescion, a telecommunications company. Being the only girl in a highly competitive, male-dominated territory of sales, that too in a completely new land, Ena is in for a ride of a lifetime.  Throughout the book, Ena battles patriarchal beliefs, misogyny, unwanted sexual advances, and male chauvinism. Any girl would understand how that feels. To add to her misery, a 25-year-old family secret also resurfaces, making Ena question all that she knew about her life.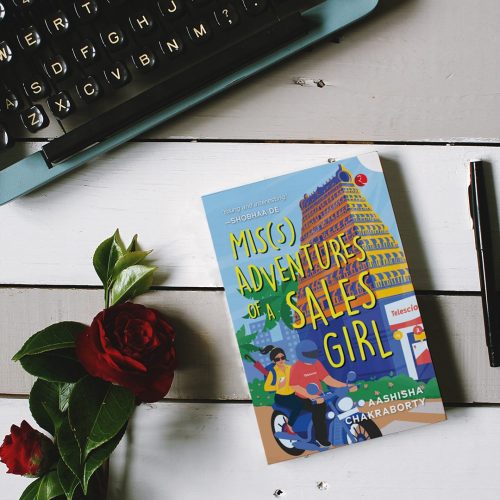 Ena is a girl like you and me, so nothing about her story is unbelievable. You see yourself in Ena and her experiences and that's what makes Mis(s)adventures Of A Salesgirl engaging and relatable.
Broken down into short chapters, Mis(s)adventures Of A Salesgirl is an easy read. You wouldn't even realise how quickly you reach the end. One of the best parts of the book is the narration. You can easily follow Ena's adventures and feel all the emotions she is feeling. As Enakshi lives a life of discomfort, she learns what it truly means to be an adult.
Though a bit predictable, Mis(s)adventures Of A Salesgirl is a good companion on a weekend when you want to read something breezy and fun.
About the author: An ardent lover of Rumi, Radiohead, Rand and Rome, Aashisha Chakraborty hails from a world of marshmallow moons, candy clouds, and lemony lakes.
Aashisha was chosen as one of the 75 pan-India authors under 30 for the PM-YUVA scheme for her historical fiction work with National Book Trust, India. She was the winner of the Times of India Write India Season 2 for Shobhaa De and among the top six for both Manu Joseph and Twinkle Khanna. She has written for various Readomania anthologies and ebooks by Women's Web and InsideIIM. Her articles have appeared in The Hindu and she has a Star Wars fan fiction column on SilverLeaf Poetry. A winner of Kaafiya (the Delhi Poetry Festival), she showcases her short stories on Readomania Premium. An MBA from the Indian Institute of Foreign Trade, New Delhi, and a computer engineer from Jamia Millia Islamia, she reads and travels compulsively, and blogs on her online diary of sorts—The Mind Bin.
Published by Rupa Publications, Mis(s)adventures Of A Salesgirl is now available online and in bookstores near you.
Featured Image Source
Related: 10 Books Translated From Indian Languages To English To Add To Your Reading List