India is a land of diversity. In a country that speaks thousands of mother tongues, the literature is vast and diverse. From authors like Rabindranath Tagore in West Bengal to Premchand in Benaras, from Vaikom Muhammad Basheer in Kerala to Dinanath Nadim in Kashmir, India has given us a lot of timeless writers. Though they wrote in their mother tongues, translations have made literature from various parts of the country accessible to everyone. So, what's a better way to celebrate International Translation Day than by reading some of the best Indian literature translated into English? If you are ready to expand your reading list by adding some Indian translations, here's a list you can start with.
1. The Liberation of Sita by Volga
Originally written in Telugu, the translation was done by T. Vijay Kumar and C. Vijayasree. The Liberation of Sita is Sita's journey of self-reflection. After being abandoned by Rama, Sita embarks on a journey of finding herself. On her journey, she meets the other extraordinary women of Ramayana – Surpanakha, Renuka, Urmila, and Ahalya. Each encounter teaches her a new lesson which leads Sita to a resolution that is beyond imagination.
2. Mother of 1084 by Mahasweta Devi
Originally titled Hajar Churashir Maa, the book was first published in 1974. Samik Bandyopadhyay's translation of the book preserves the original essence that the author captured. Set in the backdrop of the Naxalite revolution of the 70s, Mother of 1084 follows Sujata whose son, corpse number 1084, was brutally killed by the state.
3. Bhima: Lone Warrior by MT Vasudevan Nair
One of the best books in Malayalam literature, the original is titled Randamoozham and was published in 1984. Translated by Gita Krishnankutty, Nair's Bhima: Lone Warrior tells the story of the second Pandava brother, Bhima. Always the ignored one, Bhima is neither as sought after as his elder brother Yudhishthira nor as famous as his younger brother Arjuna, nor as beautiful as Sahdeva and Nakula. Despite killing all the 100 Kauravas, Bhima is not given the due recognition he deserves and spends his entire life being less than his brothers. The novel follows the hardships and the ignorance Bhima faces, his love for his wife Draupadi, and how even his son Ghatotkach is as much of an unsung hero as his father Bhima.
4. Tamas by Bhisham Sahni
A Hindi piece of literature, translated by Daisy Rockwell, Tamas is based on the riots of 1947 that Bhisham Sahni witnessed in Rawalpindi. The book talks about the evils of communalism and its consequences which are relevant even today. Right before the Partition, a sweeper, Nathu, was bribed by a Muslim politician to kill a pig. When the carcass of the pig is found on the steps of a mosque the following morning, the already tension-ridden town erupts. With Muslims targeting Hindus and Sikhs and them taking revenge on the Muslims, the town witnesses bloodshed and massacre that still give the people nightmares.
5. Ghachar Ghochar by Vivek Shanbhag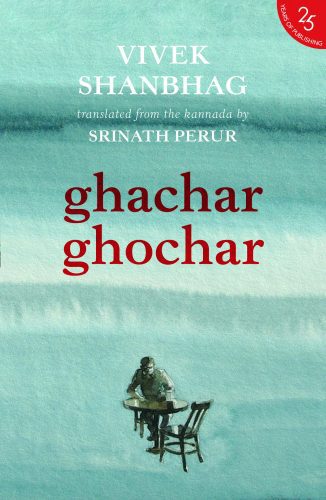 Translated from Kannada by Srinath Perur, Ghachar Ghochar is a dysfunctional family's story of rags to riches. A psychological novella, the book is narrated by an unnamed narrator who constantly worries about the changing dynamics of his family and a deteriorating relationship with his wife Anita. This Indian translation was a Booker Prize finalist in 2017.
6. Hymns in Blood by Nanak Singh
Originally published as Khoon de Sohile in 1948, the English translation by Navdeep Suri is a reminder of the grief and trauma that comes with a religious divide. Set in an idyllic village on the banks of the Soan near Rawalpindi, life comes to a halt for the villagers when faced with the news of the partition of India. Baba Bhana is worried about his foster daughter Naseem's future. But when the family gets stuck in the middle of communal violence, they pack up and leave reluctantly. As they take on a long, arduous journey, they need to face the fact that their lives are now changing forever.
7. Karna: The Great Warrior by Ranjit Desai
Translated from Marathi by Vikrant Pande, Karna: The Great Warrior by Ranjit Desai chronicles the many shades of Karna. The son of a god and a mother who abandoned him, Karna's life was difficult since childhood. Rejected by his blood family, and insulted by Draupadi, the man who was the only real match for Arjuna, lived a lonely life. The story of a classic tragic hero, Karna: The Great Warrior depicts the love he had for his wife, the yearning to be accepted by his biological family, his hurt, hubris, and his compassionate nature.
8. Written in Tears by Arupa Patangia Kalita
Written originally in Assamese and translated by Ranjita Biswas, Written in Tears is an anthology of some of Arupa Patangia Kalita's best novellas. Set in a beautiful landscape that's scarred and torn by conflict, the book is a chronicle of the disturbing history of aggression and hate that has plagued Assam for decades. One story shows us a newlywed Arunima, whose husband's family is engulfed in pain due to her missing brother-in-law's absence. Another story chronicles the life of Ayengla, who secretly supplies food to the insurgents. That's until one tragedy changes her life irrevocably. A must-read Indian translation if you are interested in Assamese literature.
9. The Secret Garland by Andal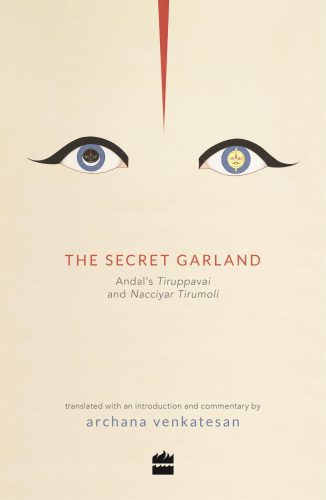 Archana Venkatesan's translation of this classic Tamil poetry book, along with her detailed notes, reinforces the significance and influence of Andal's continuing legacy. The anthology comprises two poems – Tiruppavai and Nacciyar Tirumoli. This poetry is born from Andal's oath to marry no one but Lord Vishnu. These compositions show Vishnu as Andal's mesmerising yet sometimes cruel lover and give expression to Andal's powerful experiences and her vibrant personality. Andal was the only female Alvar among the twelve Hindu poet-saints of South India and her poetry is still recited by devotees during the winter festival of Margali. This Indian translation is a classic piece of Tamil literature to add to your bookshelves.
10. Age of Frenzy by Mahabaleshwar Sail
A perfect introduction to Konkani literature, Mahabaleshwar Sail's Age of Frenzy, translated by Vidya Pai, talks of the turbulent and frenzied times of the Goa Inquisition. Set in 16th century Goa, in the fictional village of Adolshi, the book narrates the arrival of the Portuguese and how they forced Christianity on the Hindu population of Goa through force and violence. Padre Simao Peres believes in peace and love as a means to change, but the Portuguese administration frustrated by the slow pace of conversion, resorts to violence. The book documents the turbulent past of religious rifts and power shifts that forever changed the ethos of a significant part of the western coastline of India.
These items are individually selected by the team and we may earn a commission from your purchase.
Featured Image Source
Related: 6 Queer Erotic Books That Deserve A Place On Your Bookshelf