When a woman gets married in India, an increasingly heavy burden of expectations is placed on her head. There are a bunch of dos and don'ts that she is expected to navigate like an expert. Far too often, brides don't get any support when they're trying to adjust to this new reality. They are not treated as part of the family and are often subjected to taunts and unpleasant conversations about "attitudes." This often makes a newlywed bride resentful towards her husband's family, which leads to deep-seated anger that lasts for years. It's a never-ending, vicious cycle of arguments and ego tussles thereafter.
Since the skewed concept of forced joint families in India isn't going away anytime soon, there is only one way to avoid this situation. When a bride comes into your home, treat her as family and support her in every way you possibly can. It's not difficult to establish a comfortable, friendly relationship and disregard all stereotypes of the saas bahu dynamic.
Here's what you — the groom and the groom's family — can do to make sure a newlywed bride is happy living with you.
Image Source
1. Give her space
That doesn't mean a room which she shares with her husband. If she's been clear that she can't live in a joint family, accept that the newlywed couple will move out. And that's a very healthy way to live. If moving out isn't viable, give her space by letting her be who she is. Don't restrict her to her own room, and please don't impose mindless rules like when she should eat or when she should sleep. When she does want to relax in her room, let her do that instead of forcing "family time" on her.
2. Ask her about what she likes to eat
Most families have their own food preferences. But when someone visits and stays with you, changes are made to ensure their choices are taken care of. Why can't we do the same for a woman who has left her family to move into someone else's home? On day one, ask her what she likes eating and make it a part of the regular food cooked at home. Please don't turn your nose up at her choices even if they make you cringe inside. Be tolerant of her, just as she's being tolerant of you. A lot of conflicts and issues get resolved when you share a meal with someone happily.
3. Support her career
Instead of telling her that her office timings are inappropriate or that her job takes up too much of her time, support her. If she's willing to adjust to your lifestyle, you should be willing to adjust to hers too. Give her a key, tell her you're proud of her, and sleep soundly while she builds a formidable career, whether it's at 6am or 10pm.
Image Source
4. Don't force her to attend dinners or parties
Lest we forget, brides are human. They get tired too. They also get irritated, like everyone else. It should not be a problem if a newlywed bride doesn't want to attend a get-together with relatives or a party with friends. If she doesn't want to go, let her be. Your bua's bahu's mother won't be heartbroken if the bride excuses herself out of a dinner.
5. Don't tell her what she can and cannot wear
That should always and solely be her decision. Whether it's the tiniest dress, a bikini or a pantsuit, she should be able to wear what she wants without any rebukes. She's going to hold a grudge against you forever if you try to assert your authority in this manner. Then you can't really blame her for fighting with you or arguing about the smallest issue. You aggravated her, now deal with it.
6. Don't expect her to be everyone's friend
That's not why she married her husband. A bride cannot be expected to be friendly with everyone instantly. Whether it's a sister-in-law or the mother-in-law, a newlywed bride needs time to adjust. She can't be besties with all the women in the house just because they're all women. They will be strangers to her for a while. Even after a few years, she may be civil with them but she need not become their confidante.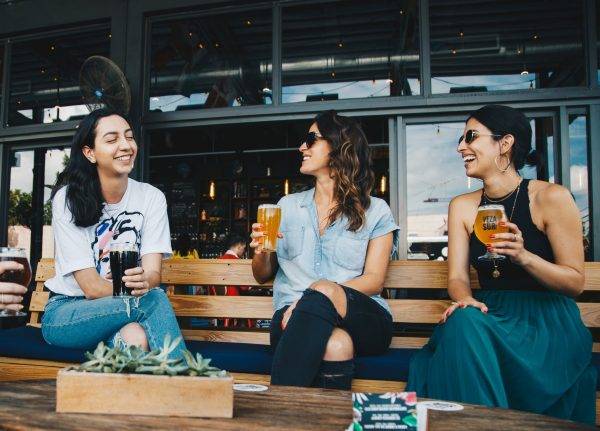 Image Source
7. Encourage her to call her friends and family over
To make it truly feel like home, she should be able to call her friends and family over to her new house. If the living room is off limits, if the dining room is always occupied, or if you have constant complaints about noise, let her find her own solution for this. This solution will probably be moving out. But don't expect her to not host anyone ever.
8. Keep your baby cravings to yourself
She just got married. That's a huge change. Now you want her to have a baby too. You can't be blamed for your own desires, but please keep them to yourself. It's a huge responsibility to have children and the potential parents must be prepared for it. Many married couples have this conversation at some point, either before or soon after the wedding. They probably have it sorted between themselves. Just leave it to them without prying into something so personal.
9. Let her address you as she feels comfortable
Not everyone is okay with calling someone other than their parents "mummy papa". So, if she can't get on board with that, don't force it down her throat. The same goes for your relatives. Some people have deep emotional bonds with certain words, and they don't use them for everybody. If Bade Mamaji is feeling bad about the new bahu calling him "uncle", tell him firmly but politely that it's her choice.
It's very easy to make a bride feel like a part of the family forever, but it's also easy to make her feel like an outsider and break a relationship before it even begins to form. The choice is yours to make.
Related: 7 Things Most Indian Brides Hate Doing On Their Wedding Day