Bestselling author Apurva Purohit is back with another powerful book for Indian women. After the success of Lady, You're Not A Man!, Purohit has now compiled an essential action plan for women to be able to take on the challenges they face at work and at home on a regular basis. For example, no man has ever been asked whether or not they plan to work after marriage or if they plan to put their career on hold after having children, but for women, these questions are far too frequent. And even now, it is considered an anomaly if a man is doing his share of the household work rather than the woman of the house taking on everything.
We all know that the male experience, at work and in life, is very different from a woman's, regardless of how rarely it is acknowledged. So, a book like this, talking about these gender-specific problems, can be a source of comfort for many women.
With Lady, You're The Boss!, Purohit aims to empower women to believe in themselves, never minimise or question their achievements, resist stereotypes, and constantly and fearlessly call out biases. Through personal anecdotes and real-life stories of women professionals, she offers practical insights into the fundamentals of successful leadership, like effective communication, perseverance, prioritising, and personal accountability.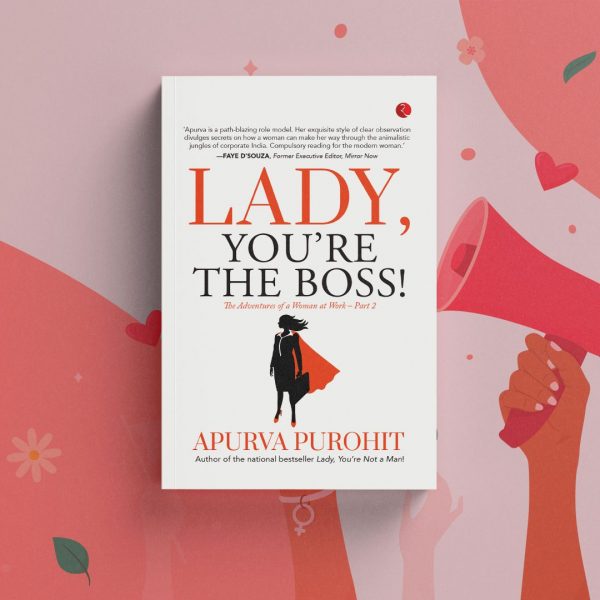 "If we don't talk about ourselves, I assure you no one else will"
This is one of the many poignant statements Purohit writes in Lady, You're The Boss!. And that's what makes it relatable for every Indian woman in the workforce or otherwise. The book is a constant reminder for women to stop diminishing themselves and proudly own their accomplishments, as our male peers always do. After all, who else is going to do it for us?
But wait, don't think that this book is restricted to a female reader base. There are several leadership lessons and thinking points for anyone who wants to succeed in their career. From applying general life skills in order to become a better leader to recognising that you deserve the success you've earned, Apurva Purohit touches upon various topics with an authenticity that can only come from living what you write.
Lady, You're The Boss! is easy to read and doesn't feel heavy or complex at any point. It's an uplifting weekend read, especially if you've been doubting your abilities recently. In fact, reading this book on a weekend might just prepare you to take on the next week like a boss!
About the author
Apurva Purohit is an acclaimed Indian businesswoman and entrepreneur with over 30 years of experience in the corporate world where she has built and scaled up a diverse set of businesses. Apurva has been a leading voice in the Indian business landscape advocating gender diversity, what ails it, and what organisations and leaders can do to improve this critical imperative. Through her two bestselling books, the author aims to empower women and encourage them to achieve their full potential. Over the years, Apurva has won multiple business awards and has been named one of the Most Powerful Women in Business as per the India Today Group and Fortune India.
Related: Mis(s)adventures Of A Salesgirl By Aashisha Chakraborty: A Fun, Engaging, And Relatable Read