The New Year has come calling, and it's time for some relaxation, romance, and resolutions. Once again, however, the pandemic has put a halt to all our grand New Year's Eve plans. Fret not, because you can have an epic New Year's Eve with your partner. Here's how you can have an intimate New Year's Eve date at home.
1. Treasure hunt for your treasured one
Start the day with some adventure to lay the foundation for the rest of the day. Leave little notes for your partner throughout the house with your inside jokes, small missions, or clues. Lead them to a bouquet of flowers or a small gift. Make them do a couple's activity like cooking together. Create a complete treasure hunt. In the end, the treasure could be you or a grand gift.
2. Cook up a storm
Get together and try out a new recipe. Or cook your old favourites. Cooking together is an exercise in communication. You'll need to rely on each other and work in partnership. Cooking together will be the perfect choice to strengthen your relationship and add a dash of romance a la Bollywood style.
3. Couples massage
Now that you are done cooking, both of you must be tired. This is the perfect chance to exchange a relaxing massage. Get some essential oils and get started with pampering each other. A shoulder massage or a head massage, take your pick. And if you want, ask for a full body massage. Do the job well and it might just lead to some fantastic sex. A perfect intimate New Year's Eve date idea!
4. Movie marathon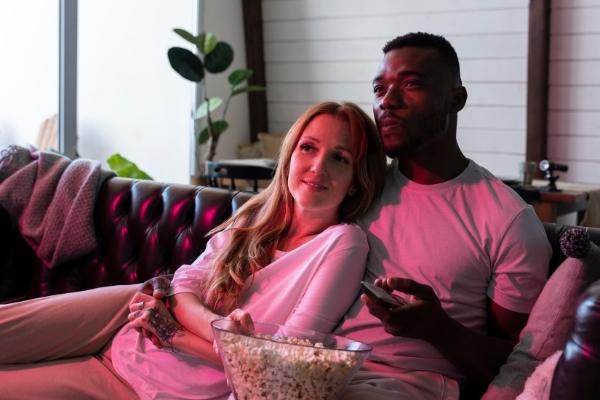 Snuggle together under a blanket with two tubs of popcorn and watch your favourite romantic movies together. New Year's Eve is the perfect chance to pull out all the movies you've been wanting to watch with your partner. Sneak in a few kisses every now and then, just to keep things interesting. And don't forget to steal your partner's popcorn.
5. Candlelight dinner
You don't need a five-star restaurant to surprise your partner with a candlelight dinner. You can do it at home with a more intimate and romantic touch. Set up a table and a couple of chairs in the best room in the house. Add a couple of beautifully scented candles to the table. Decorate the room with fairy lights and you will have the perfect intimate candlelight dinner! After you are done dining, grab a glass of wine and walk over to the balcony to look up at the night sky. That's all the romance you need right there.
6. Midnight kiss
After the wining and dining, let the conversation flow like a river. Share your dreams for the new year, your resolutions as a couple, and the things you want to do together and individually. But don't forget to get that kiss when the clock strikes 12. And if that kiss leads you into the bedroom with your clothes dropping on the way, consider that a happy ending.
Romance is not subject to grand gestures and expensive meals. It can be done right with homemade food, a little effort, and two people in love. So, are you all set to ring in the New Year with your partner in the cosy comfort of your home?
Images Source
Related: How To Spend New Year's Eve Alone At Home: 7 Easy Things To Do To Bring In The New Year