Guneet Monga – this name is everywhere today. Her documentary on menstrual hygiene in India, Period. End of Sentence, won the Best Documentary Short Subject at the 91st Academy Awards today. But this achievement didn't come easy for the Indian producer. Here's a brief look at her fascinating journey through Bollywood and how she finally got her hands on that golden statuette.
The beginning
Thirty five-year-old Guneet Monga started her career as a production coordinator in 2006 in Mumbai. As a child, Monga witnessed domestic violence in her home, and lost her parents within six months of each other when she was 24. Changemakers, a book written by Mallika Kapur and Gayatri Rangachari Shah, illustrates the struggles Monga faced and how she had been a DJ, a salesperson, an insurance agent and even a rally car driver by the time she was 21. She founded her first production company, Speaking Tree Films, in 2007 after borrowing INR 50 lakhs from her neighbour in Faridabad. But her first film failed. Guneet Monga, however, did not. She picked herself up and carried on.
In 2008, she started another production company called Sikhya Entertainment. Since then, Monga has several high-achieving films to her name. Among her films that have earned critical acclaim are The Lunchbox, Masaan, That Girl In Yellow Boots, and Monsoon Shootout. She has also worked on cult films like Gangs of Wasseypur with Anurag Kashyap.
Making it big in a male-dominated industry
Under the Sikhya Entertainment banner, Guneet Monga produced some memorable gamechangers including Kavi, a documentary on bonded labour in India.
Image Source
This film became Monga's first tryst with the Oscars in 2010. But, back then, she couldn't afford to go to Los Angeles with her own finances.
"In 2010, I had a short film, Kavi, in the running for an Oscar and really wanted to attend the ceremony but had no money," Guneet told Mumbai Mirror in an interview. "The film was based on a kid from a slum and the government at the time, in particular Prithviraj Chauhan, the then Science and Technology Minister, helped me a get a visa and tickets. My stay in LA was sponsored by a travel company."
Like every other young woman trying to make her mark in a male-dominated industry, Monga too has struggled.
"There have been several times where I have not been taken seriously and have had to work twice as hard just because I am a young woman," Monga told Variety. "But I have never let that affect my state of mind towards the end goal of putting together the stories we need to tell."
Image Source
"I can't believe a film about menstruation just won an Oscar"
This is what the makers of this film said on stage when Period. End of Sentence won the Oscar. And we shared their initial skepticism, mostly because of the menstruation taboos that go far beyond rural India.
Last week, a male member of the Academy's Director's branch said that Period. End of Sentence was "icky". In an anonymous piece on Hollywood Reporter, this director wrote, "Also Period. End of Sentence — it's well done, but it's about women getting their period, and I don't think any man is voting for this film because it's just icky for men."
We know how well that prediction played out.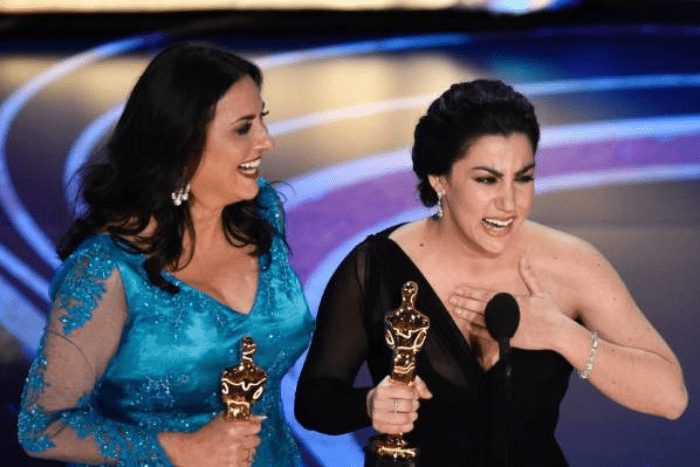 Image Source
It should be noted that Guneet Monga was also a part of the jury at this year's Academy Awards. Only 20 Indians were invited to be a part of this jury for 2019. But, as is fair, she was not a part of the voting body for the category in which her film was nominated.
"I'm honoured to be recognised for my work and to be invited with the best in the world," Monga said. "This moment means a lot and I'm simply grateful to be a member of the producers' branch of the Academy."
For now, Guneet Monga is ready with more projects. These include a YouTube channel called ReDo, made for women and by women, and her first Tamil film, which will be based on the life of Air Deccan's Captain Gopinath.
We can't wait to see what this Oscar-winning producer pulls off next. Till then, you can catch Period. End of Sentence on Netflix.