It's the season of fashion weeks and, this year, they're going digital. The first-ever digital edition of FDCI's India Couture Week began on September 18 with a showcase by designer Gaurav Gupta. And it was a show that was all about love! Here's what Gaurav Gupta said about the campaign:
"Love: love for self, love for all genders, love for all body shapes, love for all ethnicities, love for all sexualities. Love for inclusivity. There is a new wave of social change in India which has been exposed only in pockets but hasn't received a mainstream platform—the campaign is meticulously curated in order to uphold authenticity and capture a true sense of rawness which is vulnerable yet utterly endearing at the same time."
Apart from the gorgeous collection, the models at the show stood out for their individuality.
"While we were casting, we discovered beautiful stories where differences and sexualities were not just accepted but celebrated," a statement from Gaurav Gupta said. "From Anjali Lama: a trans-female supermodel, Tarun: a non-binary model taking forefront in International campaigns and owning his feminine and masculine side gracefully in front of the camera, Nitya: a body positive woman, Vee: a trans-male model effortlessly showcasing his true self, two boys in love with each other-Rudra and Anurag-to two girls in love with each other-Manauti and Anjali, happily living-in with their parents…In this process, we also discovered models from Jharkhand, Haryana and Assam who are oozing the potential and confidence to take over the international runway very soon"
Here's a glimpse of Gaurav Gupta's beautiful new collection: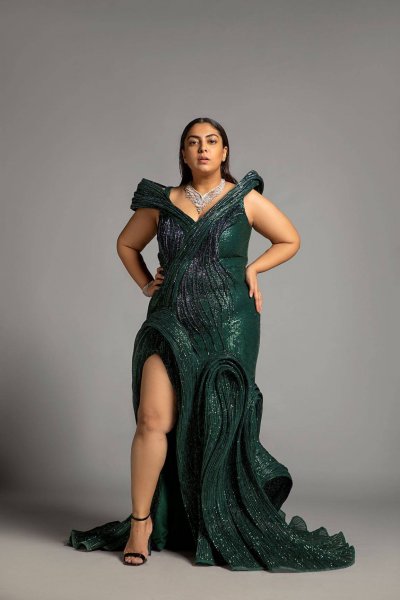 If you happened to watch the show live, and were completely mesmerized by the music, you are not alone. The soundtrack, titled 'Name Is Love', was created for the show and was written and recited by poet Navkirat Sodhi. The music was composed by Sahil Vasudeva, and the track is available for download on Spotify and Soundcloud.
In case you missed it, watch the video here.
The FDCI India Couture Week is on till September 23. Here's the schedule: