After two successful runs, the Fukrey franchise is back with part three of the story. Directed by Mrighdeep Singh Lamba and produced by Farhan Akhtar and Ritesh Sidhwani, Fukrey 3 is a mindless laughter riot as the gang returns after six years. After two movies, you might feel that this one will have more of a punch, a stronger storyline, and maybe not-so-cringe dialogues. But there is nothing more than fukrebaazi happening throughout. So, here's our review of Fukrey 3 in case you're planning to watch it over the weekend.
Bholi Punjaban v/s Choocha Singh
In the third installment of Fukrey, Bholi Punjaban aka Fool Kumari Sehgal (Richa Chadha) is contesting the upcoming elections. As usual, she calls Pandit Ji (Pankaj Tripathi) to get the boys to work on her election campaign. While Choocha (Varun Sharma) is mostly happy to do her bidding, Hunny (Pulkit Samrat) and Lali (Manjot Singh) aren't as convinced. Once the campaigning starts to whitewash Bholi's image by helping the poor and cleaning toilets, somehow, Choocha steals the limelight by unintentionally doing a better job. This convinces people that Choocha is the one who actually deserves to be their leader and Hunny makes a plan to get him to stand against Bholi in the elections.
With a solid plan in mind to take down Bholi once again, Hunny starts planning the execution. But, Choocha, without realising the secrecy of the plan, blurts out everything to Bholi. Meanwhile, Bholi plots against them and, using Choocha's powers to predict the future, sends them off to Africa to find some diamonds in a mine.
Khoon, paseena, and pee ka jaadu
If you've seen the previous two movies, you know that Choocha receives a divine gift every time they are in some syaapa. Naturally, this time, there had to be something to get them out of their troubles too. So, after a hilarious accident, the gang discovers that Hunny's paseena and Choocha's pee magically make petrol. This is because Choocha swallows a diamond in the mine and now has the power to produce a very potent pee. But soon after, Bholi gets to know the big money-making plan and demands to be a partner. In the meantime, Dhingra, who has put a lot of money into Bholi's campaign, kidnaps Choocha to get him out of the way. But he is stopped by Bholi, and after getting to know the plan, he too wants to be a partner. This leads to a chaotic and crazy climax, assuring that there will be a fourth part of this comedy series.
Casting and screenplay
In Fukrey 3, the cast gets an upgrade and lands up in a foreign location to take their shit international. This gives the audience some hilarious moments that add to the experience of watching the fukreys doing their nonstop fukrabaazi. Varun Sharma as Choocha and Pulkit Samrat as Hunny along with Manjot as Lali and Pankaj Tripathi as Pandit Ji are extremely fun to watch. Along with the boys, Richa Chadha as Bholi Punjaban lends her own gangster humour with broken English and ridiculous translations.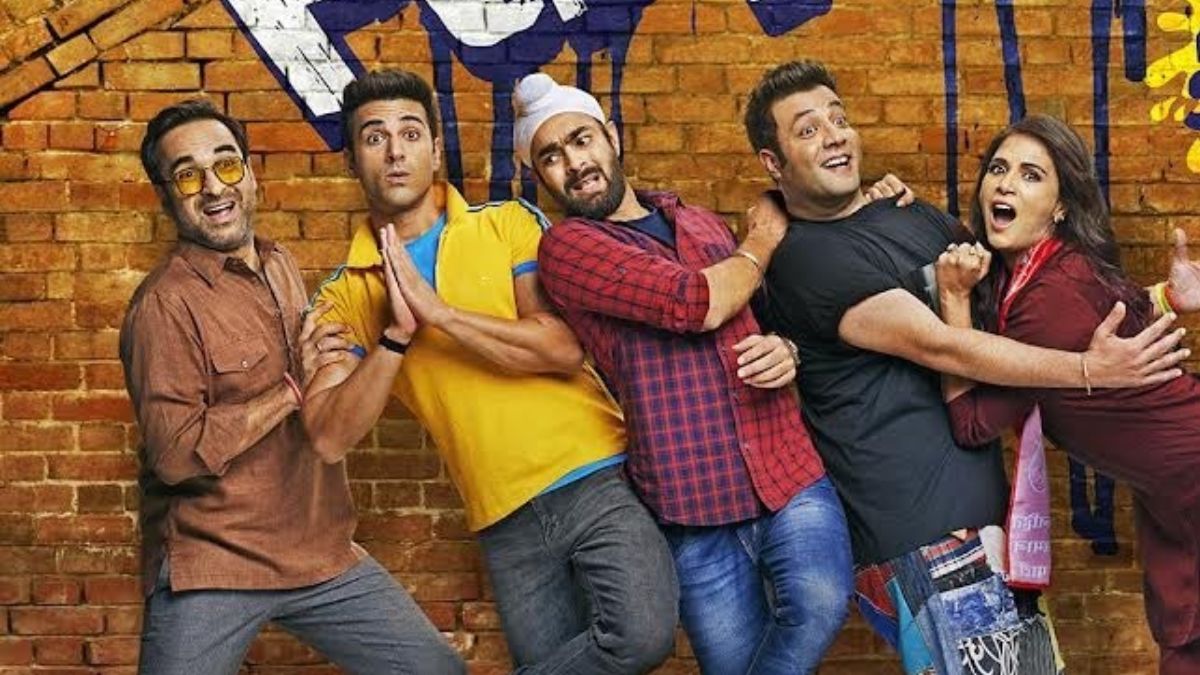 All in all, it is a mindless entertainer that will give you more than a good laugh. But, there might be times when it will make you cringe with its toilet humour.
Can you watch Fukrey 3 with your family?: You can watch this one with your family regardless of the occasional cringe.
Fukrey 3 is now running in cinemas near you.