Feels Like Ishq doesn't get off to a great start with its first story. Directed by Ruchir Arun and written by Monisha Thyagarajan, Save The Da(y)te is a story we've seen many times before, at least some version of it. The characters and their traits of hating/loving marriage will feel a bit tiresome considering they're in a highly stressful situation. When the bride, Sunaina, runs away from her destination wedding, her best friend Avni, who cares more about her Instagram presence than her friend, and the wedding planner set off to find her without letting anyone know. What follows is kinda boring but you'll want to see it through till the end.
Image Source
The series gets better with the second story, Quaranteen Crush. Directed by Tahira Kashyap Khurrana and written by Gazal Dhaliwal, this is a sweet little story about a boy, Maninder, who develops a crush on the girl quarantining next door. When Nimi moves in next door, Maninder has to figure out how to meet her while she's in quarantine for 14 days. On the pretext of sending food to her, Maninder tries to get to know her and learns a thing or two about life in the process.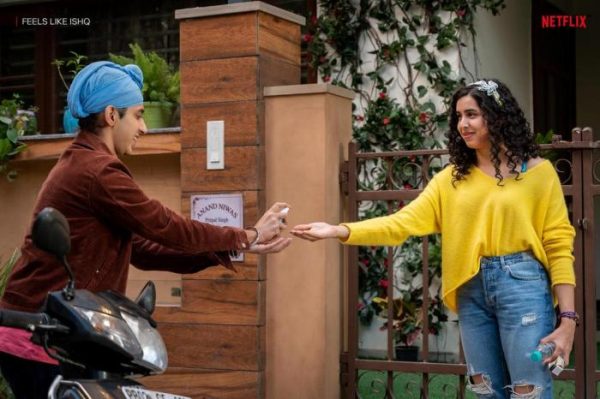 Image Source
Directed by Anand Tiwari, Star Host, the third story, starts on an intriguing note. Two aspiring travellers meet under strange circumstances and in a setting that seems apt for a horror film. Aditya puts his home on a vacation rental app, while his parents are away, to fund his trip to the Northern Lights. His first guest is Tara who was supposed to be with her boyfriend on this trip but lands up alone and accidentally begins her first #solotrip. What you'll enjoy the most in this story are the gorgeous views and the realism of the characters.
Image Source
The fourth story will feel liberating. Finally! An adorable love story that isn't about straight people. Directed by Danish Aslam and written by Sulagna Chatterjee, She Loves Me, She Loves Me Not is a beautiful story about two women who are colleagues and become friends while fighting their own internal struggles. The story has a really good pace, it's not over the top, and doesn't confuse you at any point. She Loves Me, She Loves Me Not doesn't make any statements on homosexuality or homophobia. It's just a really cute love story about two people trying to get to know each other. This was my favourite story in Feels Like Ishq because it just hit all the right points, including the fashion sported by Tarasha (Saba Azad).
Image Source
The fifth story, Interview, slows down the pace of the series a bit. Directed by Sachin Kundalkar and written by Arati Raval, this is the story of two job aspirants who meet at an interview. While they're competitors for the job, they land up helping each other in their own ways.
Image Source
In Ishq Mastana, the sixth and final story, activist, Mehr, and pro-capitalism dudebro, Kabir, meet at what he thinks is a date but is actually a protest that quickly turns violent. When Kabir, Mehr, and Mehr's friends get arrested and need to make their way back to the city, their attitudes towards each other change for the better. The activists stop hating on the "sports quota guy" and Kabir begins to understand why they do what they do. Directed by Jaydeep Sarkar, Ishq Mastana feels relevant for the times without straying from the core theme of the series — love.
Image Source
Like we said in the beginning, Feels Like Ishq doesn't get off to a great start but it does redeem itself in later stories. If you're not into the pure romance genre, skip this series. You might find it nauseating. But if you love romantic stories, especially those based in urban India and revolving around young people in their 20s, Feels Like Ishq will be right up your alley.
Related: #EveRecommends: 10 Movies That Beautifully Mend A Broken Heart