When we talk about trends, we think about fashion weeks, designers, and magazines. But 2020 was a weird year, to say the least. We spent the majority of our time at home wearing the same old pajamas every other day. So what was trending in fashion in 2020? Pajamas. Well, a bit more than that. Influencers played a major role this year because honestly, they were the only ones dressing up. So, in case you missed this trend fest, here's a quick recap of six fashion trends that were all over Instagram in 2020.
1. Bermuda shorts
Image Source
Remember the time when your feed was flooded with influencers styling a pair of Bermuda shorts? These are shorts that aren't too short but aren't long enough to call a capri. Oh yes. Good old times. This fashion trend was kind of a hit-and-miss since a lot of people didn't care for it. I thought it was a practical option as one could style it in versatile ways. But the look of it? Idk. Too shabby?
2. Muscle Tee
Image Source
Muscle tees made a sudden appearance around August. This structured t-shirt did manage to wow a lot of influencers. From Diksha Rawat to Gia Kashyap, everyone seemed to be exploring this trend. This tee became a symbol of power dressing, and everyone on my feed was trying this trend. Even I did (gasp).
Quick tip: DIY your muscle tee by tucking the edge of your sleeve into your bra.
3. Statement tops with Victorian sleeves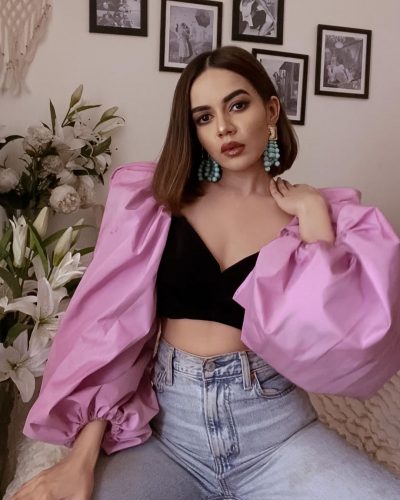 Image Source
Since we are talking about power dressing, this particular trend was quite popular during the first half of 2020. Yes, I am talking about those statement tops with structured puffy sleeves. Since the sleeves were so enormous, these tops created a statement regardless of how they were worn. All credit to Komal Pandey here for bringing this trend on Instagram, at least among Indian influencers.
4. Trendy masks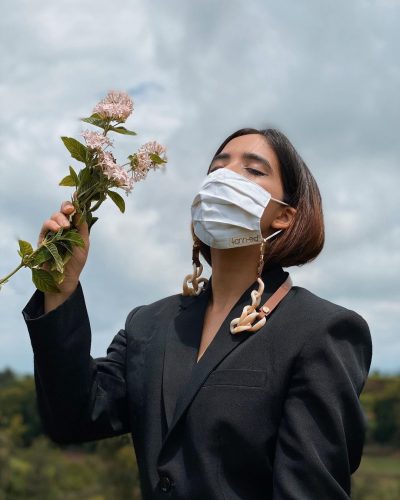 Image Source
When masks became a necessity this year, the fashion industry went all out and made their own versions of masks. They ranged from classic black masks to quirky ones. We also saw brides wearing masks as part of their wedding attire. Pretty cool, right? Lastly, it was masks with trendy chains that made a major shift in the influencer market. Remember those DIY videos on how to make a chain mask? Here's one in case you want to make a trendy chain mask for yourself.
Related: Jazz It Up: 7 Chic Fashion Accessories To Pair With Your Face Mask
5. Chunky gold chains
Image Source
From thick ribbed chains to classic braided ones, chunky gold chains were one of the major trends of 2020. If you don't own one yet, it's time to get a chunky gold chain because this trend is here to stay. So, every jewellery lover should have at least one of these in their collection.
Click here to buy it from Nykaa.
6. Sweater vest
Image Source
Who would have thought that grandpa fashion is going to make a comeback? But it is 2020, after all, and times are different. Sweater vests are pretty popular right now, and various celebrities can be seen sporting this trend. From Kendall Jenner to Bella Hadid, everyone just looks so chic in this style. This is the perfect trend to try right now if you haven't already. You can upcycle an old sweater or maybe buy a new one.
Buy it here.
Related: Items You Need To 'Add To Cart' To Complete Your Winter Wardrobe For 2020-21