We've been "unlocked" for a while now, and masks have now become essential for the world in this new normal. From home-stitched DIYs to trendy designs, fabric masks seem to be extremely popular in India. But as COVID-19 cases continue to mount, we must play it safe and be mindful of their use.
Lucky for you, we did all the research. Here's what you need to know about the usage and maintenance of fabric masks.
When can you wear a fabric mask? Is it safe?
Fabric masks are non-medical masks. However, when made according to WHO guidelines, they can be used as a preventive measure by asymptomatic patients and the general public.
Image Source
The ideal cloth mask has three layers: an outer layer of water-resistant fabric, a middle layer which acts as a filter, and an inner layer of water-absorbent fabric. Make sure to wear a mask when stepping out, and in any setting that involves in-person interactions with outsiders. This includes your interactions with delivery persons, neighbours, visiting relatives etc. All mask use must be combined with other precautionary measures to remain safe.
Related: Skin Breaking Out? The Hottest Accessory This Summer Is The Likely Cause
Wearing and removing your fabric mask
Before reaching for your mask, clean your hands thoroughly with either soap and water or an alcohol-based sanitiser. Do a quick inspection of the mask and make sure that the fabric isn't damp, damaged, or soiled. Next, place the clean mask on your face, ensuring proper coverage of your nose, mouth, and chin. Adjust the fabric with clean hands so there aren't any gaps between the mask and your face.
Image Source
To remove the mask, start by disinfecting your hands again. Grab the straps of the mask without touching the outer fabric, and pull it away from your face. Remember to wash your hands afterwards as well.
Maintaining your fabric mask
In addition to being more comfortable than single-use medical masks, fabric masks are also a more sustainable option. With responsible maintenance and care, they can be re-used.
The WHO recommends the washing of fabric masks after each use. This can easily be done with detergent and warm water. Though some sources state that it's okay to machine-wash masks with the rest of your laundry, washing it separately seems to be a preferred cautionary measure.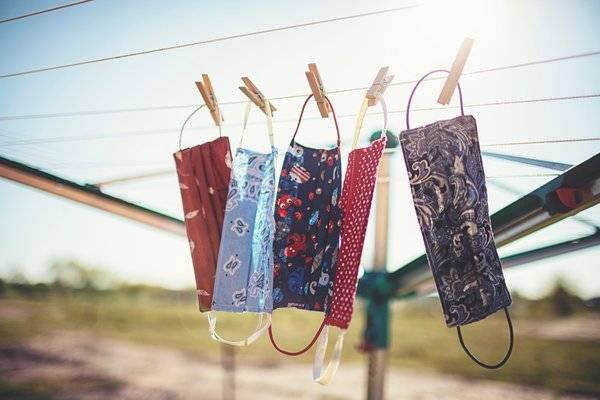 Image Source
According to an article by PopSci magazine, storage is everything. After washing, the mask should be sun-dried and stored in a fresh, airtight plastic bag or container.
If you notice any irreparable damage to the fabric, do not re-use the mask. Responsibly wash, wrap, and dispose of your fabric mask in a covered bin.
Other Things To Keep In Mind
Here are some additional reminders and tips to keep in mind while using fabric masks:
Avoid touching the front of the mask as much as possible
Ensure that the mask fits firmly across your nose and mouth without restricting your breathing
Do not use the mask if damp or dirty
Do not share your mask with others, including family members
Having more than one mask is a good idea and allows for rotational use
In case you are immunocompromised, you can use a fabric suited disinfectant while washing, as a cautionary measure
We've said it before, but we'll say it again. No mask can guarantee you protection against the virus alone, and mask use must be supplemented with other measures. Avoid stepping out unnecessarily, maintain physical distance in all interactions, and continue washing your hands with soap and water at regular intervals.