Since the new normal has dawned on us, a full face of makeup and baking are concepts of the past. Now, all you need to focus on is wearing a light layer because your mask is going to cover half your face. But that doesn't mean you can't work with what you've got. Even though makeup is not something you need to pay attention to, you can still work on your brows. Get bold, beautiful, and natural brows, and keep them on fleek always, with these eight eyebrow enhancers.
Related: Perfect Brows At Home: Easy Steps To Get Your Eyebrows On Fleek
1. Benefit Cosmetics Ka-Brow! Eyebrow Cream-Gel Color
If you love defining, filling, and sculpting your brows to perfection, Ka-Brow is your best friend. Long-lasting and richly pigmented, it gives you the perfect and most natural brows.
Image Source
2. L'Oreal Paris Brow Artist Genius Kit Medium To Dark
If you love luxury on a budget, L'Oreal Paris Brow Kit is a must-have for those defined brows. Quick, easy, and long-lasting, your eyebrows will be perfect with this in the blink of an eye.
Image Source
3. L'Oreal Paris Brow Artist Xpert
Get perfectly defined, fuller brows with L'Oreal Paris's Brow Artist Xpert. Groom your eyebrows into place and get natural-looking bold brows with this retractable brow pencil, the first of its kind.
Image Source 
4. Maybelline New York Tattoo Brow Gel Tint – Medium Brown
Tattoo Brow Gel Tint is a peel-off tint that gives your brows a naturally defined look. It stays for up to three days and is enriched with royal jelly and aloe vera to keep your brows healthy.
Image Source
5. Nykaa Take A Brow! Eyebrow Filler Powder
Soft, smooth, and flawless, Nykaa's Take A Brow will give you beautiful arches in no time! Get beautiful, thick brows with this enhancer's easy application and highly pigmented powder.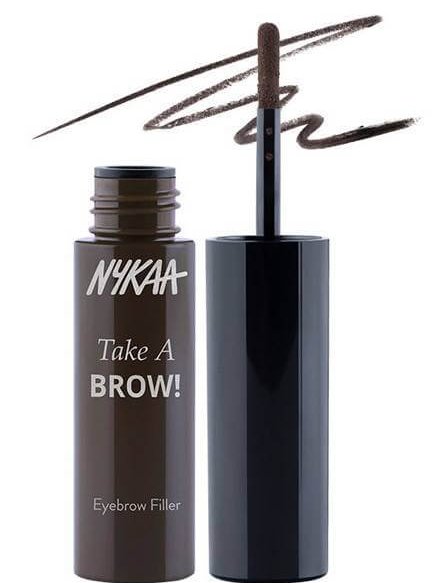 Image Source
6. Nykaa Oh My Brow! Eyebrow Mascara
Who doesn't love clean, non-sticky, and voluminous brows? Nykaa's Eyebrow Mascara has a smooth formula that gives you fuller brows with minimal effort. It tames the hair, fills in the gaps, and adds some drama to your brows.
Image Source
7. Benefit Cosmetics Goof Proof Eyebrow Pencil
With an easy, glide-on formula, the Goof Proof Eyebrow Pencil is one of the best eyebrow enhancers and is a hit among makeup lovers. It has a super easy filling and shaping brow pencil and a built-in spoolie to give you a flawless, natural finish.
Image Source
8. M.A.C Pro Longwear Waterproof Brow Set
Groom and define your brows with M.A.C's Longwear Brow Set. It naturally shades them and gives them a subtle, effortless look. Providing a healthy-looking sheen, this non-greasy formula gives you nice and precise brows.
Image Source
Related: How To Fix Broken Makeup: Hacks For Essentials In Your Beauty Kit
Try them out and find your brow soulmate!