Being the bride can be quite overwhelming since you have endless things to look after. From outfits, accessories, and wedding planning to much more, every detail needs your attention. And with heavy jewellery and bridal outfits, the last thing you want is a headache because of an overly complicated hairdo. So, here are some really gorgeous but fuss-free and easy hairstyles for brides to have fun through the festivities.
 1. Loose braid with dainty parandi
A loose braid with dainty parandis and hair accessories is one of the most gorgeous hairstyles for brides. You can rock this for your haldi or mehendi and forget about your hair for the rest of the day. Choose light accessories like flowers for a more vibrant look.
2. Soft beach waves with baby breath
An easy and minimal hairstyle for brides who are looking for an open hairdo! Soft beach waves with baby breath is a very simple hairstyle with braids to keep the hair off your face and the little flowers add an aesthetic touch to your breezy look.
3. A cute fishtail braid
Whether you have long or short hair, a fish braid will always be one of the cutest hairstyles for brides. It is such a comfortable and pretty hairdo and you can add colourful accessories to make your look pop. Perfect for a mehendi function.
4. Braid wrapped in ribbons
Another easy hairstyle for brides who are looking for something stunning but fuss-free is this braid wrapped in ribbons. You can opt for a ribbon of the same colour as your outfit or go for the classic gold or silver for a chic and fun look for any of your functions.
5. Soft curls and butterfly accessories
If you're all about adding a pop of colour to your look, these soft curls with colourful butterfly accessories are just perfect for you. This look is simple but absolutely gorgeous. And this is a great hairstyle for your wedding day as it is neat and will stay in place the whole day.
6. Sleek half tie with hair accessory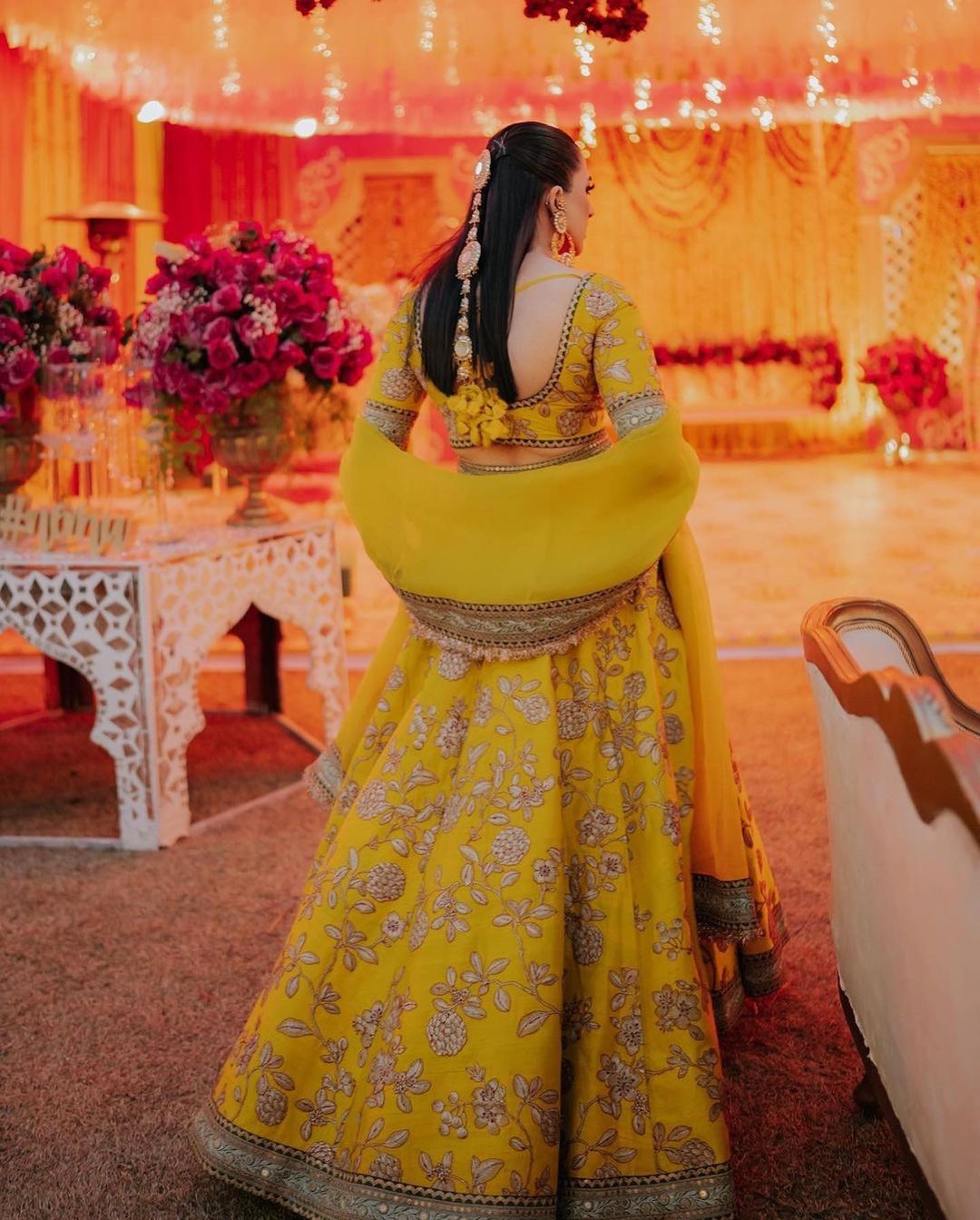 Looking for something chic and minimal? Well, this sleek half tie-up with a gorgeous statement hair accessory is just your vibe. It is quite fuss-free and doesn't require endless pins to stay in place.
7. Messy low bun with roses
There is nothing that beats the beauty and elegance of a messy low bun with some gorgeous roses in them. It is an evergreen and classic hairstyle for brides. You can choose single-coloured roses or even get a carnation for a unique touch.
8. High ponytail with curls and pearls
Love a little extra glam but wanna stay fuss-free? Check out this easy hairstyle for brides that is going to steal your heart. The messy ponytail with curls and pearl accessories is super cute and fun. Bookmark this for the smaller functions when your head is not covered with a dupatta.
Featured Image Source
Related: Kaleeras That Tell Your Story: Custom Kaleera Brands And Stores For Your Big Day