Confused by which kind of brush is to be used with which kind of makeup product? With so many brushes in the market, it's hard to differentiate between your blender and your fan brush. Here's a rundown of the different kinds of makeup brushes and how they should be used.
1. Foundation Brush
It's a fairly wide brush that is perfect for big strokes. The synthetic fibres can hold a sizeable amount of liquid foundation giving flawless coverage over fine lines and pores.
How to use: Start at the centre of your face and sweep outwards towards the hairline for a smooth finish.
2. Concealer Brush
This is a small, round brush, often made of sponge to cover the areas that are tough to reach with a big brush.
How to use: As it is used for spot correction, never blend it. Gently pat the brush on the affected areas to conceal them.
3. Blusher
This brush is slightly angled around the edges to mimic the shape of your cheekbones. It has denser bristles to help you apply the blush easily in a sweeping motion.
How to use: Swirl the bristles on the apple of your cheek. Now hold the brush at an angle and glide it along the cheekbone towards your ear.
4. Highlighter Brush
The highlighter brush has a narrow width that is just about enough to cover the brow bones.
How to use: You need a very small amount of highlighter. Dab a small amount of product on the brush. Now hold it at an angle to your face and lightly dust on top of your brow bones, the centre of your forehead, bridge of your nose and chin where the light falls naturally.

5. Powder Brush
This is the biggest brush in your makeup arsenal. It is soft and big, and it picks up a generous amount of loose powder in one go. This also ensures that you get an even coverage on your face without looking chalky.
How to use: Tap off excess powder and brush it outwards. Apply only one coat. If you have oily skin, you can apply an extra layer on your T-zone.
6. Eyeshadow Brush
This brush has medium size bristles and is useful for applying creamy eyeshadows.
How to use: Brush the shadow over the eyelid in a windscreen wiper motion for an even coverage. If you are using a powder-based shadow, make sure you hold a tissue or a sponge just below your eyelashes to catch the fallout.
7. Eyeliner Brush
It is a small angled brush with sharp ends to help you draw that killer winged liner.
How to use: Hold it at a right angle so the brush takes the natural shape of your eyelid. Drag from the inside corner of your eye along the lash line. Avoid multiple strokes to create a smooth and even line.
8. Eyebrow Brush
This is also an angled brush, which looks very similar to an eyeliner brush. Generally, makeup lovers use just one brush for eye and brow makeup, but we would advise against it. Keep the eyeliner brush separate to avoid any kind of eye infections.
How to use: Pick up a small amount of product first to create a soft outline of the eyebrows. Now stroke in the powder where you see gaps in the eyebrows. Brush with an upward motion to create an illusion of thick eyebrow hair.
9. Fan Brush
This is a thin fan-shaped brush used to remove excess powder or brush off stray eyeshadow.
How to use: Gently brush the excess product away from your face using a light hand motion. Don't put any pressure on the handle or you may end up removing makeup.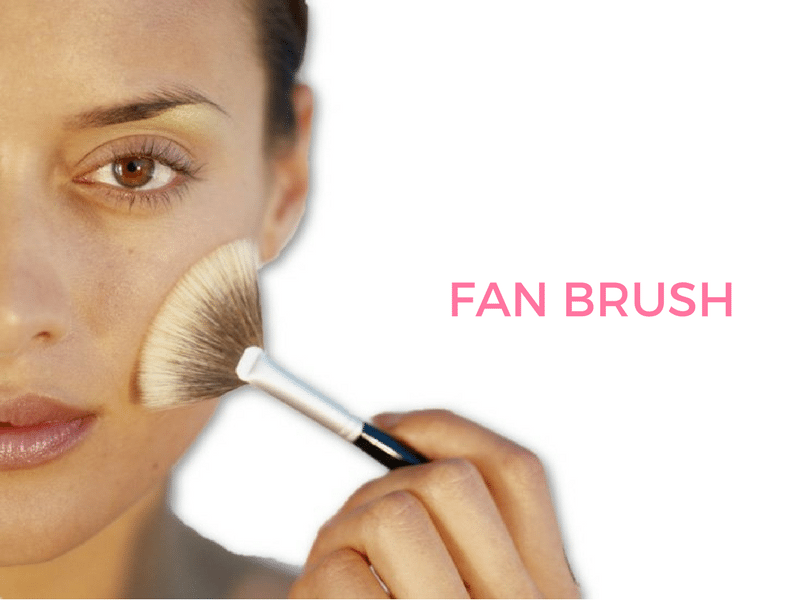 10. Lipstick Brush
A lip brush is a thin, pencil-like wand with soft and tapered bristles.
How to use: Start at the centre of the lip and blend outwards towards the lip line. For a crisp finish, use only the tip of the brush along the lip line. After contouring the line, you can fill in the lipstick or gloss evenly with the brush.