Been waiting for the weekend all week long? We get you. But this weekend, you need to take a few important precautions before stepping out. With COVID-19 spreading rapidly across the world, everyone needs to be careful. Follow these safety tips to protect yourself and your loved ones from this virus. But don't worry, you don't have to isolate yourself if you're healthy. As always, we are bringing a list of fun events in Delhi on the weekend from March 13th to 15th, so that you don't get bored sitting at home.
Check out these interesting Delhi events this weekend.
Related: Coronavirus: The Challenges Faced By Healthcare Professionals And What You Need To Know
1. Nazariya #BadloAb- A Poetry Show
Image Source
Spare an evening this weekend and indulge in a ride of emotions through words. Nazariya is back again to challenge the norms of society. With some of the best female poets of the city coming together, expressing themselves in poetry and prose, this event will be quite a journey. For more details, click here.
Venue: Innov8, 69, Regal Building, Hanuman Road Area, Connaught Place
Date: March 14
Time: 5pm
2. Cushion Fabric Painting Workshop
Image Source
If you want to enhance your living space with creative and unique decor, this is your time to shine. This DIY Cushion Fabric Painting workshop will teach you how to create stunning decor with cushions. Not just this, you get to take the cushion back home with the tassels and fillings of your choice. For more details, click here.
Venue: For Old Times Sake, Unit No DG 56 Rodeo Drive Complex, Sector 49, Gurugram
Date: March 15
Time: 12pm
3. Mahindra Excellence Theatre Awards & Festival

Image Source
META is back with its 15th edition to appreciate and celebrate some of the finest theatre productions in India. Catch some mind-blowing plays before the awards night, and get to live the real theatre experience. For more details, click here.
Venue: Kamani Auditorium,1, Opp. Doordarshan Bhawan, Copernicus Marg, Mandi House
Date: March 13-19
Time: 8-10pm
4. Reiki Healing Level 1 and 2 Workshop
Image Source
Let go of all the stress and tension of the week with this Reiki Healing workshop. It balances your energies and promotes wellbeing while healing any mental, physical, emotional or spiritual issues. Learn to align your chakras and auras, and have a healthy body and mind. For more details, click here.
Venue: A-73, Pratap Nagar, Opposite Amar Jyoti Kunj Apartment, Mayur Vihar Phase 1
Date: March 14 (Level 1), March 15 (Level 2)
Time: 10am-5pm
5. Beat Street Festival
Delhi's first street festival is all set to make your weekend better. With all things Delhi, there are some really cool pop-ups from Delhi's best eateries, an amazing lineup of artists, and much more. Don't miss out on the fun, and have a blast this weekend. For more details, click here.
Venue: Kalagram, Garden of Five Senses
Date: March 14-15
Time: 12pm-11pm
6. How To Disappear Completely And Never Be Found
How To Disappear Completely And Never Be Found by Kaivalya Plays is a story of a young advertising executive who is on the verge of a nervous breakdown and goes in search of a new identity. After several encounters, he learns how to disappear into the system, but this vanishing act comes with a price. Catch this live performance this weekend.
Venue: S 47, Panchsheel Park
Date: March 14-15
Time: 7pm
7. Tea Cakes, Cookies N More Class
Image Source
Learn how to make an eggless coffee walnut cake, chilli chocolate cake, lemon blueberry muffins, Nutella-filled cookies, and so much more at this baking class. You also get to take written recipes, certificates, and all the goodies that you bake. For more details, click here.
Venue: Sangeeta's Cooking Mantra, Chittaranjan Park
Date: March 14
Time: 10am-4pm
8. Macrame Bag Workshop
Image Source
Indulge in an artsy and creative experience with Rosa's Artistry, and make your own Boho Macrame bags. You will learn techniques of making different designs and patterns on Macrame bags. You don't need any prior experience for this workshop. After the event, you can take your finished piece with you. For more details, click here.
Venue: Studio Pepperfry, South Extension Part II
Date: March 14
Time: 12-3pm
9. Keep Calm and Improv: IX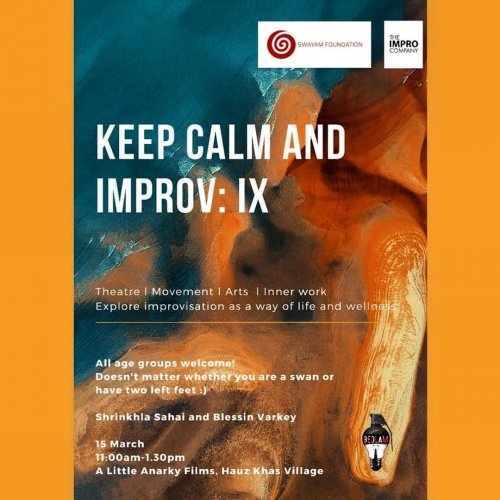 Image Source
Keep Calm And Improv is back with its ninth edition of another wellness session. The aim of this session is to have a quality interaction, letting go of judgement, and listening to people around you. You'll laugh a bit, let go of some stress, and create meaningful bonds. For more details, click here.
Venue: Bedlam (A Little Anarky Films), 4th Floor, Building T-74, Hauz Khas Village
Date: March 15
Time: 11am onwards
Make the most your weekend before Monday blues kick in! But if you want to stay home, we have a few suggestions on what you can do to enjoy your days off. You can make your own desi cocktails, or make some indulgent and easy chocolate desserts at home.