Hello, lovelies! I'm finally in Lake Como for the big Deepika Ranveer wedding. And it is nothing like I expected! Because I care so much about all of you, I'm going to give you all the inside gossip from this absolute horror of a wedding. I know you really wanted to be here. But what to do, loves? You're just not important enough.
Don't worry, though. You're not missing much.
Getting to Lake Como is a NIGHTMARE!
They didn't even hire a chartered plane for me! Like, I had to share space with strangers. I have 10 Louis Vuitton bags! Why couldn't they just get married in Rome, you ask? Because hotels must be cheaper here, out in the village areas. Ugh.
No budget for suites
I have to slum it out in a regular pool-facing room. Like, it's just a bedroom, guys. If you don't have money, why would you tell guests not to give you gifts? Use the shagun money to pay for the hotels, like everyone else. But no, some people just want to be "cool" and "donate" money.
Pre-wedding cocktail happened before I got there!
I prepared the perfect drunk pout and hip thrust in my Elie Saab gown. But I wasn't even invited for the friends' cocktail! Someone even said, "That was just for the youngsters." Hello! Obviously not. I wasn't there! It doesn't make any sense.
Salted snacks in the hamper! YUCK!
Does it get more obvious that the bride is scared of being overshadowed? She's trying to get me bloated. And that handwritten, "personalized" note? It doesn't exist. I didn't get one. All I got was fancy Italian chips.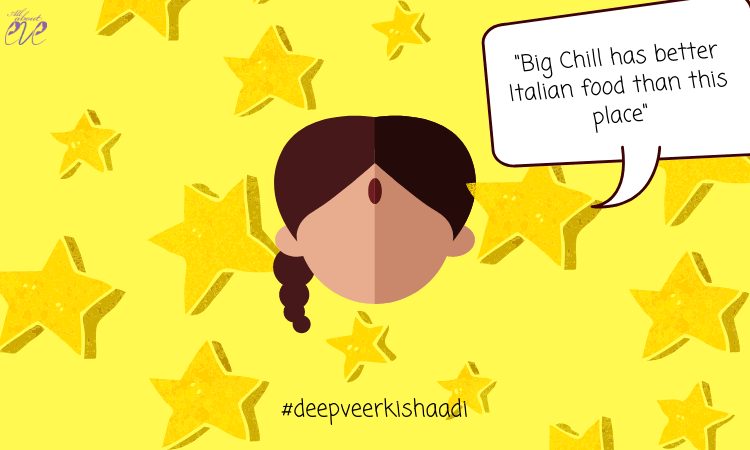 The catering at my neighbour's son's mundan was better
While Ranveer was busy playing the dhol and Deeps was hogging all the attention, no one paid attention to the food. The dal makhni was just so bland. And the butter chicken had, like, no chicken. By the way, speaking of Deeps…
She's not getting mehendi till her elbows!
It's like they don't even care for Indian traditions, you know. No one else saw it but Ranveer's mother told me how upset she was. She nearly cried when she said, "My daughter-in-law has no respect for me. Ghar se nikaal degi humein." Tragic.
Also, no photos allowed
Someone always shows up when I'm trying to take pictures for you guys. My Instagram talents are wasted at this wedding. Anushka and Virat didn't stop me even once. But don't worry, I'll leak something for you, loves. Check out my Insta, okay?
OMG! The barcode thing is just so tacky
A Hauz Khas bouncer type fellow stopped me because my phone ran out of battery! Am I entering your shaadi or a warehouse party in Chhattarpur? Like have some class, guys. Major ugh!
The shaadi preps look so colourful!
I mean, way too colourful. I can see them from the tiny balcony in my tiny room. It doesn't look too promising. But I'll keep you posted, loves! Now I have to go squeeze into my Sabyasachi bridal lehenga and practice my hip thrusts.
Toodles!
PS: Yes, yes. We know we're not going for the actual #DeepVeerKiShaadi. But neither are you. Let's just pretend the invites were misplaced in the mail, shall we?