Bread is one of the most obvious components of a quick breakfast. But having toasted bread with butter or peanut butter, or even as bread omelette, gets boring pretty fast. So, here are some quick and easy bread recipes that you can have for breakfast. The best part? You can make them all in 10-30 minutes.
1. Paneer Bread Toast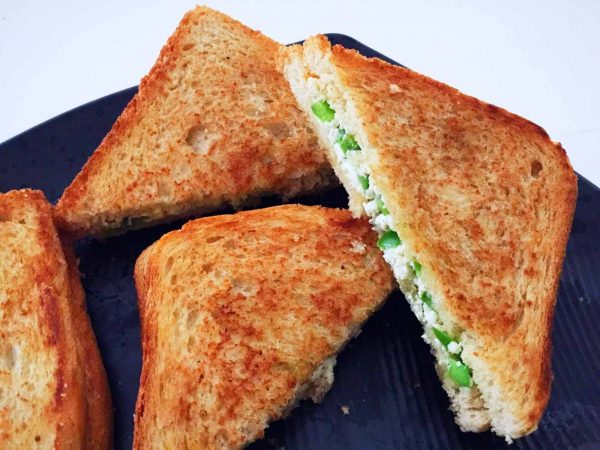 Ingredients:
200g paneer
4 slices of bread
1 egg
¼ tsp oregano
2 cheese slices
¼ tsp black pepper powder
¼ tsp chilli powder
Salt, to taste
Oil or butter, as needed
Method:
Beat one egg with some salt and black pepper and keep aside.
Divide the paneer into equal slices, season it with salt and chilli powder, and cook till it's slightly brown from both sides.
Add the toasted paneer over a slice of bread, season with oregano, and add a slice of cheese. Cover it with another slice of bread and coat it properly in the egg mixture.
Add some oil or butter to a pan and cook the egg-coated paneer toast till brown on both sides.
2. Egg sandwich
Ingredients:
6 boiled eggs
4 slices of bread
1 onion, finely chopped
2 green chillies, finely chopped (optional)
Coriander leaves, as needed
½ tsp pepper
2 tbsp mayonnaise
Salt, to taste
Method:
Grate the boiled eggs into a bowl. Add the finely chopped onions, green chillies, coriander leaves, salt, pepper, and mayonnaise, and combine well. Add more seasoning, if needed, and keep the mixture aside for 5-10 minutes.
Cut off the edges of the bread, and spread a bit of mayonnaise or softened butter to moisten the bread. Take an adequate amount of the filling and place it on one slice while spreading it out evenly. Close the sandwich, cut it into rectangles or triangles, and serve.
3. Bread upma
Ingredients:
5-6 slices of bread, chopped into cubes
1 medium onion, finely chopped
1 inch ginger, finely chopped
½ tsp green chillies finely chopped
1 tsp mustard seeds
½ tsp cumin seeds
6-7 curry leaves
2 medium tomatoes, finely chopped
¼ tsp turmeric powder
¼ tsp red chilli powder
1 pinch asafoetida (optional)
2 tbsp oil
1 tbsp coriander leaves, chopped
Salt, to taste
Method:
Heat some oil in a pan and add mustard seeds to it. Once they crackle, add cumin seeds and saute till they crackle and become brown.
Lower the flame to medium and add the chopped onions. Cook till the onions turn translucent. Add the green chillies, ginger, and curry leaves to it till the raw smell of the ginger dissipates. Then add the tomatoes.
Once the tomatoes are slightly cooked, add all the spices and mix well. Cook till the tomatoes soften and the mixture releases oil, and it is completely dry.
Once the mixture dries up, add the bread cubes and mix well. Saute them well for 4-5 minutes till the bread becomes slightly crispy from the sides. Garnish with chopped coriander leaves and serve hot.
4. Bread rava toast
Ingredients:
½ cup roasted sooji
¼ cup curd
¼ cup water
1 onion, finely chopped
1 tomato, finely chopped
2 capsicum, red and green, finely chopped
1 green chilli, finely chopped
2 tbsp carrot, grated
1 tbsp coriander, finely chopped
4 slices of bread
½ tsp sugar
4 tsp green chutney
2 tsp butter
Salt, to taste
Method:
In a bowl, mix the sooji, curd, and water. Combine it well and then add all the vegetables, sugar, and salt. Mix it well and let it rest for 10-15 minutes.
Spread the green chutney on a slice of bread, and then spread the sooji mixture. Toast the bread in a hot pan. Once it is fully cooked, spread some butter over the bread and flip it. Cook till the bread is golden brown and crispy.
Serve it as it is or with some green chutney.
5. French toast
Ingredients:
3 eggs
4-6 slices of bread
¼ cup milk
1 and ½ tbsp sugar
¼ tsp cinnamon powder
1 pinch salt
2 tbsp butter
Method:
Toast the bread slices slightly and keep them aside.
Break open the eggs in a wide bowl, pour milk, and whisk together. Add sugar, salt, and cinnamon powder, and beat the mixture till it mixes well.
Melt a teaspoon of butter in a pan, and once it's hot, lower the flame to medium.
Dip the bread in the egg mixture on both sides and place it on the pan. Cook it well till the edges turn crisp and then flip it. Once the bread is cooked from both sides, serve it hot.
Featured Image Source
Related: 5 Quick And Easy Egg Recipes To Make Your Breakfast Delicious And Healthy