A few weeks ago, Delhi woke up to read the name of an infamous Instagram chat group on the news, named 'Boys' Locker Room' created by some teenage boys in my city. These boys were discussing their female classmates, sharing distasteful photos of the women in question and joking about them. The tone was objectifying, sprinkled with sexism, and a few of them also discussed gang raping them. It was plain banter, loose talk. Just some young adults bonding over innocuous remarks made only for entertainment. Something you and I have heard or eavesdropped on, consciously or not, several times.
A few brave young girls and boys exposed the usernames and handles because one of the boys on the group felt that something gravely serious and wrong was going on. The matter blew up, and the country's media directed attention to it. People were publicly named and shamed, and justice was delivered instantly without the other side of the story being heard.
Once the boys were outed, many came forward on social media to give reactions ranging from "they are kids and they do not know better" to "publicly outing them is no solution and their parents must be contacted with the help of counsellors to address this more sensitively". Organisations rushed to make videos explaining feminism. People cried over privilege being used for wrong. Social media stars wrote opinions on their stories, made videos, and attempted to sensitise the youth. A few people advocated for the boys and then, all of it was forgotten. The news ran its course and faded naturally.
Boys will be boys?
Why am I writing this blog in the middle of another extended lockdown when I could be binge watching Peaky Blinders on Netflix and finishing pending office work? Maybe it is the angst of years of seeing this happen, over and over again. Of personally experiencing it to some degree and seeing boys get away with the proverbial 'boys will be boys' remark. No serious reprimands, just an eye-roll, a blink, a twitch, and done. All forgiven. All forgotten.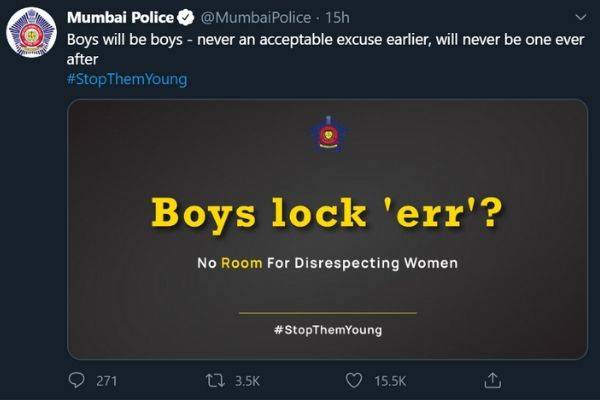 It irks women to see boys being protected, shielded and given leeway — an easily acceptable margin of freedom and variation while women on the other side have to labour to bring about equality and hold men accountable for loose talk and misdeeds. This has happened several times in recent history, we forget to talk about issues when they fade from the limelight. Something that I cannot forget or pardon yet are the remarks of these teenagers in their chats.
What famous Indian comedian Mallika Dua highlighted too was — where do young boys learn to show aggressive behaviour and violent tendencies for someone they find attractive? While the question certainly is perplexing, the answer to this is probably the male ego that does not take rejection very well, or more importantly, the elephant in the room that our society has been ignoring and taming in equal measure — the normalisation of rape culture.
Defined as a sociological concept for a setting in which rape is pervasive and normalised due to societal attitudes about gender and sexuality, behaviours commonly associated with rape culture include victim blaming, slut shaming, sexual objectification, trivialising rape, denial of widespread rape, refusing to acknowledge the harm caused by sexual violence, or some combination of these. Most patriarchal societies have been the breeding ground for rape culture. This concept is so ingrained in the minds of most men that they do not even flinch while talking about or inciting violence, let alone cat-calling, stalking, or slut shaming which do not even count as offences or harassment in the dictionary of most men.
Image Source
Mukesh Singh, the driver of the bus in the infamous 2012 Jyoti Singh gang rape case, had
said, "A girl is far more responsible for rape than a boy." In January 2014, Asha Mirje of the NCP in Maharashtra said women invite rape through their clothes and behaviour. The #MeToo movement often led to women who were outing men being questioned more than the accused, with character assassination against the women coming from all quarters. Rape culture views rape or undue attention of the wrong kind as a problem to be solved through improving the behaviour of the victims. It
makes women take responsibility for their safety and well-being and revises the yardstick of women's behaviours in public and private spaces. In the end, it is unwilling or apprehensive to punish perpetrators and goes soft on them.
Related: 'Unbecoming Of An Indian Woman' To Fall Asleep After Rape: Indian Judiciary Hits A New Low 
The impunity is not limited to the legal system alone. Schools, universities, and the military routinely fail to address sexual assaults within their institutions. All of these institutional failures are magnified by social pressure on victims to stay silent and by patterns of blaming or ostracising victims who do come forward. Needless to say, the culture is toxic and detrimental for both the participants as, on the one hand, it is gravely unjust to women and, on the other, it ignores that men too can be victims of sexual harassment, assault, and rape. In India, the legal protection to male victims of rape are abysmal and highly unjust. Women, however, have been paying the higher price here, sacrificing their freedom and opportunities in order to stay safe. Rape culture succinctly puts the burden of safety on women's shoulders and blames them when they don't succeed.
This amounts, essentially, to a tax that is levied exclusively on women. Over time, the cost of that tax adds up to opportunities lost and progress not achieved. When women give up social and economic opportunities for their safety, it affects their progress overall, which, in turn, affects society's progress overall.
'Boys' Locker Room' and the way forward
While the Boys' Locker Room chat did not surprise me, it really did make me realise how deep-rooted and troubling this problem is, and how early young boys start to get misguided by a culture that clearly doesn't teach them right from wrong. I certainly do not think that the boys must be shamed on social media and that they should be punished and dealt justice on public platforms. However, I certainly do want them to understand the gravity of their actions, to get a chance to improve and re-think their actions and conversations. There is rarely ever an open conversation in schools or homes, and porn websites become the easily accessible bad teachers who teach young boys things they are inquisitive to know. It is not entirely their fault.
Maybe it's the older men around us who have to step forward and have this conversation with boys. To tell them right from wrong. To highlight and stop them when they overstep. To nudge them in the right direction and call them out when they stray. Maybe it is time for the fathers, the older brothers and uncles to sit down and converse with the boys in the family. Have that awkward conversation now, before it is too late.
Related: Boys Locker Room: What You Need To Teach Your Sons About Women