Happy Pathaan week, bachche! I say this only because Shah Rukh is so, so dear to my heart. He doesn't know me (yet) but he is totally aankhon ka taara for Aunty Eve. And that's why I've been excited about Pathaan since 2021!
I waited two whole years for this phenomenon, and then, I saw some boys and girls being all angry about it. First, I thought they were Salman Khan fans and sympathised with them. SRK has been a pain for Bhai with his legendary superstardom, I agree. But then, I saw the angry birds weren't even mentioning Salman. They were screaming and shouting about far too many things together, so I did what Aunty does best—investigate! I caught professional protester Narangi Barangi while his gang was shouting "Boycott Pathaan" outside my local PVR. I asked him what his problem was so that I could solve it for him. That is my job, after all. Here's how our little chat went.
Narangi Barangi: Aunty ji, you tell. Saffron is besharam rang? How dare?
Me: Beta ji, DP literally says "besharam rang kahaan dekha duniya walon ne". Aapne kahaan se dekh liye besharam rang when the duniya has only not seen them? The colours that she is showing in the song are obviously sharmeela rang, full of sharam. And if you have a problem with the colour of her clothes, DM her stylist na, bachche. Why create halla like a little lalla?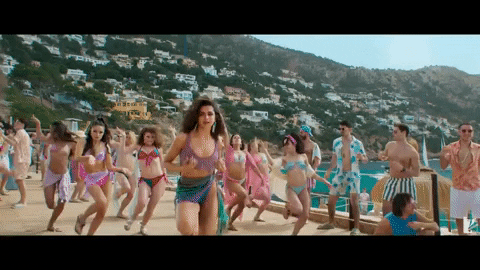 Narangi Barangi: Okay, fine. But what about the other major issue? Indian people bad? Pakistani people good? What is this proper gainda?
Me: Proper or not, all gaindas are smarter than you, Narangi! Your Aadhaar may be linked to your PAN, but your passport is not linked to your morals. You are Indian, but look at you, creating a public nuisance for a movie. That's bad person behaviour, no? There are so many other things to protest against if you're so jobless. I can give you a whole list of much more worthy causes, including the treachery of Mrs Duggal's ugly petticoats constantly flying into my balcony.
Narangi Barangi: Speaking of embarrassing undergarments, Bharatiya naari in biggini? How dare? Boycott Pathaan!
Me: When the Bharatiya naari wants to show off her gorgeous body in a tiny two-piece, what is your problem, bachche? You had a problem with our dear Deepika even when she was fully clad, head to toe, in heavy sarees. Now, you have a problem with her sexy bikini. How would you feel if these naaris came after you for the size of your langot or the tightness of your baniyan? When you can flaunt that hairy belly proudly all over your colony, belching away your breakfast, why stop the naaris?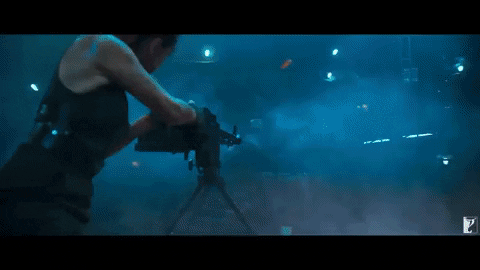 Narangi Barangi: Chhee, Aunty! You are very much dirty mind and unsanskaari.
Me: Le! You speak as if you know nothing about me. I love my dirty mind hehehe.
At this point, Mr Barangi suddenly left with a disgusted look on his face. He completely vanished for about three hours…around the same time as the Pathaan show was about to start. And I didn't want to miss a second, so I ran inside. Then, about three hours later, I heard a very familiar voice next to me, screaming the lyrics to Jhoome Jo Pathaan. And, just as I thought, it was our very own Narangi! So, of course, I had to poke around.
Me: Arre, why are you now jhoomoing with Pathaan after being so angry all day?
Narangi Barangi: I am outraging only, Aunty. How dare Pathaan jhoomo alone when we so hurt? So, we jhoomo in protest.
Sigh. So much for #BoycottPathaan.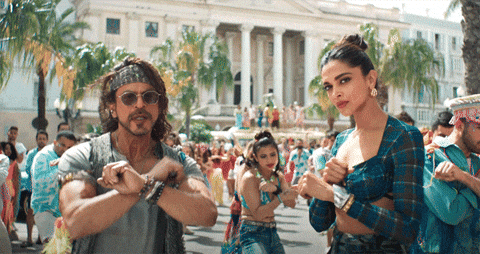 At this point, I realised it was best for my sanity to leave Narangi Barangi and his gang to their own reasoning and enjoy the magic that is SRK. I suggest you do the same, bachche.
Related: Pathaan Review: Shah Rukh Khan Steals The Show In This Mass Entertainer
GIFs Source