Shahid Kapoor's much-anticipated Bloody Daddy is now out for the world to watch. The movie is Kapoor's first outing with director Ali Abbas Zafar and an adaptation of the famous French film Sleepless Night. Bloody Daddy is an out-and-out action film and quite true to its name. The movie also stars Sanjay Kapoor, Diana Penty, Ronit Roy, Rajeev Khandelwal, Ankur Bhatia, and Vivan Bhatena in prominent roles.
Bloody Daddy is as bland as it can get
Sumair (Shahid Kapoor) is an NCB officer who, along with his aide Jaggi, seized a bag of cocaine. The mastermind of the drug deal was Sikander (Ronit Roy), who is understandably upset about his loss of 50 crores of drugs. To retrieve his lost contraband, Sikander kidnaps Atharva, Sumair's son. To save his son, Sumair agrees to bring the bag of drugs to the hotel and return it to Sikander. Amidst all of this, Sumair is also looking for moles in his department who are at the centre of the drug nexus.
This right here is a great plot to give the audience an emotionally charged father-son story. But does Bloody Daddy deliver? No, it does not. There is absolutely no emotional payoff in this movie. The only reason you would watch this movie is for the action and even that gets old pretty soon. For a few seconds towards the end of the movie, you feel some emotions, but that evaporates far too quickly.
There are a whole bunch of characters who get no backstory, including the protagonist of the movie. You are not invested in any of the characters, nor do you feel for any of them. Bloody Daddy just exists out in the cosmos with absolutely no purpose.
Bloody Daddy was filmed in a span of 36 days amid the COVID-19 pandemic and it shows. The film is set in a span of 24 hours and two locations. To keep up with the times, the film is set right after the second lockdown, when things are finally open and people are ready to throw caution to the wind.
The acting is commendable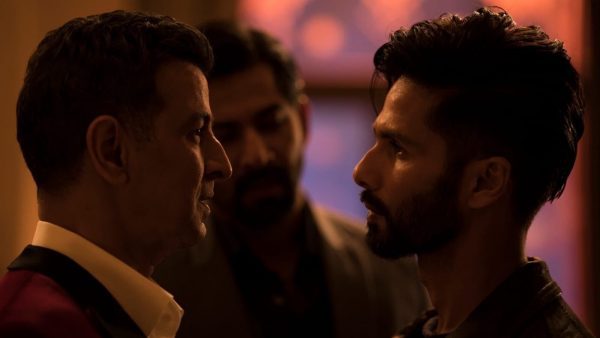 While the screenplay of Bloody Daddy leaves much to be desired, the actors do a fairly commendable job. Shahid Kapoor shines as the titular character, but at the same time, this is not a role that challenges the actor. He has done anti-heroic roles, most recently as Sunny in Farzi.  So, Sumair is not a character that would be difficult for Kapoor to pull off. Ronit Roy as Sikander and Rajeev Khandelwal as senior officer Sameer also don't disappoint. Unfortunately, the characters are so limited in their scope that the actors can't really go that extra mile.
Bloody Daddy lacks in the storytelling department and that's quite evident. The actors though try to put their best face forward with the restricted character arcs that they have.
If action is your jam, catch Bloody Daddy on JioCinema.
Can you watch Bloody Daddy with your family?: It is not to be watched with children. There's a lot of violence and coarse language in the movie.
Featured Image Source
Related: School Of Lies Review: A Stark Portrayal Of The Dark And Lonely Life Of Children