Bhumi Pednekar started her film career as an assistant casting director at Yash Raj Films before she made her big Bollywood debut. Since then, Bhumi has earned her place and is known as a talented actor who can take on versatile roles. This has been made obvious in the roles she has chosen. Here are some of the best movies featuring Bhumi Pednekar.
1. Dum Laga Ke Haisha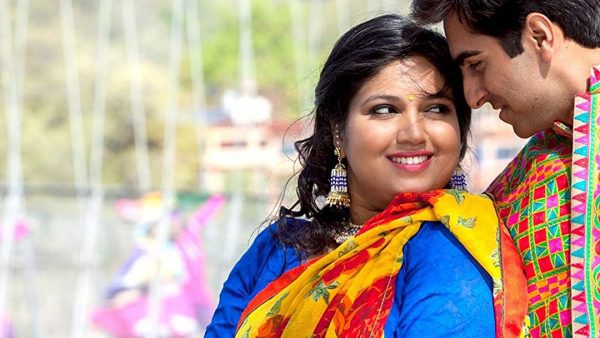 Bhumi Pednekar debuted with Dum Laga Ke Haisha as an overweight bride. An educated, small-town girl, Sandhya is trying to be a school teacher. However, despite her education and ambitions, her husband Prem is uninterested in her because she is overweight. He is embarrassed to be seen with her and constantly belittles her. As the couple stands on the verge of a divorce, the court orders them to spend six months together, in hopes of a reconciliation. As they spend this time together, Prem and Sandhya begin to understand each other and eventually fall in love.
Watch it on Youtube
2. Shubh Mangal Saavdhan
A romantic comedy that deals with the topic of erectile dysfunction, Shubh Mangal Saavdhan was Bhumi Pednekar's second outing with Ayushmann Khurrana. Mudit Sharma is a marketing executive who falls in love with Sugandha Joshi. But, he is unable to talk to her, so he sends her an online marriage proposal. Soon, they fall in love, but every time they try to get intimate, Mudit gets uncomfortable. Soon, the two realise that Mudit is going through erectile dysfunction. They try various ways to overcome the issue with no luck. Shubh Mangal Saavdhan deals with the topic of erectile dysfunction in a very subtle manner without making a joke of it.
Watch it on Jio Cinemas
3. Saand Ki Aankh
Based on the lives of sharpshooters Chandro and Prakashi Tomar, Saand Ki Aankh stars Taapsee Pannu and Bhumi Pednekar in lead roles. Chandro and Prakashi are women in their 60s living in a patriarchal society. By pure accident, they discover that they are talented sharpshooters. Defying ageism and gender roles, the women, with the help of an instructor, participate in various competitions. Chandro and Prakashi go on to win 352 medals each over the course of their professional career.
Watch it on Zee5
4. Dolly Kitty Aur Woh Chamakte Sitare
Led by Konkona Sen Sharma and Bhumi Pednekar in the titular roles, Dolly Kitty Aur Woh Chamakte Sitare deals with desire and how it is typically meant for men and not women in this patriarchal society. Dolly is a married woman who has lost all desire for her husband. Kajal aka Kitty works for Red Rose Romance, a paid dating app where men call to talk about their fantasies. Both women are on a journey of self-discovery that brings them to a point of self-realisation and finally embrace the life they want to live.
Watch it on Netflix
5. Lust Stories
Lust Stories is an anthology film directed by Anurag Kashyap, Zoya Akhtar, Dibakar Banerjee, and Karan Johar. Bhumi Pednekar stars in Zoya Akhtar's segment as Sudha, a domestic worker at Ajit's house. Ajit and Sudha are in an intense sexual relationship that comes to a standstill when Ajit's parents come to his house. His parents bring with them a marriage proposal for Ajit, which breaks an emotional Sudha.
Watch it on Netflix
6. Sonchiriya
Sonchiriya chronicles the lives of dacoits in the year 1975, set in the ravines of the Chambal valley. A group of dacoits is split after their leader is killed. The rest of them decide to run away, and on their way, meet Indumati Tomar and Lalli aka Sonchiriya. Lalli was raped by the head of Indumati's family, whom Indumati kills. The Baaghis, Indumati, and Lalli are all on a quest to stay alive with the Baaghis being in search of the Sonchiriya. The Baaghis believe that they are cursed because they accidentally killed a group of innocent children. In order to save themselves from the curse, the Baaghis are searching for the saviour, Sonchiriya.
Watch it on Zee5
7. Badhaai Do
Dealing with the concept of lavender marriage, Badhaai Do brings together Rajkummar Rao and Bhumi Pednekar in lead roles. Shardul, a gay police officer and Suman, a lesbian PT teacher agree to a marriage of convenience to keep their parents happy. While married, Shardul continues dating his boyfriend, while Suman starts a relationship with Rimjhim. Within months of their marriage, Shardul's family keeps pressuring the couple for a kid. With the help of Rimjhim, Shardul and Suman prove that Shardul is infertile. Shardul's parents give the couple the go-ahead to adopt a child. But soon, the sham of Shardul and Suman's marriage comes out. How the couple and their family confront reality forms the rest of the film.
Watch it on Netflix
Featured Image Source
Related: Celebrating Revathi: 10 Movies That Show The Actor's Versatility And Brilliance