Directed by Pavan Kripalani, Bhoot Police starts with a fun sequence of tantrics in the modern world who, along with ghosts, have to deal with things like GST also. This sets the tone for the rest of the film, a horror comedy that won't scare you but will entertain you.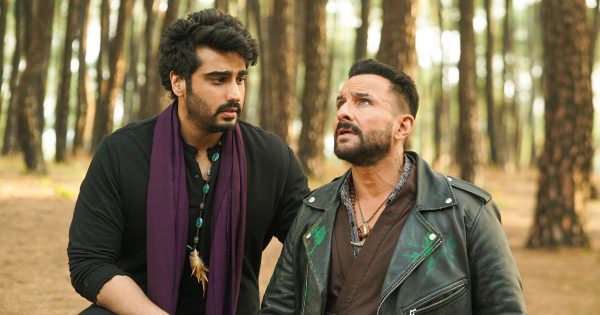 Image Source
Brothers Vibhuti Vaidya (Saif Ali Khan) and Chiraunji Vaidya (Arjun Kapoor) are the Bollywood versions of ghostbusters in Bhoot Police. They go from town to town exploiting the average Indian's belief in all sorts of superstitions and ghosts. While Vibhuti only believes in making money, Chiraunji actually has faith in the tantric practices. He uses a book written by his father, Ullat Baba, as his guide to help Maya (Yami Gautam), a tea estate owner in Himachal. A supernatural being, a kichkandi, is terrorising the local villagers and tea estate workers who refuse to step out of their house after sunset. Kanika (Jacqueline Fernandez) is Maya's sister who does not share her belief in the supernatural and wants to sell the estate and move to London.
Javed Jaffrey plays Inspector Chhedilal, a cop chasing the fraud tantric brothers across the country. But he is really underused, even in a cameo. One can tell his character had potential but it's not used as much as you think it will be. Jaffrey deserves more than just a weird accent and half-baked back story.
Image Source
Saif Ali Khan keeps the comic quotient high throughout the film while Arjun Kapoor is the annoying do-gooder who is just boring to watch. You can tell Khan is having fun in his role but Kapoor is mostly stifled in his character. Towards the end, Jacqueline Fernandes manages to stand out too.
Don't expect outstanding cinema when you watch Bhoot Police, it was never meant to be a classic. But if you're looking for a light weekend watch with a few thrills thrown in and several funny one-liners, watch the film on Disney+ Hotstar.
Related: Mumbai Diaries 26/11 Review: A Gripping Tale Of Courage In The Face Of Terror