From sweet and salty to sour and spicy, if you are someone who has tried the weirdest food combinations, we have some more for you. We are talking full-on fries with ice cream pairings that might sound gross but taste surprisingly good. Check out this list of weird foods, but fair warning, things are going to get really weird.
1. Fries and Vanilla Softie
Well, this is a rather popular one. If you have tried this combination, you know the instant rush of sweet and salty flavours coming together. Also, the fresh, hot fries taste amazing with the cold ice cream. Just try it already!
Related: Healthy Alternatives To Potato Fries Which Make For Yummy Snacks
2. Dhaniya Chutney and Ketchup
If you have not used dhaniya chutney and ketchup in a sandwich, you really have to try this. Just add some cucumbers and tomato, and voila! You got yourself quite a snack.
3. Malai and Sugar
You know you love creamy and crunchy together, and this dish guarantees it. So, just get some malai, apply it on bread, and sprinkle some sugar on it.
4. Tomato Soup and Malai
You thought you've tried weird foods? Well, try this one. Skip that store-bought cream and go all desi with some fresh malai instead. It may sound really off, but once you've tried it, you will know what we're talking about.
5. Grated Potatoes and Omelette
Bored with your regular omelette? Just add some grated potatoes to it, and you'll have an interesting breakfast option.
6. Bread with Ghee and Sugar
Ditch your usual bread and butter with tea and try some ghee with salt/sugar on the bread. If the idea is too absurd for you, just try it as an experiment.
7. Bread with Peanut Butter and Chips
We love a good PB&J, but adding a little salt and crunch to the sandwich can make it more interesting. Skip the layer of jam and add chips instead. Do let us know how you liked this new version of PB&J.
8. Milk Cream with Sugar and Mint Chutney
This is definitely one of the weirdest food combinations. So picky eaters, stay away and stop scrunching your nose. But if you are someone who likes to experiment with food, how bad can this be?
9. Puri and Jam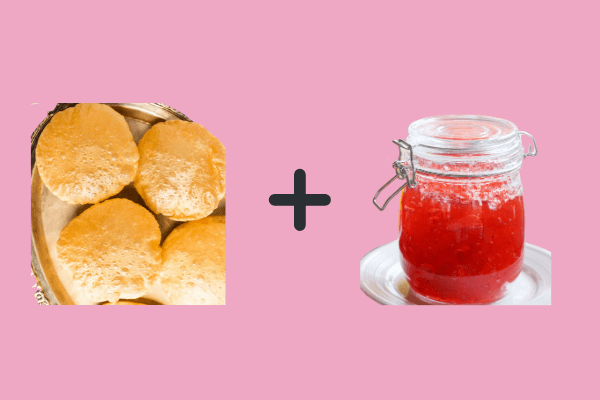 This is, undoubtedly, one of the weirdest but tastiest combinations of food. One bite of puri with aloo and the next with jam, pure bliss! Try it yourself.
10. Blue Lays and Dairy Milk Chocolate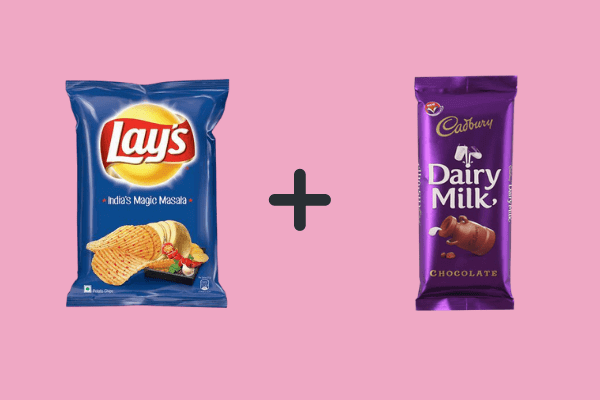 Not that the Blue Lays are too spicy or anything, but have you ever tried them with a piece of Dairy Milk? Just try it before judging us, okay?
11. Boiled Eggs with Salsa Sauce
If you have tried some of the weirdest combinations of food mentioned above, this is really nothing. Though it might sound weird, it tastes super delicious! The kick of heat from the salsa sauce takes the basic boiled eggs to another level.
Related: Easy Salad Dressings You Can Make With 5 Kitchen Staples
12. Bhujia and Ketchup
Do we really need to sell this combination to you? Don't think so.
Try these weird food combinations and let us know how you liked them. Also, tell us about some of your personal favourites that aren't on the list.