Amitabh Bachchan once said in Baghban, "Maa baap zindagi ke pedh ki jadh hain". Sounds great. As long as the roots are strong, the tree will grow well. But, if the roots are rotten, the growth of the tree will be stunted. And toxic parents are like rotten roots. No matter how much you try to grow, those bad roots will hold you back somehow. Bollywood has given us lots of toxic characters from Kabir Singh to Badri, Maddy, and Kundan. Ugh! Bollywood has also graced us with some very toxic parents. Here are a few of them we hope don't exist in real life. But movies are inspired by reality too, so if you had parents like these, we hope you got or are getting professional help to deal with the trauma.
Narayan Shankar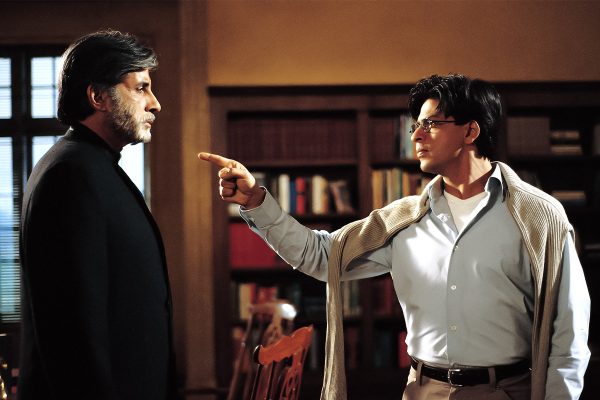 "Parampara, Pratishtha, Anushaasan" are the golden words Narayan Shankar from Mohabbatein lived by. Quite a principled man, we must say. Except, thanks to his unflinching, rigid principles, his daughter believed it was better to take her own life than convince him to accept the man she loves. Yes, we do come from a patriarchal society. A daughter having a lover is unacceptable to a lot of people even now. While most parents either try to understand their daughter or convince her to forget her lover, Narayan Shankar goes a step further. He decides to expel Raj Malhotra from his college, thereby ruining his prospects. All because his student and his daughter dared to fall in love with each other.
Yashvardhan Raichand
"Keh diya na! Bas keh diya!" This one line by Yashvardhan Raichand from K3G is enough to show the kind of father he is. For Yash Raichand, it's either "my way or get the hell out of my house". When his very adult son Rahul falls in love with Anjali, a woman from a lower income group than the Raichands, Papaji loses his shit, to say the least. After a tragedy strikes Anjali, Rahul decides to marry her despite his father's refusal to accept their relationship. Lo and behold, to no one's surprise, Yash throws them out of the house. It takes another decade, his second son's interference, and his wife finally standing up to him, for Mr Raichand to finally accept his son's family. Far too toxic!
Maya and Nandkishor Awasthi
If you need a lesson on how to completely shatter your child's confidence and emotionally abuse them, look no further. The Awasthis from Taare Zameen Par will give you an in-depth lesson on the topic. Unfortunately, there are a lot of Awasthis in India, parents who are caught up in the competitive rat race and push their scared children into it. Rather sad, but a very real and true portrayal. Both Maya and Nandkishor disregard Ishaan's learning disability and mentally torture him to get better grades. Ishaan's father goes as far as sending him off to a boarding school to teach him a lesson. The only lesson here is how to guarantee that your child hates you when they grow up.
Susheela
One of the most toxic parents in Bollywood, Susheela in Main Prem Ki Diwani Hoon is a manipulative, selfish, and heartless mother. She wants to marry her newly graduated daughter off to a wealthy NRI businessman. When Prem Kishen drops into their house, Susheela and her husband Satyaprakash try their best to push Sanjana and Prem together. She is the happiest mom on the planet when they fall in love. That is until she finds out the original rich guy, Prem Kumar, couldn't make it to India and sent someone else in his place. The very boy she thought was perfect for her daughter suddenly becomes less than ideal. When the rich Prem Kumar comes to India, Susheela's mission then becomes to play matchmaker between Sanjana and Prem Kumar. Uff, even Sima Aunty might not have done itna matchmaking jitna Susheela aunty was doing for her daughter.
Kamal and Neelam Mehra
The Mehras, from Dil Dhadakne Do, are high class, elitist, sexist, and problematic parents to say the least. Their married life is far from perfect, filled with infidelity and lack of communication. But they want to have a say in their adult children's relationships. While they refuse to entertain the idea of their elder daughter divorcing her husband, because "log kya kahenge", they want to push their son into a marriage purely for the sake of their business. The Mehras are pretty damn sexist as well. They push their uninterested son to take over the family business, while the more qualified daughter is not even given an option to work in the business. The Mehra patriarch and matriarch are the poster children for toxic parents.
What other toxic parents in Bollywood can you think of? Let us know in the comments.
Featured Image Source
Related: Which Bollywood Dad Is Your 'Pita Ke Samaan'? Find Out With This Quiz