It may be the 21st century, but some professions are still considered male territory. One such profession is the law. Being a lawyer may be regarded as prestigious, but it is also riddled with stress and, quite often, danger. For this reason, people think women should not be lawyers. Women are discouraged from pursuing a career in law and encouraged to choose other professions which are "easier" and leave them with more time for families. However, several women in India have shattered those stereotypes and proven themselves to be strong, successful lawyers. While there are many such lawyers in India, we chose five among them to be shining examples of such strength. These women are some of the top lawyers in India, and they have been recognised internationally for their formidable work.
Here are five lawyers who deserve to be applauded for their work and perseverance.
1. Indira Jaising
Image Source
Not one to shy away from a fight, Advocate Indira Jaising's name is enough to strike fear in an opposing lawyer's heart. In 2009, she became the first woman to hold the post of the Additional Solicitor General of India. Before that, in 1986, she was also the first woman to be designated a senior advocate by the Bombay High Court. Indira Jaising has fought several high-profile cases and is a prominent human rights activist. Jaising represented victims of the Bhopal gas tragedy against Union Carbide and also fought for IAS officer Rupan Deol Bajaj in a molestation case against KPS Gill, the former DGP of Punjab Police. She has been fighting for women's rights for decades now and has helped destroy the norms that were used to stifle women for centuries.
Among her current cases, Indira Jaising was on the victorious side when an Army veteran was misidentified as an illegal immigrant in Assam. She also took on the Supreme Court when the Chief Justice of India Ranjan Gogoi was accused of sexual harassment and questioned the handling of the case by the top court.
2. Menaka Guruswamy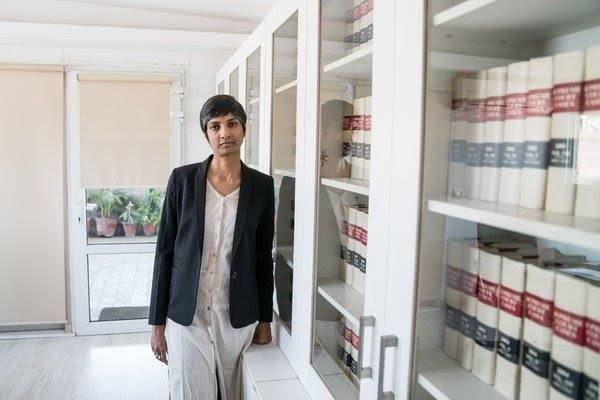 Image Source
Menaka Guruswamy's name shot into the limelight when parts of Section 377, which criminalised homosexuality, were struck down by the Supreme Court. Menaka Guruswamy was part of the team of lawyers that filed a petition in April 2016 against the criminalisation of homosexuality in India. But this was not her first high profile case. Guruswamy has worked on the famous 2G spectrum scam and the Agusta Westland bribery case. She is also a lecturer at Columbia Law School and has been visiting faculty at Yale and University of Toronto.
However, Guruswamy's main passion is constitutional law. From the beginning of her career, she has consulted with the UN in different capacities and worked on drafting the constitution of Nepal. She has authored widely read essays on constitutional law and has co-edited a book on the subject, due to be published later this year. She, along with lawyer Arundhati Katju, was part of Time Magazine's list of 100 most influential people after their win against the draconian Section 377.
3. Arundhati Katju
Image Source
Along with Menaka Guruswamy, Arundhati Katju has been a part of high profile cases like the 2G spectrum scam, Agusta Westland bribery case and the fight against the criminalisation of homosexuality. She has also worked with the Delhi High Court as Amicus Curiae on several criminal cases and has taken on nearly 100 cases pro bono as a panel lawyer for the Delhi High Court Legal Services Committee. Katju has also represented Jawaharlal Nehru University and the Delhi Pollution Control Committee.
Apart from these, Arundhati Katju has worked with the National Commission for Protection of Child Rights to form special procedures for sexual assault cases involving children. Katju has also worked extensively on constitutional law and has been a lecturer at National Law University, Delhi.
4. Karuna Nundy
Image Source
Firmly established as one of the top lawyers in India, Karuna Nundy didn't want a career in law in the beginning. She studied economics in Delhi University and worked as a journalist for a while. But when she went to law school in Cambride University, UK, Karuna Nundy truly found her calling. After a fellowship at Columbia University and working with the UN among other international organisations, Nundy came back to India to practise law. Since then, she has been at the forefront of several human rights cases including representing the victims of the Bhopal gas tragedy.
Karuna Nundy was also part of the Justice Verma Committee which was constituted after the gang rape and brutal assault of a 23-year-old woman in Delhi in 2012. She was instrumental in drafting the Criminal Law (Amendment) Act 2013 which brought about significant changes in legal policies for sexual assault cases.
Active and outspoken on social media, Karuna Nundy was the first Indian lawyer to conduct an AMA on Reddit. "It's through conversations that we can really find solutions," she says. "It's through them that people's ideas can change."
5. Deepika Singh Rajawat
Image Source
This image was one of the first we saw of Deepika Singh Rajawat. It established her position across the world as a champion of human rights. Rajawat shot to fame when she fought for justice for Asifa, an 8-year-old girl who was raped and murdered in Kathua. She stood alone while a gamut of local politicians, lawyers, and right-wing goons threatened to harm her or her family if she continued to fight the case. However, Rajawat did not let these threats deter her and kept fighting.
While she has been at the centre of a few controversies, one cannot deny that Rajawat is an absolute force to reckon with.
So, the next time you hear someone say that women should not or cannot be lawyers, you can send them this list.