The only thing that makes the heart feel better after heartbreak is the warm embrace of your naani. That's exactly what Radhika Anand does after her boyfriend of two years, Siddhant, dumps her. The Naani Diaries is a contemporary fiction by Riva Razdan, written in remembrance of the author's grandmother. Razdan shares the reverence, love, and values that her naani raised her with in The Naani Diaries and that reflects in the relationship between the protagonist, Radhika, and her grandmother as well.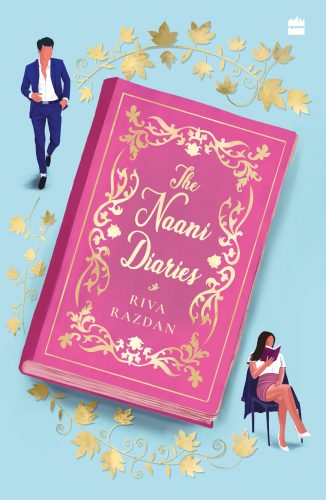 Read an excerpt from The Naani Diaries here:
I discovered journaling—it had been an upward journey ever since.
'I don't need to come to New Haven, Mum. I'm perfectly all right,' I promised, putting on my most confident smile. 'I was actually on my way back to the apartment right now.'
'Really?'
Rajni looked at me with renewed hope.
'Yes,' I nodded. Anything to end this conversation. I got up and prepared to leave, unbreakably confident.
But I felt less confident when I was standing in my large living room on 42nd Street, wondering what to do next.
Rajni watched me from the door, worried. 'Babe?'
I didn't want to move. I didn't know why I was being so dramatic. I was fine for weeks after the break-up, until I went and made a fool of myself at The Belfry.
Mum had hit upon a truth and a nerve. Ever since that horrific evening, spending time on my own had become a frightening thought.
I could change into my pyjamas, put a face mask on and watch Under the Tuscan Sun, but in the time I would watch the film Siddhant would be out there, building a relationship with someone pretty and fresh-faced and passionate. And not just Siddhant. It seemed like all of New York City's men were looking for someone like Jia K. Someone young. Someone fun. 'Unscheduled fun'.
'I just don't understand,' I turned to Rajni, annoyed. 'If he knew there was no spark, why didn't he tell me? We could have worked on it. I could make the spark—'
Rajni screwed up her face in apology. 'Radhu, you can't make a spark. You have to feel it.'
'I FELT IT. And I swear he felt it, too.'
She looked at me with such a doubtful expression that I yelled, 'I have PROOF!'
'Proof?'
I blushed and quickly went into the kitchen. But she followed me, relentless.
'What do you mean ''proof"?' she asked, as I started to rifle through the fridge, ignoring her. But Rajni shut the fridge door and forced me to look at her.
'Radhika,' she said, sounding worried. 'What did you do?'
Oh dear. It was time to come clean. I reopened the fridge door and took out the tub of chocolate ice cream. She would need soothing dairy to digest what I was about to show her.
For the next hour, Rajni said nothing as she sat on the bar stool in my living room and stared at my laptop, riveted. I was watching her more than the tapes. Anyway, I had seen them enough for review purposes. As Siddhant's moans grew louder, reaching climax for the umpteenth time, I lowered the volume. Rajni turned to me, shock apparent on her face.
'I told you he felt it,' I whispered in a small voice. 'Did he know?'
I flushed.
'Radhika!' she exclaimed in horror. But I refused to apologize.
'I did it for our benefit!' I retorted, pulling out the Excel sheets that would serve as my defence.
Rajni looked even more shocked. 'What is this?'
'Look, in the beginning it just wasn't working between us, physically,' I said, trying to sound as reasonable as possible. 'And Siddhant refused to talk about it, so I had to do some … field research and analysis of my own.'
To be honest, I was quite proud of my scientific approach. I taped us every Saturday night and reviewed the footage on Sunday evenings to make notes about the pleasure points and most successful manoeuvres. In the last few months, we had reached our sexual peak because of my careful recordings. The Excel sheets were proof.
The selected portion has been excerpted with permission from The Naani Diaries by Riva Razdan, HarperCollins, ₹599. You can get your copy of the book here.
Riva Razdan is an author based in Mumbai. Her work has been featured in The Hindu Business Line, Grazia India, and The Telegraph. Her debut novel, Arzu, was published in February 2021.
Related: The Sex Book: Leeza Mangaldas Gives Comprehensive Answers To All Awkward Questions About Sex And The Body