Ancient scriptures have told us sex is a divine act through which you can even attain enlightenment. In the olden times, sex was seen as a pure act and eroticism was celebrated. It is only in modern times that sex has been debased. These days, sex is mostly considered a carnal act whose ultimate goal is an orgasm. In this era of quickies, a sexual trend doing the rounds is tantric sex. But what exactly is it and how do you go about it? Read on to find out everything you need to know about tantric sex.
What is tantric sex?
Tantric sex is a sexual practice that comes from the ancient spirituality of tantra. An ancient Sanskrit word, tantra means "to weave energy," primarily the physical and spiritual energies. Sex is a form of energy exchange and tantric sex emphasises that aspect. Tantric sex is a holistic approach to sex that promotes deeper intimacy between partners. More than sexual pleasure, tantric sex is about experiencing a deeply sensual experience. The practice interweaves spirituality and sexuality with mindfulness.
Tantric sex is slow and aims to achieve spiritual contact through a sensual experience. The goal is to experience an innate connection that's intense and leads to enlightenment. Sexual energy is awakened through breathing, prolonged eye contact, massage, and slow and deliberate intercourse.
Related: Dear Sir, Here Are 7 Ways To Pleasure Your Partner That Don't Involve Penetrative Sex
Why you should try tantric sex
Tantric sex is as intimate as it can get. It is slow, deliberate, and intense. It allows couples to strengthen their bond emotionally, physically, and mentally. Since it is a slow action, a lot of pressure about performing the act is lifted from the couple. You don't have to worry about how you are doing the act and can focus on feeling good because an orgasm isn't the goal of tantric sex. Tantric sex is meditative in nature and has various health benefits. The practice can:
Reduce performance anxiety
Encourage you to be mindful
Boost sexual stamina
Enhance sleep
Reduce pain and relieve stress
Heal emotional wounds
How to have tantric sex
1. Set aside some time
The first thing you need to do is set aside some time for tantric sex. This is not a wham, bam activity, it is a long-drawn act that takes hours. Slow and steady is the name of the game, so schedule a time when you can enjoy the experience.
2. Set the scene
The environment is critical when it comes to tantric sex. Choose a place that's comfortable, not too hot or too cold. Relaxation is a key point in this matter. Put on some relaxing music or light a scented candle and get cosy.
3. Breathe
Tantric sex is all about focusing on the moment. You can't do that if you have multiple things running around in your mind or if you are stressed. So, release all the tension by practising breathing techniques. Take deep breaths. Inhale through your nose and fill up your belly. On exhale, release the breath you have gathered in your belly. Repeat the process a few times, and for a more unified and intimate experience, match your breathing with your partner's.
4. Make eye contact
Tantric sex is all about feeling a soul connection. What better way is there to connect to someone than to look into their eyes? That is not to say that you need to stare holes into your partner. Just focus on your partner and their body movements.
5. Experiment with touch
Touch your partner with varying degrees of pressure. From featherlight touches to a firmer touch, experiment with your touch. The idea is to heighten sensations in a slow and intense manner. Slowly build the pleasure to prolong sex. Try massaging each other to learn about each other's bodies and find out what brings out the maximum pleasure in your partner's body.
6. Pay attention
Pay attention to your partner's body movements, how their breathing changes, how they respond, or even how the air around you or the sheets you are lying on feel. Don't judge or compare your experience to something you may have seen or heard. Just focus on yourself, your partner, and the sensations you evoke in each other.
Related: 7 Erogenous Zones In The Body That You Need To Explore For Maximum Pleasure
Best positions to enjoy tantric sex
While the focus of tantric sex is more on how you feel rather than positions, certain sexual positions allow you to enhance pleasure.
Related: Move Over, Missionary: Here Are 9 Other Sex Positions For You To Try
1. Yab-Yum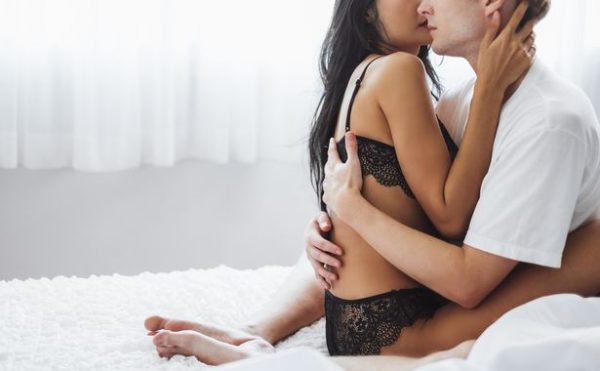 Also known as the lotus position, one partner sits cross-legged while the other sits on their lap with their ankles crossed behind their partner's back. This helps both partners keep their backs straight which further helps you stay in the moment. It also allows you to gaze into your partner's eyes and breathe in tandem, creating an intimate mood.
2. Spooning
Both partners lie facing the same direction with their bodies touching. This allows the partner to intimately understand the sensations the other is feeling. Spooning also allows you to synchronise your breathing and exchange energy. The partner at the back can finger the partner who is the little spoon, and if you want to have penetrative sex, that is also possible in the spoon position.
3. Cowgirl
In this position, the female partner sits atop the male partner. You can either go for penetration or just focus on the pleasure derived from watching your partner's body. The cowgirl position too allows for keeping eye contact and synchronising breathing which is integral in tantric sex.
Featured Image Source