Believe it or not, the Supreme Court of India has never had more than four women as judges since its existence. Before August 31, 2021, this record was three. Now, three women were sworn in as judges of the apex court to take this number up to four. They join Justice Indira Banerjee who was appointed as a Supreme Court judge in 2018.
Justice Hima Kohli
Image Source: Live Law
The first woman to be Chief Justice of the Telangana High Court, Justice Hima Kohli was also an Additional Judge of the Delhi High Court. Justice Kohli has been an advocate for women's rights and public healthcare. Last year, when the Covid-19 pandemic hit India, Justice Kohli was instrumental in making sure that the people of Telangana were treated fairly and given adequate facilities by the state government.
In women's rights, Justice Kohli has often spoken up for women and their right to choose in every sphere of their lives. During the hearing of a case where a man cited cruelty because his wife was not interested in housework, Justice Kohli observed, "The conduct of the wife of being interested in remaining in her room or not showing initiative in doing household work can by no stretch of imagination be described as cruel behaviour."
Read more about her notable judgements here.
Justice BV Nagarathna
Image Source: Live Law
In line to be the Chief Justice of India in 2027, Justice BV Nagarathna might be the first woman ever to hold this position in the Supreme Court of India. However, if she is appointed CJI, Justice Nagarathna will hold the position only for 36 days.
Justice Nagarathna has been known to champion social welfare causes focusing on children. Last year, when all schools shut due to the pandemic, she had highlighted how online education is excluding children from the economically weaker sections of society. Justice Nagarathna has also focused on the education and hygiene of girls in schools. In an order on the issue, she had said, "Providing separate toilets for girls and hygiene by way of providing sanitary napkins to adolescent girls, is an instance of empowerment. If you want to empower young women and young girls, provide these facilities."
In her farewell speech at the Karnataka High Court, Justice Nagarathna had a message for women advocates everywhere.
"The message from this leaf in my book which I want women advocates to take note of is, that with access to the right opportunities, each one of you can achieve your dreams. I, therefore, urge each one of you to seek out these opportunities armed with faith in yourself and stride ahead to achieve all that you want to and also give back to society."
She is also the daughter of former Chief Justice ES Venkataramiah.
Read more about her notable judgements here.
Justice Bela M Trivedi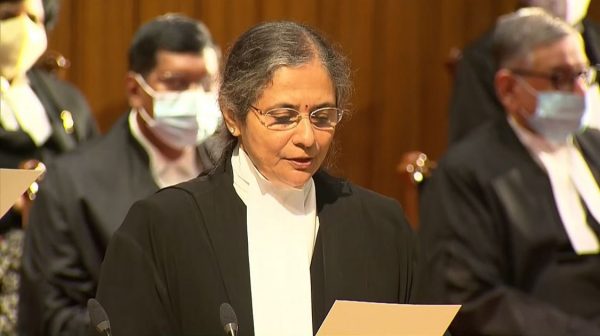 Image Source: Live Law
Justice Trivedi is the first woman from the Gujarat High Court to be elevated to the Supreme Court. She has also served as law secretary to the Gujarat state government. In her most recent notable judgement, Justice Trivedi took the Gujarat government to task for not implementing Covid protocols. She had also refused to reduce the fine for not wearing masks from ₹1,000 to ₹500.
Read more about Justice Bela M Trivedi here.
Image Source
While most of us are celebrating this small win for Indian women, let's not forget that true inclusivity has a long, long way to go in the Supreme Court of India. Many have pointed out the obvious lack of minority representation among the new judges sworn in this time. People have also pointed out the subtle hints of patriarchy that still permeate such momentous occasions.
Not done, disclosing the marital status of women judges while making appointments, what has it got to do with their competence to be judges ? This is stereotyping of the worst kind. pic.twitter.com/Row53u7PIq

— Indira Jaising (@IJaising) August 31, 2021
We don't do this to men, we don't think of asking men to make declarations of their marital status. Why then do we assume that a woman wants her marital status disclosed? As Ms Jaising points out, "It's not about what they want, it's about the way they are described in the Presidential warrant, disclosing their marital status is not on, violates privacy at the workplace, totally irrelevant to work."
We don't question higher institutions, but perhaps we should. Maybe it's time that we demand they do better when it comes to representation. We know inclusivity makes a difference to the larger cause of justice for all. Why then do we accept and celebrate the fact that among 33 judges in the highest court of the land, only four are women? In 2021.
Ruth Bader Ginsburg, as she spoke of the number of women among the nine judges of the US Supreme Court, said, "When I'm sometimes asked when will there be enough [women on the Supreme Court] and I say, 'When there are nine,' people are shocked. But there'd been nine men, and nobody's ever raised a question about that."