It's getting cold outside, and spending your weekend indoors in a blanket sounds just about right. And Netflix is cranking up the heat with some really steamy movies to stream. So, if you are in the mood to get all hot and heavy, we have a list of steamy movies on Netflix to get the job done. From 365 Days to After We Collided, bookmark this list for a cosy, sexy weekend indoors.
1. Deadly Illusions (2021)
When a bestselling novelist decides to take a break to get over her writer's block, she hires a nanny to look after her twins. But soon enough, the lines between fiction and reality start to blur, leaving the writer with some deadly and extremely hot illusions.
Stream it here.
2. After We Fell (2021)
The third installation of the After series, After We Fell gets steamier than the previous ones. The undying passion and romance can make you weak in the knees as it is one of the steamiest movies on Netflix.
Watch it here.
3. 365 Days (2020)
A cult favourite, 365 Days will definitely get you all hot and sweaty. When Laura is kidnapped by Massimo, a mafia boss, he gives her 365 days to fall in love with him. What follows next is a lot of steamy scenes and passionate make-outs that will leave you wanting more.
Stream it here.
4. More the Merrier (2021)
Five interspersed stories provide a fun romp through a night of sex and possibilities in which nothing goes as planned but everyone gets what they need. Fun and raunchy, this is one of the best steamy movies on Netflix.
Watch it here.
5. Newness (2017)
Martin and Gabi try to form a relationship after meeting through a hookup app, but when boredom creeps in, they seek out an unconventional solution. Watch this one for intense and hot chemistry!
Stream it here.
6. Dry Martina (2018)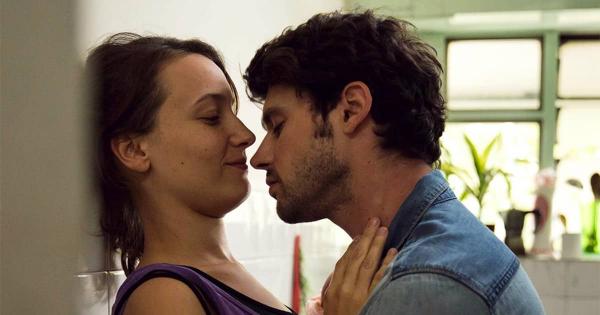 When Martina loses touch with her sensuality, she has an odd encounter with a young couple which leads her to an adventure in Chile in order to rediscover her sensuality.
Watch it here.
7. Amar (2017)
Young Laura and Carlos experience the intensity and fragility of first love, as the realities of life gradually tarnish their idealised notions of romance. So, if you are in the mood for some first love relationship butterflies and steamy scenes, don't miss out on this one!
Stream it here.
8. Oh, Ramona! (2019)
Awkward 16-year-old Andrei is infatuated with his alluring but aloof schoolmate Ramona until he meets stunning hotel clerk Anemona while on a vacation. Now, he must choose between the two before lust consumes him completely.
Watch it here.
9. Madame Claude (2021)
In 1960s Paris, the influence of Madame Claude, a sex worker, extends beyond the world of her profession. That is until a young affluent woman decides to threaten and stir things up.
Watch it here.
10. Rebecca (2020)
A young newlywed moves to her husband's imposing estate where she must contend with his sinister housekeeper and the haunting shadow of his late wife. Thrilling, sensual, and dark, this one is perfect to add to your watchlist of steamy movies on Netflix.
Watch it here.
Related: Rebecca Review: I Was Promised Scary And All I Got Was A Sigh