When does a journalist's job go from searching for the truth to just writing a story? It's one of the dilemmas that Hansal Mehta's Scoop explores. Starring Karishma Tanna as the star reporter Jagruti Pathak, Scoop is the actor's best performance to date. Based on a real story, Scoop is an adaptation of former crime reporter Jigna Vora's memoir Behind Bars in Byculla: My Days in Prison. When a senior crime reporter Jaideb Sen is shot dead in broad daylight, Jagruti Pathak comes under the scanner and becomes the prime accused. Scoop brings to light not just Jagruti's life in the Byculla prison, but also what led her there. The series also stars Harman Baweja, Mohammed Zeeshan Ayyub, Tannishtha Chatterjee, and others in prominent roles. Read our review of Scoop to know more.
A gripping story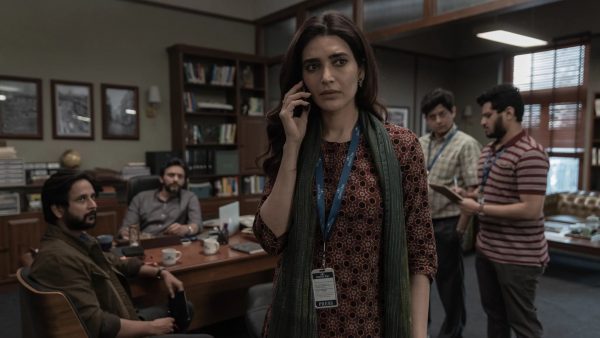 Scoop is unlike the sensationalised newsrooms shown by media where women walk around in high heels and short skirts, or men stand around with a glass of whiskey. The series keeps it real and shows the regular story in the world of print journalism and how difficult it is for a woman to survive in a man's world of crime reporting. Scoop is a tightly written story and is delivered quite impactfully.
Jagruti Pathak is an ambitious, no-nonsense woman who doesn't mince her words. That's the reason why she isn't the favourite person of those around her. She is a woman on a mission and her mission is to stay on the front page of her newspaper, Eastern Age. Because, 'out of sight, out of mind, then out of a job'. Her work is her priority, so much so that she tends to break promises made to her son or paramour to get the story out. Despite it all, Jagruti isn't shown as a victim. She is almost demonised by some of the people around her for being a successful crime reporter. She gets the stories that others can't and she knows how to get the job done.
Another very smartly woven tale, which is parallel to Jagruti's own experiences, is Anita's (Ira Dubey) storyline. Pushkar (Tanmay Dhanania) Jagruti's fellow journalist, is constantly at loggerheads with her. He, along with some of his other male colleagues, insinuates that Jagruti has an improper relationship with the newspaper's Editor-in-chief Imran (Mohammed Zeeshan Ayyub) as well as with JCP Shroff (Harman Baweja). Ironically, Anita's recent promotion at work is also attributed to her having slept with the boss. While Pushkar is quite supportive of his wife's achievements and motivates her to push against the tide, he fails to see that he is similar to the men who are making Anita's work life hell. This storyline is quite smartly handled showing clearly the hypocrisy that people often ignore.
None of the characters in the story, apart from Imran and Jagruti's family, fall under the black-and-white category. In fact, all characters, including Jagruti Pathak, are grey. But the moral compass of Scoop comes from Imran. While the rest of the journalists are chasing half-cooked stories to make it to the front page, Imran becomes the conscientious voice that talks of empathy and integrity.
Scoop is a show worth watching. Hansal Mehta has brilliantly balanced the various themes in the show – journalism, human emotions, ambition and its pitfalls, and prison life. The show is now streaming on Netflix.
Can you watch Scoop with your family?: Scoop is not meant for children as it features some intimacy and mild violence.
Featured Image Source