After airing its first episode in 2015, Schitt's Creek soon went on to grab hearts all over the globe. The story revolves around a family going from mind-boggling riches to absolute rags and then moving to a small town. What follows is a series of beautiful and truly funny moments spread across six seasons. Over the course of the show, we witness how this family of four finds its way back to each other while on their own personal journeys to find themselves outside of the wealthy identity they once had. Now, after five seasons of falling in love with every single character on the show, Schitt's Creek season 6 was truly the goodbye for which we were not ready.
From Canada, with a whole lotta love
Schitt's Creek is a Canadian sitcom created by the father-son duo, Eugene and Daniel Levy. The two also form an integral part of the cast, along with Catherine O'Hara and Annie Murphy. Together, they are the Rose family which goes bankrupt overnight. The family is forced to move to a small town called Schitt's Creek, governed by Mayor Roland Schitt, played by Chris Elliott. The Rose family had actually bought this town, and what makes it worse for them is that this purchase was supposed to be a joke.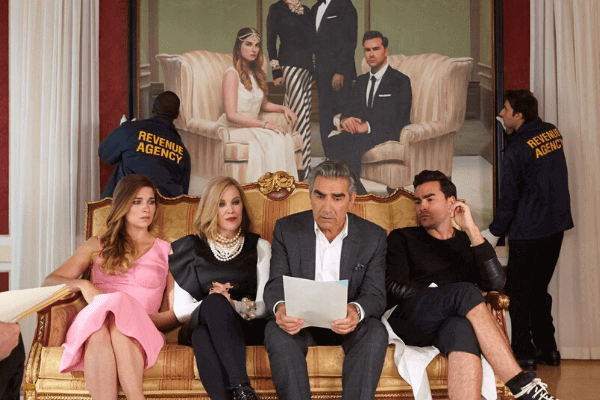 Image Source
While the show's popularity remained mostly within Canadian borders over the first two years, it skyrocketed globally with its 2017 premiere on Netflix. The Roses soon became the most loved eccentric family on television. Be it Johnny's business ethics, Alexis' heiress lifestyle, David's impeccable fashion sense, or Moira's stupendous vocabulary, this family left no stone unturned when it came to entertainment.
One of the most impressive things about Schitt's Creek was the way in which it delved into character details without fuelling stereotypes. David, for instance, has relationships with a woman as well as a man which raises no negativity or judgement from the town folk of Schitt's Creek. Dan Levy, who plays the role of David Rose, said the goal of showing such positive acceptance was led by the motive to tell audiences to "look at the world without hatred and see how much better it is."
Related: Never Have I Ever: The Perfect Romantic Comedy With Desi Tadka
Schitt's Creek Season 6: The perfect ending it deserved
Along with the Roses, Schitt's Creek was also home to several supporting characters who gave the show its deeper strength. Over the course of the show, we saw them dive into their personal stories. Stevie Bud, for instance, evolved from being a receptionist at the Schitt's Creek Motel to taking on a bigger role as a businesswoman and a family friend (no spoilers here). The understated character of Twyla Sands, played by Eugene's daughter Sarah Levy, was also a delight to watch.
Image Source
After six seasons of Schitt's Creek (43 episodes), the audiences were not ready to bid adieu to it just yet. However, the creators of the show felt it was the right time to end the series to let the show be cherished and loved for life. Confirming the same, Dan Levy said he has always been aware of "overstaying your welcome."
With a forced a goodbye to the Roses, I guess all we can do is hold on to Johnny Rose's words –
We're all gonna be okay.
The final season of the show was released on Netflix India on May 14, 2020. You can watch the trailer here.