Remember Anjaam? The film with Channe Ke Khet Mein and Crazy Eyes Shahrukh Khan?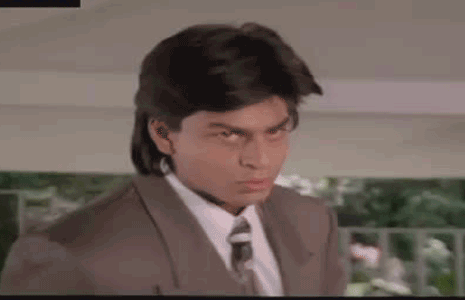 Well, Anjaam has just started streaming on Netflix. So, I did what every self-respecting desi does when a 90s film comes on an OTT platform. I sat through the whole thing again and I'm so glad I did. Because the thoughts that I had while watching Anjaam again could not have come to my deluded brain of 1994.
Here's a short recap of the story: Vijay Agnihotri (SRK) falls madly in love with Shivani (Madhuri Dixit), a flight attendant with Air India. He first meets her in a club, follows her on a flight, finds her address and lands up unannounced, and is then heartbroken when she marries someone else. Because how dare she, amirite? Anyway, Shivani doesn't think much of his incessant stalking and settles down with her husband. Until they come back to Mumbai and Vijay Agnihotri systematically ruins their lives.
I won't give any more "spoilers" because I didn't remember much of Anjaam either when I watched it this time. But I did have a lot of thoughts since my brain had chosen to forget this overdose of drama.
There is SO MUCH in this film!
It feels like a wild journey from the beginning. But when the beginning credits show up 25 minutes into the film, you know it's much wilder than you thought. There is so much happening in this story that it could easily have been made into two films.
The supporting actors got a really raw deal
The roles of all supporting actors in this film were probably written in about 2-3 hours by a junior writer scribbling on a piece of paper. Sudha Chandran, who plays the lead character's sister, does not shed a single tear when her brother-in-law dies and her sister is accused of the murder. I don't even remember her name in the film. Deepak Tijori has no personality of his own except harassing his wife at will and being a total douche.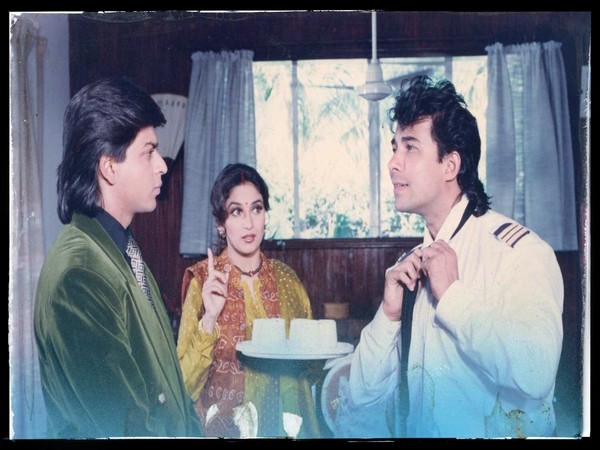 Image Source
Anjaam's songs are timeless!
Some of them. Definitely not Kolhapur Se Aayi or Pratighaat Ki Jwala. But I know for a fact that you remember the lyrics to Badi Mushkil Hai and Channe Ke Khet Mein. Don't doubt yourself. I know you do. Because I sang along to both songs without a hitch and I haven't heard either in about 20 years.
Bollywood thought very little of cops in the 90s
And of the judicial process of the country. Every cop in Anjaam is either corrupt or incompetent. Every single one. One guy is obviously the common link in an entire family's murder but no one raises any doubts about his involvement.
Image Source
SRK's laugh made his career
Shahrukh Khan used the same laugh to sound romantic, funny, and psychotic. That weird cackle is the definition of his career. Why didn't we see through this ridiculous gimmick?
OTTs need to do justice to the glorious 90s
Why are 90s films so badly chopped for OTT platforms? I want to see the fight scenes with added dishoom sounds. Don't take that away from me, Netflix!
Shivani is a masterclass in hypocrisy
Madhuri Dixit's character starts really strong. She has a good, well-paying job and is travelling the world. But she also does nothing except berate her sick sister who is stuck in an abusive marriage. Then, Shivani gets married, leaves her sister, and moves to another country for four years. She knows women are strong but she also thinks that only a son can avenge the wrongs done to her family.
Just one part of the craziness here!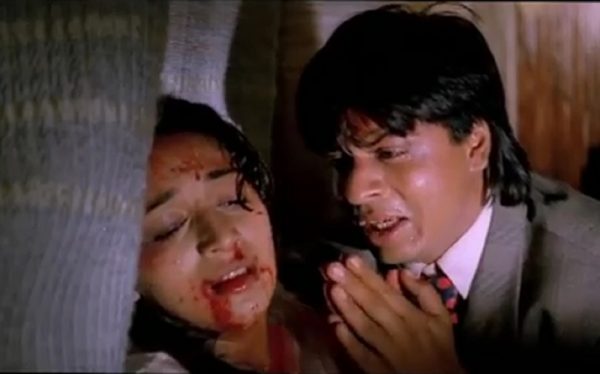 Image Source
Did you know alcohol and smoking make you evil?
All evil begins and ends with alcohol and cigarettes. Here, there was no gender discrimination in Anjaam. Every evil character — woman or man — drinks and smokes. Drink in hand = bad person. Drink and cigarette in hand = ultimate baddie.
Madhuri Dixit should have done more evil roles
Her subtle, short-lived evil expressions were quite epic in this film. They come and go in a flash but you know there's something there. That is some serious untapped potential.
Game of Thrones copied Anjaam
Yes, I said it! Anjaam was the inspiration for Khaleesi's death in Game of Thrones! Don't believe me? Watch the film. You'll see.
Also, if you do want to watch Anjaam, watch it with English subtitles. Channe ke khet is so passe. She got caught in a chickpea field, okay?
Featured Image Source