'Welcome to the Blumhouse' is a series of paranormal, horror, and psychological thrillers by Blumhouse Productions and Amazon Studios. A total of eight movies will be streaming directly on the platform, four in October 2020 and four in 2021. The first two movies of the series, Black Box and The Lie, were released today, and the psychological thrillers have been directed by Emmanuel Osei-Kuffour Jr and Veena Sud respectively. Everyone assumed these would be blockbuster hits since Blumhouse is the OG king of horror, but these films are definitely not what you were expecting. Here's our review of Black Box and The Lie.
Related: October Online Releases: 30 Titles To Watch Out For This Month
Entangled memories and blurry figures: Black Box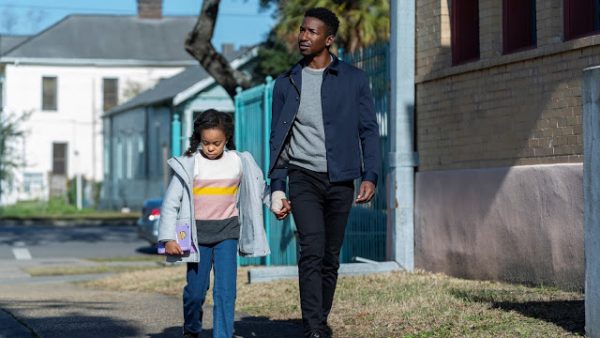 Image Source
What if you are suddenly thrown into a world where everything looks real but feels very unreal? What if your memories are suppressed and can only be retrieved through a twisted and malevolent device called the 'Black Box'. Described as digital voodoo, things take a quick turn for Dr. Brooks' new patient, Nolan. Nolan, who lost his wife in a car accident, suffers from amnesia and has tried various treatments. But when nothing works, he decides to try a new form of therapy with Dr. Brooks.
When Dr. Brooks takes over the case, she introduces him to the 'Black Box'. But when he travels into his subconscious, a creature lurks behind him. Due to his neurological dysfunction, Nolan can't see a single face during this time. As the therapy goes on, Nolan finds himself going back to memories that don't feel his own, habits that he never had before losing his memory, and flashbacks of domestic violence when he couldn't even stand a match of boxing. With the creature lurking in his subconscious, it turns into a nightmare when he realises he is living someone else's memories.
Deeply compelling, raw, and unexplored, Emmanuel Osei-Kuffour Jr's directorial debut is a complete experience. What starts out as a horror story turns into a mind-blowing psychological thriller with a hint of emotional drama. Watch Black Box if you want to experience a twisted, gnarly, and malicious ride.
Foul play and deceit: The Lie
Image Source
When Kayla, a troubled child, pushes her best friend Britanny into a river, causing her to probably die, Kayla's parents decide to cover things up. It seems to be a complete accident, but Kayla convinces her parents, Jay and Rebecca, that she did it on purpose. The divorced couple devise plans and plot a perfect cover to save their not-so-innocent daughter. They almost succeed, but the cops trace the location of Britanny's cell phone to Jay's place after she goes missing.
As the story starts to get darker and evidence starts surfacing, the family seems to get tangled in their own ugly cover-up. And with Britanny's father constantly on his heels to find his daughter, the family has a tough time not cracking. When Jay and Rebecca decide to take matters into their own hands, they end up doing something terrible only to find out that the child they were protecting was playing games with them.
Veena Sud nails it with her direction, and the film shows the things one would do to protect their child even if it comes to harming someone else's.
Stay tuned for the reviews of Nocturne and Evil Eye, the next two movies in the series.